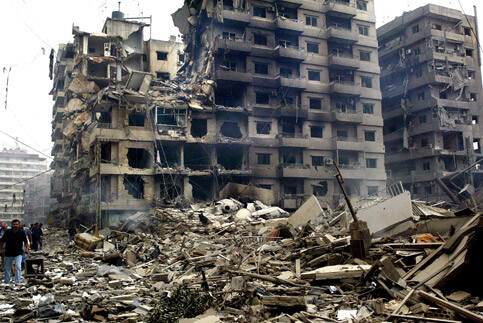 The
ICRC
today distributed a total of 3,000 family parcels to both residents and displaced persons in the villages of Naqura, Alma Ech Chaab, Dhaira, Yarine, Ramiyé and Rmeish. The parcels contained enough supplies for one week, including food, household items, blankets and other essentials. First aid workers from the Lebanese Red Cross (
LRC
) evacuated six injured people to hospital, along with 10 unaccompanied children and one elderly person.
The situation was particularly alarming in Rmeish. People who had fled the village told ICRC delegates that people were drinking foul water from a pool used to collect water for irrigation. There was also a shortage of food, especially for babies.
The joint ICRC/LRC convoy, which included three ICRC trucks, two other ICRC vehicles and two LRC ambulances, had left Tyre in the morning. Another joint convoy left Marjayoun earlier this morning for Aitaroun, a village close to Bent Jbeil, where it was due to distribute aid and evacuate displaced people stranded in the area on their way out of Rmeish, together with people in need of emergency medical care. However, the convoy was unable to reach Aitaroun and had to turn back, because of military operations in the area.
Lebanese Red Cross evacuates wounded and provides health care throughout Lebanon
The Lebanese Red Cross Society (LRC), which remains on high alert for the 15th consecutive day, has today evacuated six casualties from Tyre to hospitals in Sidon and Beirut. Meanwhile, LRC medical and social centres have carried out medical consultations and provided medical supplies to 2,087 people during the day.
Since 12 July, the LRC has evacuated and treated 571 casualties, transported 2,298 medical cases and collected 91 bodies. Its nine blood banks have supplied hospitals and health centres with 644 units of blood.
Red Cross / Red Crescent action
Approximately 150,000 people are reported to have taken refuge in Syria so far, a third of whom have already moved on to third countries. According to the Syrian Arab Red Crescent (SARC), 90% of those who have remained in the country now live with relatives, friends or host families. Others are staying in hotels, schools or public buildings.
The SARC assists most of those fleeing the conflict in one way or another, especially at the four border crossing points, where their staff and volunteers are present around the clock to provide water, food and other emergency items. They also help those crossing the border to re-establish contact with their relatives where necessary.
In various cities across Syria, SARC volunteers welcome those who did not manage to find accommodation and help them find a place in a collective centre.
According to Jean-Jacques Frésard, the head of the ICRC in Syria, "the SARC has done a remarkable job since the beginning of this crisis, amply covering the current needs of the most vulnerable refugees. The International Federation of Red Cross and Red Crescent Societies is now providing technical support, and donations from other Red Cross and Red Crescent partners are coming in."
More Information

Dorothea Krimitsas,

ICRC

Geneva, tel : +41 22 730 25 90 or +41 79 251 93 18; Hicham Hassan,

ICRC

Beirut, tel : +961 1 739 297 or +961 35 42 839.

Related Links