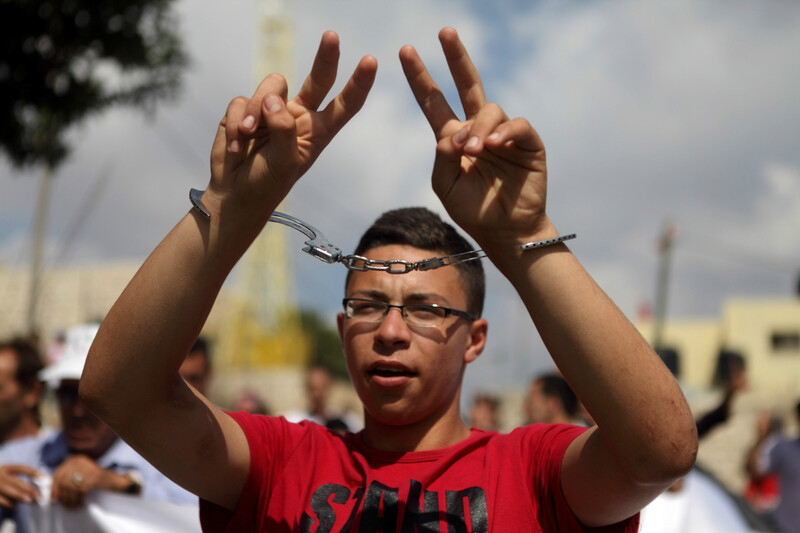 HAIFA (IPS) - Sitting in the shade of a small lemon tree in the German Colony area of Haifa, eight Palestinian activists have been on hunger strike since last weekend in solidarity with Palestinian political prisoners who have been going without food for nearly two weeks in protest against poor prison conditions and a lack of basic rights.
"I decided to participate in the hunger strike in order to support the political prisoners, the freedom fighters, imprisoned in the Israeli dungeons. As a Palestinian, I know for sure that those fighters, those men and women, have fought in order to defend my rights," Muhannad Abu Ghosh, a Haifa resident and one of the hunger strikers, said.
"This hunger strike declared in Haifa is breaking through the borders which were put by the Israeli occupation throughout the years," Abu Ghosh added.
More than 100 Palestinian prisoners in Israeli jails began an open-ended hunger strike on 27 September. Their demands include stopping Israel's use of solitary confinement, including that of Ahmad Saadat, general secretary of the Popular Front for the Liberation of Palestine (PFLP), rectifying the arbitrary nature of denying family visits, and ending the routine humiliation of detainees during prison transfer.
Thousands of Palestinian prisoners are now said to be participating in acts of civil disobedience, including the hunger strike, in various Israeli-controlled prisons.
"I think that one of the main goals of our strike is to encourage the political prisoners, the political heroes, in continuing with their strike, (and) to fight for their basic and essential right to live peacefully," Nizar Jubran, a 22-year-old student and another hunger striker in Haifa said.
"They already know that we have started the strike here and I think that it encouraged them, when they are all alone in the prison and they can't see anyone. It will inspire them and will encourage them to continue their strike and fight for their rights."
Netanyahu denies right to education
Israeli Prime Minister Benjamin Netanyahu announced last June that he was imposing harsher conditions on Palestinian prisoners in Israeli jails, including ending their access to university education and books, due to the fact that captured Israeli soldier Gilad Shalit was still being held by Hamas in Gaza.
More severe restrictions following Netanyahu's announcement included intensifying prisoner searches and placing Palestinian political leaders in solitary confinement, among others.
More than 5,200 Palestinian prisoners and security detainees were held in Israeli prisons at the end of August 2011, according to statistics provided by the Israeli Prison Service. It is estimated that Israel has detained over 700,000 Palestinians — 20 percent of the total Palestinian population of the occupied West Bank and Gaza — since the Israeli occupation began in 1967.
According to Sahar Francis, director of Addameer, a Palestinian prisoners support organization based in Ramallah, the Israeli prison authorities have worsened their treatment of Palestinian prisoners since their hunger strike began.
"In Ofer prison, three of the prisoners on the hunger strike were beaten and attacked by soldiers on their way from the detention facility to the court. They told the lawyers as well that, for the last couple of days, because they are on a hunger strike, every night the prison guards take them and force them to walk all over the prison in order to tire them. This is to put pressure on them so they will stop their strike," Francis said.
While initially led by prisoners affiliated with the PFLP, the hunger strike has extended to prisoners from other Palestinian political factions, including Hamas and Fatah.
Prisoners' demands are basic
"The other political groups will support the hunger strike three days a week, and if they feel that there's no positive reaction from the Israeli authorities, they will join the strike [full-time]. All the prisoners believe at this point that their demands are not very high and it's very basic rights that they are demanding," Francis said.
Demonstrations have been held in the West Bank, Gaza and in Israel in support of the prisoners' hunger strike, while activists from around the world staged protests, sit-ins and day-long hunger strikes in London, Edinburgh and Brussels, among other cities on 7 October.
According to Francis, this international support is important in order to raise awareness of the plight of Palestinian prisoners and the political context within which they are being denied their rights.
"It's related to the political discourse and the issue of the exchange with Gilad Shalit that failed. When comparing with what the Israeli political leaders are saying in their speeches on the issue of the prisoners, it's very clear that they are acting as a kind of revenge," Francis said.
"Now they're reacting in a very tough way to this strike. The Israeli authorities are not hearing what the prisoners want. They are not open to dialogue or discussion. But I don't think the prisoners will stop the strike without having achieved an agreement and succeeding to guarantee that they will get these rights back."
All rights reserved, IPS - Inter Press Service (2011). Total or partial publication, retransmission or sale forbidden.
Tags