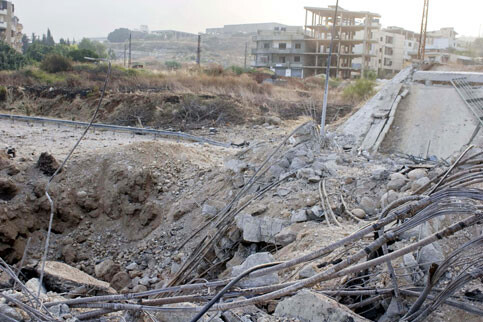 BEIRUT
- Relief agencies working in the south of Lebanon say there is a shortage of medical supplies, particularly for infants and children. In addition, attempts to provide medical assistance to victims are being thwarted by the bombardment.
Hisham Hassan, International Committee of the Red Cross (ICRC) spokesman in Lebanon, told IRIN: "The problem is not whether we are facing a shortage in ambulances or not. It is in getting help through to the victims."
He said that in the southern town of Srifa, where more than 40 civilians had been killed by Israeli bombs, "the Civil Defence cars couldn't get near the town to rescue any survivors because the Israelis attacked all the town's entrances and exits throughout the day".
Hassan added it was a similar situation in other towns in the Bekaa region and the south in general, which is almost completely cut off from the rest of Lebanon. The ICRC is allocating 10 million Swiss Francs ($8m) "to aid internally displaced people and to support the efforts of the Red Cross to attend to medication needs".
The lack of essential goods is particularly acute in villages along the Israeli-Lebanese border isolated by the conflict. Lebanese officials from the Ministry of Social Affairs said some villages had run out of food.
"The blockade has started to affect the availability of essential supplies," says HRW's Sarah Leah Whitson. "Israel must facilitate the provision of food and other humanitarian aid, and assure those providing assistance that they are not risking their lives to do so."
HRW reported that on Tuesday night, the inhabitants of `Ain Abel, a village in the far south,close to the border with Israel, issued a plea for assistance after experiencing shortages of food and essential goods. Nicolas Farah, mayor of the southern border town of `Alma Al-Cha'ib, called on aid organisations to assist "the villagers under siege … who have a lack of medication, bread and water, and that no one has tried to help yet".
Hospital officials in the southern town of Mayss el-Jabal, said the local hospital is facing "a water shortage, and diesel oil shortage for its machines".
In an attempt to meet these demands, the Permanent Mission of Lebanon to the UN on Tuesday presented a list of emergency needs requested by its government. It includes food, milk, nappies, cooking utensils, medicines, tents, blankets, bulldozers, generators and fire-fighting equipment.
Israel started bombing Lebanon on 12 July after Hizbullah captured two of its soldiers.
Related Links
This item comes to you via IRIN, a UN humanitarian news and information service, but may not necessarily reflect the views of the United Nations or its agencies. All IRIN material may be reposted or reprinted free-of-charge; refer to the copyright page for conditions of use. IRIN is a project of the UN Office for the Coordination of Humanitarian Affairs.