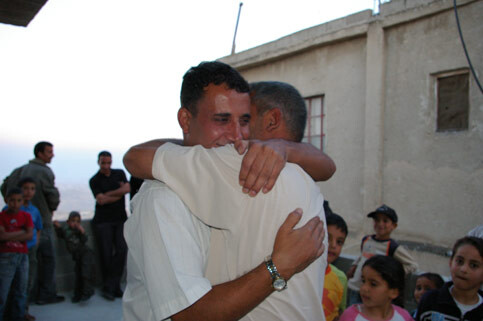 Ahmad Abu Haniya, the
AIC
Youth Project Coordinator, will be released from administrative detention this morning (Tuesday 14 May), after two years of imprisonment without trial or charges.
Ahmad was detained at a checkpoint on his way to work on 18 May 2005 and placed in administrative detention, which is imprisonment without trial or charges. As with all of the approximately 800 Palestinian administrative detainees currently being held by Israel, Ahmad and his attorney were not even permitted to know the evidence against him.
As Ahmad stated before the military court, "They tell me that I am a danger to the security of the region. Yet for years, I have worked with Israelis. I have Israeli friends. I always emphasize the fact that on this land it is possible to live in peace. How am I dangerous exactly?"
During his time in prison, Ahmad was adopted as an appeal case by Amnesty International, and supported by the American National Lawyers Guild.
The detention of Ahmad and so many other Palestinians blatantly violates international law, which permits administrative detention only as an exceptional and highly regulated measure. Administrative detention violates the fundamental right to liberty and due process, and is used by Israel as a tool to oppress political activists in Palestine who struggle non-violently against the Israeli occupation and for a just peace between Palestinians and Israelis.
The AIC collective and wider AIC community is thrilled that Ahmad is finally being allowed to return to his family, friends and work for a just peace between Palestinians and Israelis, and continues to call on Israel to immediately release all of the Palestinians currently being held in administrative detention.
Notes of solidarity and congratulations for Ahmad may be sent to: connie@alt-info.org
Related Links