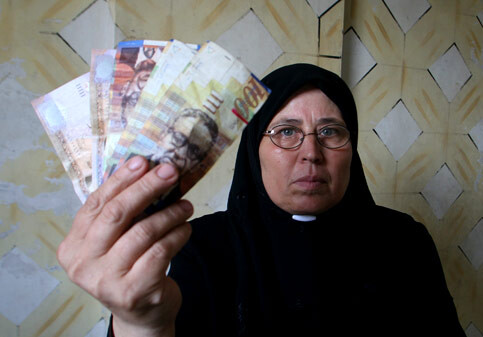 "May God close the eyes of anyone who attempts to shut down the al-Salah charitable society that provides us our living." So said Halima Abu 'Isa, a 45-year-old widow and mother of two in reaction to the decision of the Palestinian Authority in Ramallah to close down 103 Palestinian charities.
The monthly allowance of 900 shekels (US $230) that Abu 'Isa receives from al-Salah, an Islamic charity with links to Hamas, is the only thing that stands between her and destitution. She lives in a rented house in the central Gaza Strip town of Deir al-Balah and is the sole caretaker of two children since her husband died eleven years ago in a road accident.
"Why do they want to close down these charities that have provided me and so many others with dignity and spared us from begging," Abu 'Isa asks. "How will I care for my children and repay my debts if, heaven forbid, they cut off my allowance?" She strongly blames those who have taken this decision.
The Palestinian government in Ramallah, appointed by Palestinian Authority president Mahmoud Abbas in June, without the approval of the Palestinian Legislative Council, issued a decree last month ordering the closure of 103 Palestinian charities alleging financial improprieties. In a 29 August statement, the Palestinian Centre for Human Rights condemned the decision as illegal and called "upon the government in Ramallah to rescind this decision that will cut off humanitarian and emergency aid to thousands of Palestinian families."
The elected government headed by Prime Minister Ismail Haniyeh of Hamas, which still operates in the Gaza Strip, also rejected the decision, pointing out that it was politically motivated and designed to weaken Hamas. Spokesman Sami Abu Zuhri said that "the allegation that these societies are involved in fraud and financial corruption is baseless," adding that "many of them belong to the interior ministry and there is a continuous auditing of their budgets."
Abu Zuhri warned that the Ramallah government would attempt to make "use of its international contacts," to "put pressure on the banks in a bid to weaken the performance of such organizations." Abbas and his appointed prime minister Salam Fayyad have been given backing by Israel, the United States and the European Union, while Hamas has been isolated.
In Gaza, there was widespread dismay. Mohammed Shahin, a 15-year-old orphan from the Deir al-Balah town, who is studying at the al-Salah orphans' preparatory school, voiced his outrage fearing his school could be shut down.
"This school has enabled me to learn many useful things and taught me how to be well-behaved," Mohammad says. "I will hate those who would close it down as long as I live."
According to Um Umar, who heads the orphans department at the charity, the al-Salah society provides aid to 12,000 Palestinian orphans and disburses monthly allowances to 700 families across the Gaza Strip.
The latest decision by the Ramallah government follows a series of other measures taken by Abbas, who is also leader of the Fatah movement which lost the January 2006 legislative election to Hamas, to impose its will.
Abbas's Ramallah government issued decrees purporting to cancel all decisions taken by Haniyeh's government and has refused to pay the salaries of thousands of Palestinian civil servants in the Gaza Strip with the Palestinian tax funds released to it by Israel. Abbas and his advisors have accused Hamas of staging a "military coup."
These measures followed Hamas' move to take complete control of Palestinian Authority institutions in the Gaza Strip in early June, ejecting forces loyal to Abbas and Fatah. Hamas justified the move by pointing out that certain Fatah militias, particularly those headed by Abbas advisor Muhammad Dahlan, had been receiving foreign funding and weapons and attempting to undermine and overthrow the elected government since it took office.
After the Hamas takeover, Fatah pulled out of the "national unity government" which had been in office since March under a Saudi-brokered deal and has worked to tighten the siege against Gaza.
A senior Fatah leader in the West Bank, Mohammed al-Hourani sought to justify the shut down of the charities, stating that "this decision came concurrent with a development plan that is intended at improving living conditions of middle and lower classes of Palestinian society and to achieve this end, the authority should adopt centralization in administering service-based organizations."
Although the United States has approved tens of millions of dollars to support the Ramallah government, it is not clear how it would implement such plans on the ground, if they even exist, since it does not have any power in the Gaza Strip. Meanwhile, Hamas leaders vow that they will continue to resist a crippling boycott imposed on them since they won the legislative elections.
Rami Almeghari is currently contributor to several media outlets including the Palestine Chronicle, aljazeerah.info, IMEMC, The Electronic Intifada and Free Speech Radio News. Rami is also a former senior English translator at and editor in chief of the international press center of the Gaza-based Palestinian Information Service. He can be contacted at rami_almeghari at hotmail.com.
Related Links