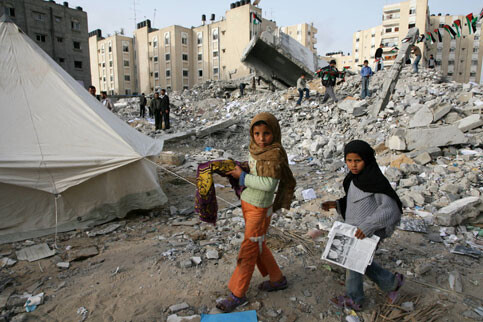 On 22 March, The Miami Herald published an article entitled "Dreaming of a peaceful Mideast." The initial reaction to such a headline is naturally one of pleased interest. Reporter Frida Ghitis praises the Israel/Palestine Centre for Research and Information for "working to create" a "culture of peace" in order to "put a stop to incitement and hatred." However, Ghitis goes on to state: "It is absolutely imperative to recast the poisonous message drilled into Palestinian children. In Gaza, in particular, even the youngest children are taught that killing Jews is a duty of Muslims …"

This is the stuff of much sensationalist, biased journalism which does its best to neutralize all genuine attempts to foster trust and cooperation between Palestinians and Israelis. Having visited and lived in Gaza four times since a month before the beginning of the second intifada and known many families and children there, I was deeply dismayed.

It is a common mistake to hold religion as the core issue in the conflict between Israelis and Palestinians. This is incorrect and harmful. The issue is territorial: two peoples lay claim to the same land, land which they are going to have to somehow share, someday, no matter what form of religion they happen to profess, if they indeed practice a religion. Ghitis's statement is empty of everything except the very things she criticizes: "incitement and hatred."

The main influence on children in Gaza is the fear of arbitrary injury or death from the air and the surrounding land inflicted by all the different arms available to the Israeli army. Gaza children can identify all sorts of munitions they scavenge after attacks. They know the names of all the different kinds of Israeli aircraft and can identify them by their sound. Thousands of children have lost their homes to demolition by the Israeli army. Some children have had the terrifying experience of seeing their homes occupied and used by Israeli soldiers who crowd the family into one room preventing them even from using the bathroom.

Some children can tell you about the sonic booms caused by Israeli warplanes for the sole cruel purpose of frightening and disorienting civilians: their force has even knocked children out of their beds and broken their bones. The children can tell you about the massacre of an entire family in Beit Hanoun in November 2006 and of course about the recent horrific events all over Gaza last month.

Just going to school is a major act of courage and in school, children lack the basic necessities: books and paper, to start with, because (and this the children can tell you), the Israeli authorities will not permit their importation. Worse, many children can no longer go to school at all, as their families cannot afford to pay for their transport, uniforms or even pencils. Despite this, the main message in school in Gaza, as in many schools the world over, is that if you want to succeed, you need to get good grades.

The children know that their big brothers and sisters can no longer hope to travel abroad to complete their education because Israel will not permit them to leave. A young man I know who graduated brilliantly from secondary school in June has shelved his dreams of studying medicine abroad, like some of his aunts and uncles. He is now studying to be a pharmacist, well aware that at the moment, thanks to the Israeli blockade, most of the products he might someday want to offer to clients are unavailable.

Ever so many children in Gaza know that their fathers no longer have jobs because the border is closed, and they cannot go to Israel to earn a living. A lot of joy has gone out of family life. Children know that there is no gas for cars or trucks or ambulances and that they must often go without electricity (no television, no clean clothes) because Israel has decided this. Many of the things children like to eat have also disappeared.

All the children in Gaza can tell you how their elders are worried, terribly worried, especially about them and their future. The children hate this situation. They do not understand it. They think it is unfair. They ask why. Children in Gaza indeed dream of "a peaceful Mideast." It is their deepest wish, as it is the deepest desire of Israeli children and their parents, especially those now suffering from Qassam rockets.

The Muslim and Christian families and the families who go to neither mosque nor church who I know in Gaza teach their children to live correctly, respecting themselves and others. They do not need to say anything about Israel: the actions of its army and authorities dominate every single aspect of life in Gaza.

Parents in Gaza tell their children that they hope things will get better. They tell them to work hard in school and to be patient.

But what does the Israeli army teach the children?

Children listen to adults, then they observe and form their own opinions on the world.

Ghitis's article is a prime example of intentionally slanted reporting which needs to be criticized and corrected. Her references to "peace" cannot mask the fact that she is appealing to basic fears and prejudices that only reinforce negative, false stereotypes guaranteed to stalemate any progress in dialogue between Israelis (many of whom, we should remind Ghitis, are not Jewish) and Palestinians.

Carol Scheller, a retired public school teacher, lives in Geneva, Switzerland. She and Walid Shomali translated the guidebook Palestine and the Palestinians from French to English in 2004, when Scheller worked briefly for its publisher, the Alternative Tourism Group, in Beit Sahour. Scheller has been writing a blog for the Tribune de Geneve called "Au jour le jour, Gaza" during and since a stay in Gaza from April to June 2007 (http://carol.blog.tdg.ch).