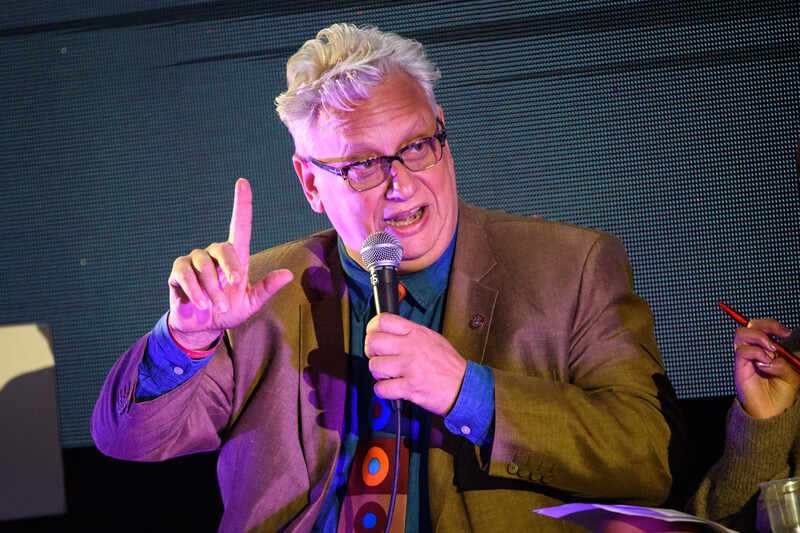 Jon Lansman, a member of Labour's ruling national executive, is known as one of the UK opposition party's most important backers of left-wing leader Jeremy Corbyn.
Why, then, has Lansman contributed to the smear campaign which claims that Corbyn's Labour suffers a major anti-Semitism problem?
A grassroots Labour backlash against Lansman has been brewing for years.
One former colleague of his told The Electronic Intifada that Lansman is "the person who has spectacularly screwed it up" for Labour's left-wing. The source said of Corbyn's leadership that "Jon Lansman has put the whole project in danger."
As The Electronic Intifada recently revealed, in the spring of 2016, Lansman privately advocated for Corbyn to be replaced as leader.
Lansman denied The Electronic Intifada's revelation saying, "I back Jeremy 100 percent."
Riding to prominence in the wake of Corbyn's 2015 leadership election, Lansman leads Momentum, a Labour faction ostensibly formed to back Corbyn.
The group helped mobilize local activists during the 2017 general election – which saw unexpected gains by Corbyn's Labour.
But Momentum is not a democratic organization, and Lansman's leading role in the group – chairperson – is not elected by members.
Smears
He is sole owner of Jeremy For Leader Limited, the company which receives Momentum's membership dues. According to official documents filed with Companies House – a register of businesses – the firm was incorporated "to control and process information collected in the course of Jeremy Corbyn's Labour Party leadership campaign."
In his powerful position, Lansman has made himself increasingly unpopular with grassroots Labour activists.
One of the main issues of contention is the lack – since an internal coup in 2017 – of democratic structures in Momentum.
But speaking to multiple left-wing grassroots Labour and Momentum activists, it is also clear that many believe Lansman has encouraged the smears that the Labour Party has become anti-Semitic under Corbyn. Many want Lansman to go.
Lansman's former colleague told The Electronic Intifada that he has always worked against grassroots democracy, preferring to model Momentum as a left-wing version of Progress, the hard-right corporate Labour faction.
The source was deeply involved in the first Corbyn leadership campaign in 2015 and spoke on condition of anonymity.
The source said that on the issue of anti-Semitism smears, Lansman has "actively encouraged attacks on MPs like Chris Williamson" and the wider left-wing movement.
A socialist MP, Williamson was suspended by the party in February days after he booked a room in the UK Parliament for the screening of WitchHunt, a film about Labour's anti-Semitism "crisis."
Even before this pretext to get rid of Williamson – long a target of the Israel lobby – Lansman told an audience at a Jewish charity event that it was only a matter of time before Williamson "does something which results in a complaint being made which will then have to be investigated."
Jewish voices
After grassroots Labour members came out overwhelmingly in support of Williamson in June, and the MP tweeted expressing gratitude for their messages, Lansman reacted with apoplexy.

Williamson "has to go," Lansman demanded of the veteran left-winger. Williamson had been the only Labour MP to openly call out the anti-Semitism smears.

Only a few days before Williamson's suspension, Lansman had suddenly decided (after more than three years of smears) that anti-Semitism had become a "widespread problem" in Labour since Corbyn became leader.

"I think it's now obvious that we have a much larger number of people [in Labour] with hardcore anti-Semitic opinions," Lansman said at that time.

In June, Lansman caused outrage among many on the left when he declared that Jewish Voice for Labour, a non-Zionist left-wing group, cannot "really be said to be part of the Jewish community."

Lansman's argument was bizarrely circular.

To justify it, he said the group opposes the notion that anti-Semitism is now a major problem in Labour – a conclusion which Lansman alleged "every significant Jewish community organization has arrived at about the Labour Party."

This logic implies that JVL was excluded from being a "significant Jewish community organization" precisely because it disagreed with other Jewish organizations on the issue. JVL has consistently worked to disprove the narrative that Labour is an anti-Semitic party.

In an email to JVL, revealed by the group in June, Lansman bitterly attacked it as "as part of the problem and not part of the solution to anti-Semitism in the Labour Party."

Asked by The Electronic Intifada if he doesn't consider JVL members to be "real Jews," Lansman responded: "Of course members of JVL are Jewish if they say they are. I absolutely believe in the right to self-define as Jewish. If you identify as Jewish, you are Jewish."
Support for the JLM
Lansman's hostile attitude towards JVL is in stark contrast to his friendly relations with the Jewish Labour Movement – a group with intimate ties to the Israeli embassy.
He has worked closely with the self-defined Zionist organization, even addressing its conference in 2018, and again at their event during the Labour Party conference the same year.
However, Lansman's links to the group stretch back much further. He told The Independent in 2016 that "I work closely" with Jeremy Newmark, then JLM chairperson.
Despite these ties, Lansman in 2018 refused to comment on Newmark's forced departure as JLM chairperson for alleged corruption, telling The Electronic Intifada, "I don't want to comment on the internal affairs of a Labour Party affiliate of which I am not a member."
Lansman may not be a JLM member, but he used his platform at the September 2018 JLM conference to imply that Corbyn needed "training" on anti-Semitism. Reportedly drawing laughs from the audience, he replied to a questioner: "Everyone needs training and Corbyn has a commitment to lifelong learning."
Lansman denied to The Electronic Intifada that he thought Corbyn has said anything anti-Semitic, stating that "Jeremy doesn't have an anti-Semitic bone in his body."
"Frenzied witch hunt"
Relations between Lansman and the rest of the left were not always this bad.

He once seemed to recognize the fact that anti-Semitism was being fabricated as a political weapon against the Labour Party and Corbyn.

In May 2016, he wrote that what had been happening in Labour was a "frenzied witch hunt" in part fueled by "the fundamentalist wing of pro-Israeli organizations."

This attitude did not last, however, and in any case was always equivocal.

Speaking to The Jewish Chronicle in January 2016, Lansman accused former mayor of London Ken Livingstone of being "sloppy with his language on Jews and Zionists." Lansman added, though, that he did not think Livingstone was anti-Semitic.

A few months later, Livingstone became the most high-profile target of the witch hunt, when the party suspended him for factually accurate comments he had made on a radio interview that Adolf Hitler's Nazi government had been "supporting Zionism" through an agreement it made with Germany's Zionist organization.

After a long, protracted process, Livingstone was effectively pushed out of the party.

Lansman had been livid at Livingstone's comments straight away.

He demanded Livingstone end his criticism of Zionism and leave politics "altogether."

From then on, Lansman proceeded to condemn most Labour members publicly accused of anti-Semitism – regardless of the facts.

In other words, he joined the witch hunt.
Zionism
The former colleague said that although Lansman has little support in Labour's higher echelons, people are still reluctant to act against him. A second left-wing source and former Lansman colleague said that Lansman did not have much support on Labour's ruling National Executive Committee.
If that is the case, it is hard to explain why the NEC buckled to last year's media frenzy over the International Holocaust Remembrance Alliance's so-called "working definition" of anti-Semitism – a deeply anti-Palestinian document long promoted by Israel and its lobby.
Having at first opposed Labour adopting the full IHRA document, Lansman U-turned, pushing for the bogus definition to be completely adopted.
An NEC majority eventually agreed, and the document was embraced – despite the long predicted anti-Palestinian implications, which inevitably made life harder for Palestinians and solidarity campaigners in the UK.
What is Lansman's position on Zionism?
In 2016 he told The Jewish Chronicle that when he was 16, he had worked on a kibbutz in the Naqab (Negev) desert – one of the collective Israeli settlements that have commonly been used as key military bases and are often built on land belonging to ethnically-cleansed Palestinian villages.
Although at first he "saw myself as a Zionist," after the kibbutz experience "I felt it less."
Lansman said Zionists should have a place in Corbyn's Labour and that "I have Zionist friends in the party."
Asked by The Electronic Intifada whether he still saw himself as a Zionist, he responded: "No, I don't describe myself as a 'left Zionist.'"
A few days after he had demanded Ken Livingstone's "silence" on Zionism, he wrote an article for his own Left Futures website explaining "Why the left must stop talking about 'Zionism.'"
Tellingly, this proposed ban on the words "Zionism" and "Zionist" does not seem to apply to Zionists themselves, or to himself – only to those critical of Zionism, and especially to anti-Zionist Jews.
If Lansman gets his way, the witch hunt within the Labour Party against the left and Palestine solidarity activists seems set to continue.
Asa Winstanley is an investigative journalist with The Electronic Intifada.
Tags