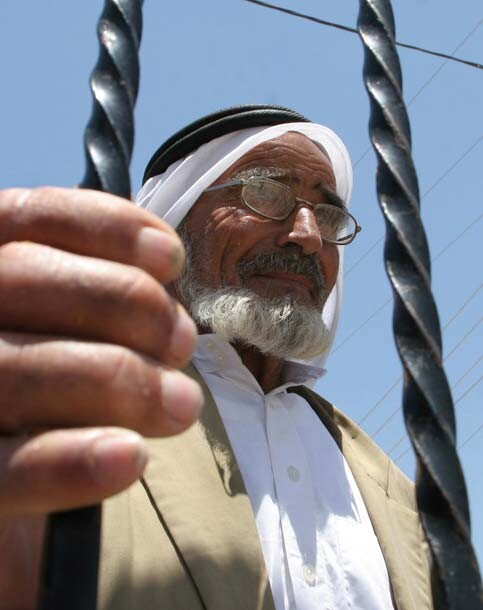 You have probably heard of cases where the Israeli Occupation Army and Border Police are refusing entry or return to the Palestinian Territories to holders of foreign passports. This is now taking more ominous dimensions.
There are many thousands of Palestinians, or their spouses and members of their families, who hold foreign passports. The Israeli authorities, of course, know their numbers exactly. Many were denied obtaining 'Palestinian' IDs which are actually issued by the Israeli Occupation authorities.
These IDs control birth, death, marriage, visits, visas, permits and all personal and civil matters in the Occupied Territories, even in Gaza after the 'disengagement.' And since the time of the Netanyahu government, in the late nineties, no new 'Palestinian' IDs have been issued to anyone who applied for them, in spite of the formal agreements with the Palestinians. It is not only military occupation of the land, but of the people also.
This policy of denying people visas, visits and return has accelerated considerably in the last few weeks and it is affecting wives, daughters, sons, husbands, grandchildren and, in short, tearing up families. It also affects lecturers at universities, students, researchers and peace and solidarity activists, and sometimes even ordinary tourists.
This also applies to my wife who is European and holds a European passport. She was due to travel on Friday to see her children abroad and her 91-year old mother, and to renew her visa, but she is very much afraid not to be allowed back. She is torn between staying at her home with me and overstaying her visa, or leaving and being stuck outside. All the time, she hears stories of foreign wives who have been living here with their husbands and children, who are now being kept outside, separated from their families. Upon arrival at Tel Aviv airport they are forced to return and pay the fare back to where they took off from.
This policy targets foreign passport holders of Palestinian origin as well as foreign spouses of Palestinian ID holders alike. It is breaking up many Palestinian families, and extended families, which is perhaps one of the foundations of Palestinian resilience in facing the occupation.
One friend of ours, German and married to a Palestinian with 2 young children who stayed behind with the husband, was told by an official at the airport: 'You have spent 8 years here with your husband. That's enough. Now go back to your country.' And she stamped her passport with 'entry denied.'
Many people in that situation, or the members of families separated by it, have recently formed an ad hoc committee to see what they can do about it. Contacts with foreign embassies and consulates are proving fruitless, and they are discussing seeing lawyers, writing to the media, going on hunger strikes, and all sorts of other actions for family reunification, and the possibility of seeing family and friends, or for just wanting to visit this damned place.
I do not cherish the idea of being separated from my wife, after 27 years of marriage, by a soldier in Beit El. This colonial settlement, which houses the headquarters of the 'Civil Administration', a euphemism for the military occupation authorities in the West Bank, is located just up the road from where we live, at the edge of Al-Bireh, the twin city of Ramallah. It's just odd that it is so near, yet so far, in many ways.
This problem is of course less dramatic than other acts perpetuated by the Israeli occupation army on the ground. It is just another addition to the long list of what it means to live under the yoke of occupation.
Ahmed Zaid is a psuedonym of a Palestinian professor who lives and teaches in the occupied West Bank.
Related Links
Keeping the international eyewitnesses out, Rima Merriman (15 June 2006)