When Israel's latest major attack on Gaza came to a halt in May, the attention of the world's media soon shifted elsewhere. Local people, by contrast, had to live with the attack's frightening consequences.

Reminders of what had happened are constant – particularly so for people in areas to which Israel had laid waste, aided by American-made weapons.

For more than five months Yasser al-Turk, 28, and his family stayed in what remained of their Gaza City home.

It was badly damaged when Israel bombed the neighboring al-Waleed building on 13 May, which was also the feast of Eid al-Fitr this year.

After assessing the damage, the Gaza authorities decided that al-Turk's home was no longer inhabitable. Approximately 30 people lived in the same building as him.

The building was torn down within the last few weeks.

Al-Turk and his family only found alternative accommodation a short while before the demolition work got underway. They are now renting a different apartment in Gaza City.

For al-Turk, the sense of relief that his family – and especially his young son Mahdi – survived the May offensive cannot be separated from the sadness "that we have said goodbye to the home, where I spent all my childhood," he said.
Al-Turk and two of his brothers set up a store where they sold roses in 2017. It, too, was badly damaged during May and has been subsequently demolished.
The shop has now moved to an area beside al-Wihda street, an area in Gaza City where Israel committed a massacre during the May attack. He has not received any financial compensation for the damage to the store.
"My shop brought happiness to many people," said al-Turk. "We used to deliver roses all over Gaza. Every day, I thought of new flower arrangements. And then it was all destroyed in the blink of an eye."
More than 2,000 housing units were destroyed or seriously damaged in Gaza as a result of Israel's violence during May. The World Bank has estimated that the total harm inflicted on Gaza's infrastructure was worth $380 million.
Witnessing a massacre
Behind those statistics are myriad human stories. Like the story of Abdul Latif Skaik, 40.
He lived in the al-Daour building on al-Wihda street.
Skaik, his wife and their three children survived the massacre committed on that street in the early hours of 16 May, when Israel killed more than 40 people. Yet it would be completely wrong to say that they were unscathed.
The family's apartment – where Skaik had spent a decade – was badly affected by Israel's bombardment. And within a week of the massacre, residents in the building noticed that it was collapsing.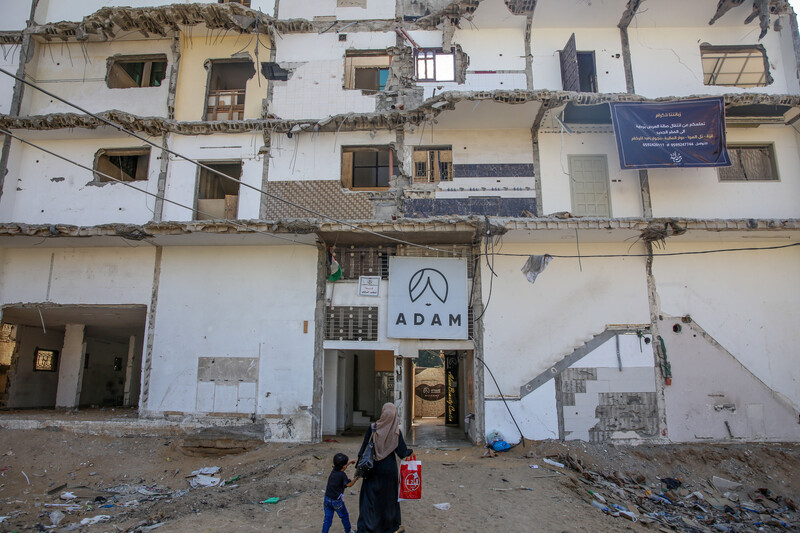 "Technical staff came to inspect the building," said Skaik. "We waited for news from them. And we were shocked to be told that we needed to evacuate."

The al-Daour building was demolished in August. Skaik, his wife and children are now living with his grandfather.


"We witnessed the massacre on al-Wihda street, and that had a bad effect on the mental health of all my children," Skaik said. "Things got worse for them after we got the news about the demolition. We have so many memories of our home."
Risk of collapsing
More demolitions were needed for reasons of basic safety this year than after the other three major offensives to which Israel has subjected Gaza since December 2008.
Seven residential buildings required demolition on al-Wihda street alone, according to Fayez Ibrahim, a representative of Gaza's public works and housing ministry. Bombs used by Israel were so heavy, he pointed out, that the foundations of buildings were often left unstable.
"Israel deliberately bombed civilian infrastructure and houses," Ibrahim said. "Houses in the Gaza Strip are built very close to each other. So if the last war [in May] had continued for more days, it would have forced more families to leave their homes."
On 14 May, Israel caused damage to the home of Ahmad Fayyad, 47, in Beit Hanoun, northern Gaza.
Fayyad's situation may not have been as dismal as that of many neighbors – whose houses were completely wrecked. Yet it became apparent that his home was at risk of collapsing.
In late June, the authorities informed him that he would have to move. His home has subsequently been demolished.
"When the Israeli bombing was over, I saw that part of my house was damaged," he said.
" 'Thank God,' I said. 'The rest of the house can be rebuilt and our beautiful memories of living there can be saved.' Then several crews [from the authorities] came along and told us that the foundations had been hugely affected. That made me feel so sad. I and nine other people had lived in that house. We all live in a rented home now. My heart really belongs in our old house."
Amjad Ayman Yaghi is a journalist based in Gaza.
Tags