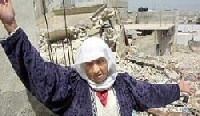 "The

IDF

is one of the most humanitarian armies in the world", said Israeli army commander Brigadier-General Eyal Shlein. However, earlier this week, Israeli army officers said that "when the world sees the pictures of what we have done there, it will do us immense damage" (Ha'aretz, April 9).

At the same time, the Israeli newspaper Ha'aretz reported today that in Jenin, 'two infantry companies, along with members of the military rabbinate, will enter the camp today to collect the bodies. Those who can be identified as civilians will be moved to a hospital in Jenin, and then on to burial, while those identified as terrorists will be buried at a special cemetery in the Jordan Valley.'

Also this morning, the Israeli army issued a rare 'clarification', which corrected a slip of the tongue by Israel's chief army spokesman, Brigadier-General Ron Kitrey. He told Israel's army radio today that, "there were apparently hundreds of people killed in the Jenin refugee camp." Immediately after, the Israeli army stated that "comments made this morning regarding Jenin refer to casualties - those killed and wounded" and that "there is no clear number of those killed."

There is a growing concensus that Israel's actions suggest an intention to hide evidence of war crimes committed in Jenin refugee camp. Reports from eyewitnesses speak of horror. We're not thinking of apartheid-South Africa now, but we fear atrocities of Slobodan Milosovic.

Residents of the camp speak of bodies left in the streets and alleyways, and under the rubble of demolished homes. Israel still prevents journalists and independent monitors from the area.
Yesterday, journalists were stripped, their press cards and tapes confiscated and sent out of the area. CNN's Ben Wedeman said: 'Another problem we've experienced here in Jenin is the fact that there's almost no access. In fact, we have no access whatsoever to the refugee camp. We have been trying for quite some time and in many different ways to get inside that camp because we need to know what has happened.'

Also the BBC faced problems. Wedeman said: 'In this case, we're hearing of other reporters — in fact, the BBC had a crew. They were given the choice: Surrender your press cards — which is essentially your passport to cover this story — or surrender your equipment. They chose to surrender their press cards.

A BBC report yesterday evening, showed a Palestinian elderly woman in a wheelchair, who had been left in the middle of the road.

The irony is that this week in The Hague, a Dutch government-commissioned report was issued about the 1995 Sbrenica massacre, in which more than 7,000 Bosnian Muslim men were systematically killed, while a Dutch peacekeeping battalion of United Nations forces helplessly looked on. The report said United Nations troops from the Netherlands defending Srebrenica faced an impossible task, but must share blame for turning over Muslim civilians to Serb forces. It blamed the Dutch government for ordering lightly armed troops into the U.N. enclave without specifically defining their mission. The report also blamed U.N. commanders for failing to provide enough support to defend civilians in Srebrenica.

It is also the Netherlands, together with Britain and Germany who block any economic sanctions such as suspension of the Association Agreement and an European-wide arms embargo. The reluctance and obstruction of these countries in taking any appropriate measures to prevent further atrocities and protect the civilian population will make us continue counting the dead.

Doesn't anyone learn from the past?