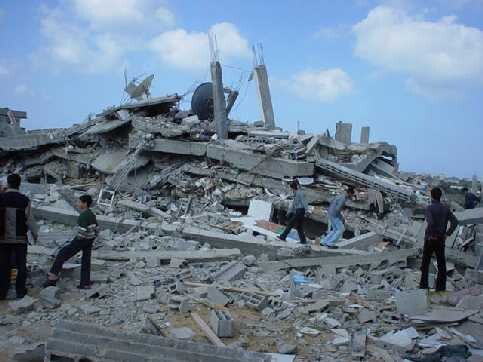 The total number of Palestinians made homeless by Israeli's military demolition campaign climbed above 12,000 this month following a rapid acceleration of the policy in Gaza during the first quarter of this year.
Since the beginning of the current strife in September 2000 until April 30 2003, a total of 12,737 people had seen their homes demolished in Gaza and the West Bank. The United Nations Relief and Works Agency for Palestine Refugees (UNRWA), which is responsible for the welfare for almost all of those affected, is trying to raise donor funds to replace the lost shelters in the occupied Palestinian territory.
Recent months have seen a sharp increase in house demolitions in the Gaza Strip. At the end of 2002, total and partial demolitions had until then averaged under 30 per month. In the first three months of 2003, 221 shelters were demolished or damaged beyond repair - making an average of 74 per month. These alone housed 401 families (2,273 persons).
Demolitions often occur late at night with little or no warning. Israeli military units - supported by tanks, APCs and helicopters - enter Palestinian areas to destroy a variety of targeted houses. A great many demolitions have occurred near Gaza's border with Egypt where Israel is building a security fence. Houses close to settlements are often also destroyed. In some cases the demolished buildings belong to the families of militants or Palestinians detained in Israeli jails. Increasingly, explosives rather than bulldozers are used to destroy property creating widespread collateral damage.
UNRWA has so far been able to complete only 158 new shelters for homeless families and is working on 160 more. A further 471 shelters, including those destroyed in Jenin in April 2002, are at the planning and design stage, but security concerns have caused delays to rebuilding.
Peter Hansen, UNRWA's Commissioner-General, is currently visiting the Nordic countries for meetings with Governments in the region. He said: "Even as we rebuild, it is impossible for UNRWA to keep pace with the current level of destruction in the occupied territory. Even if peace were to break out tomorrow there would be an ongoing need for funds for reconstruction to help all those families who have lost their homes in this conflict."
Mr Hansen will discuss donor funding for UNRWA's emergency operations and the humanitarian situation in the occupied Palestinian territory in a series of meetings with the Governments of Denmark, Sweden, Norway and Finland and with regional NGOs.
Note to Editors: UNRWA (the United Nations Relief and Works Agency for Palestine Refugees) is a relief and human development agency, providing education, healthcare, social services and emergency relief to over four million refugees living in the Gaza Strip, the West Bank, Jordan, Lebanon and the Syrian Arab Republic.
For more information contact: Kim Garval at the UN Information Centre Copenhagen on (45) 35 46 73 00 or Paul McCann at UNRWA HQ Gaza on (972) 8 677 7526.