NABLUS

,

PALESTINE

(December 31, 2002) — Nablus is a city under siege. The West Bank's largest town is the primary target for the Israeli Occupation Forces' (

IOF

) increased campaign against so-called militants and terrorists. It's a campaign that, in effect, collectively punishes all Palestinians for being Palestinian.

During the current siege, which has lasted for more than a month, no Palestinian vehicles have been allowed to enter or leave the city. Army checkpoints are more aggressive, and in many cases Palestinians are forced to wait an entire day before getting through, with at least several men targeted for arrest and detention every time.

Curfew takes effect nightly at 6pm, allowing the IOF to undertake its self-described "operations" within the city's neighborhoods and refugee camps. The incursions involve tanks, APCs — occasionally Apache helicopter gunships — and the IOF's special Paratroopers brigade. Homes are invaded, and residents held hostage, while soldiers try to locate and kill Hamas or Tanzim militants nearby.

Armored bulldozers have dug up rubble and earth to create roadblocks within the city, and the same bulldozers are also active destroying the homes of militants at all hours. The city's basic infrastructure is falling apart, although during the day, life maintains some normalcy: markets stay open, workers are busy making additions to already over-crowded apartment blocks — or rebuilding demolished homes — and children fill the streets at play.

Curfew is sometimes imposed during the day too, although when the IOF tried last week, in the center of Nablus, it was defied by residents, who resisted bullets, APCs and tanks with stones and firebombs. One youth was killed in that "incident".

Nablus and its adjoining refugee camps — including Balata and Askar — are centres of resistance to the Israeli occupation. According to military sources cited by Ha'aretz, Nablus is the town most densely populated with men on Israel's "wanted" list.

I met one of those "wanted" men, in his home, last night in Nablus.

Mohammed Hashem Ramadan is 19. He is a physical education student at Al-Najah University.

Mohammed lives in the crowded Askar refugee camp, in a small apartment home with his father, mother, two brothers and four sisters. The family is from the wave of refugees who fled Jaffa in 1948.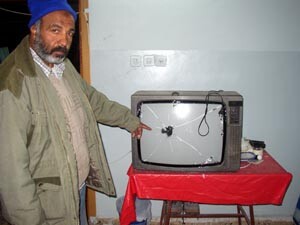 Last Thursday night (December 26), while Mohammed was staying overnight at a friend's house studying for an exam,

IOF

special forces soldiers invaded his family home for one of their "operations". Before entering the Ramadan house, the more than 40 soldiers, according to eyewitnesses, first shot themselves into two nearby homes, firing several machine gun rounds inside the apartments and on the roof, shouting for Mohammed to give himself up.

After realizing their mistake, these "elite" soldiers entered the Ramadan home, again, using sound bombs, and then shooting just above where family members would usually sleep. The family was forced out of the house, into the cold street.

Mohammed's mother was hit by soldiers on the neck and shoulder. Mohammed's father, Hashem, 50, was handcuffed and beaten, but not before he was especially humiliated, forced to pull down his pants in front of his family, to prove he wasn't hiding a bomb. For four hours the family, including the young children, waited on the street, at gunpoint, while soldiers inside searched the house for where Mohammed might be hiding. The soldiers left, empty-handed.

Mohammed was back home last night — four days after the army raid — when I visited. That morning, an IOF commander at the nearby Huwarra Base phoned his father to pressure him to give up his son. The commander said he'd be phoning back at 8am today for an answer.

I entered the home last night with other members of the International Solidarity Movement (ISM), whose help had been requested by the family after the IOF home invasion. They hoped that the presence of internationals in the house would preempt another raid, and buy some time to help the family make some difficult choices.

The modest Ramadan home was full of kids, relatives and visitors, all anxious and worried, although the children were delighting in practicing English with their guests ("What's your name?" was a favourite question). At times, the adult relatives would show tears.

Almost immediately, noticing my camera and notebook, Mohammed's father, Hashem, led me around the house. Systematically, he showed me practically each and every bullet hole, many of which I photographed (including the injury to Mohammed's mother). There were traces of bullets everywhere — the entry door, beside the beds, at closets (whose doors were ripped off), and in the kitchen. A television was shot out, as well as the water tanks on the roof.

Hashem quietly described the soldiers to me — their faces were totally covered by black masks except for their eyes. Through a translator, he told me that the soldiers threatened to kill him while he was kneeling on the ground handcuffed.

An uncle — a local soccer coach and an accredited FIFA assistant referee — spoke proudly of his nephew's soccer skills as a fullback defender. A cousin, who studies business at Al-Najah, specifically spoke to me about the perception of Palestinians abroad. Practicing her English, she said,

"Do you see Palestinian[s] as terrorists? Do you see what Israelis do to Palestinian people? Write about us to the outside."

Mohammed seemed embarrassed by all the attention, and mostly stayed in his room, listening to friends, cousins and uncles. I was able to chat with him too, through a translator. He's tall, athletic and broad-shouldered — perfect for a soccer fullback — and quite shy.

I asked him how he was feeling, and he just shrugged. Was he angry? His reply, after I repeated the question in different ways: "Sure I'm angry."

He opened up somewhat when we talked about soccer. His favorite team is Real Madrid, and we went back and forth naming players, and expressing degrees of approval or disapproval — Zidane, Ronaldo, Figo, Roberto Carlos; he really liked Roberto Carlos.

I tried to get an idea of why he might be a wanted man. Again, just a shrug. His mother, and all the relatives, insisted he basically went to school, played soccer, and stayed at home, and had no associations with political groups.

Saif, a Palestinian activist with the ISM in Nablus, who's from Askar, put it to me this way: "Every male between 15 to 55 is wanted; [the IOF] don't need a reason."

There was some argument about whether the targeted males started at 15, or were even as young as 12. But there was no argument that if you're a male and Palestinian, you'll be wanted by the IOF some time for some reason.

Everyone was speculating about why the IOF might want Mohammed. There were two main theories: either a case of mistaken identity, or that the IOF want to use him for information on others through the pressure of family separation and forced detention.

Again, Saif remarked, "At least during the first intifada, they'd try to make sure they got the right person; now, if they're not sure, they just arrest or kill both people."

When I left for the night, it was still unclear what decision Mohammed and his family might make. They were expecting a call from the IOF commander the next morning, and feared for another raid on the house. Several ISM international activists stayed the night.

By the next morning, the decision was made.

What I never appreciated from my brief discussion with Mohammed was how upset he felt at the humiliation and terror to which his family was subjected. The family considered the option of helping Mohammed go into hiding, or even openly defy the IOF with the help of ISM activists. The latter option could mean a certain amount of media attention on Mohammed's case and, potentially, force the IOF to publicly justify their home invasion and detention.

In the end, Mohammed decided to turn himself in, to spare his family any further humiliation or anxiety. The family too rationalized the decision, thinking that at least in prison, they would know he's still alive. To go into hiding as a "wanted" man means eventual murder at the hands of the IOF.

As promised, the IOF commander at Huwarra phoned at 8am sharp today. Mohammed's father, supported by the presence of ISM internationals, requested the small dignity of allowing his son to say good-bye at home, and meeting the IOF at the base. The commander said he'd phone back in 15 minutes.

Exactly 15 minutes later, the occupation commander phoned, and agreed to meet Mohammed at a location just outside the Askar camp, but not near the base.
Mohammed said goodbye to his younger sisters, kissing each one tenderly. Susan — a long-term

ISM

activist in Nablus, who's seen many traumatic situations — found herself breaking down as the sisters began to cry.

Accompanied by his father, mother, sister and older brother, as well as several internationals, Mohammed walked through the Askar camp to his rendez-vous with the Israeli Occupation Forces. Camp residents came out to say their farewells, repeating the Arabic phrase "deer baaluk" [take care], shaking his hand, or kissing his cheeks. A camp procession began to follow Mohammed to his destination.

The IOF commander maintained contact with Mohammed's father by cell phone, and when he got within sight of the IOF — who had arrived in several armored military jeeps and an APC — the rest of the procession was ordered to stop.

Many of the children who were following were ready with rocks in hand, but they stayed behind as Mohammed proceeded ahead with his father, mother, as well as the internationals whom he wanted with him as protection.

As Mohammed got even closer to the IOF soldiers, he was ordered to walk ahead alone. He kissed his father good-bye and, finally, kissed his mother two times on each cheek before walking up a hill to meet the soldiers.

Before arriving, he was ordered to lift his shirt, and drop his pants. In his underwear — and within sight of his family and friends — Mohammed was asked to turn around.

Mohammed Hashem Ramadan, 19, was placed in a jeep and driven to the IOF's Huwarra Military Base south of Nablus. He will be held and interrogated there until the IOF decides to hold him in administrative detention — ie. detention without trial — for six months or more — or order his release.

There are currently more than 8000 Palestinians in IOF occupation prisons.

Jaggi Singh is a writer and activist based in Montreal, and a volunteer with the International Solidarity Movement.