We are strange creatures, we humans.
Capable of great joy and great sadness, we sometimes find ourselves feeling both at the same time.
This is a story about tragedy. Almost every story from Gaza is.
But it is also about hope. Every story from Gaza has to be.
It starts with two Mariams.
Mariam Abdelal is just 18 but already a widow.
Her husband Ahmad – husband on paper at least – was just 23 when he was killed in an Israeli airstrike in November last year. Mariam and Ahmad had signed the relevant legal documents, but had yet to hold their wedding party, which confirms a marriage in the Islamic tradition.
My sister-in-law is also named Mariam. On the same day I sat, talked and cried with Mariam Abdelal for this story, I had to go to the market to buy a dress for my Mariam's wedding, which fell two days later.
I did so with joy. I had to. I had to live two feelings at the same time.
This is Gaza. After every escalation, after every time Israeli planes bombard us, we have to carry on.
In one house there is a funeral; in the next there is a wedding.
Newlywed and widowed
The last serious escalation in Gaza came on 12 November when Israel – apparently just because the opportunity presented itself – assassinated Islamic Jihad commander Baha Abu al-Ata.
The killing, which also saw the murder of Abu al-Ata's wife Asma, sparked more than two days of violence in and around the Gaza Strip. By the time the dust had settled, 35 Palestinians had been killed, 16 of them civilians, including eight children.
Among them were Abdullah al-Bilbaisi, 26. He was killed on the first evening of that escalation. It was just 50 days after he was married to Liza al-Shurbaji, 18.
Liza was in shock when I spoke to her in her home in the Jabaliya refugee camp in northern Gaza. She had only recently found out that she was pregnant.
"Abdullah wanted to have a baby girl and name her Iman. Iman is coming now but she will never know her father," Liza told me.
Al-Bilbaisi was a member of Islamic Jihad's al-Quds Brigades, the movement's military wing which was targeted in the November attack. He was killed while taking part in that wing's response to the assassination of Abu al-Ata.
He also worked as a taxi driver after his family had to close their sewing workshop amid Gaza's dire economic situation.
But he was a tailor at heart.
"Every time I bought clothes," said Liza, "Abdullah used to modify them to look much more beautiful."
Now, she said, as she contemplated her fate as a newlywed widow, "instead of receiving well-wishers, I receive mourners."
Honeymoon in rubble
In Khan Younis in the southern Gaza Strip, meanwhile, Muhammad Abu Amra and his new bride Marwa, both 23, are facing a homeless start to married life.
Muhammad is a motorcycle mechanic. It took him three years to save enough money to build an apartment above his father's home where he had just moved in with Marwa.
Their dream came tumbling to the ground on 13 November at around 11pm. That was when Muhammad's father, Hamoudeh Abu Amra, 50, ran screaming around his home telling everyone to leave immediately.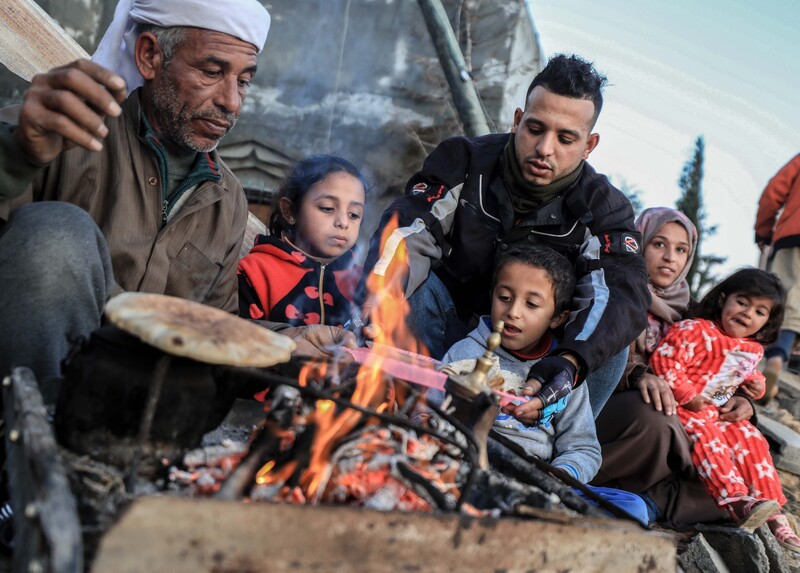 The farmer had just received a phone call from an Israeli military officer giving him and 19 family members – including eight children – three minutes to leave the building.
Mostly barefoot, Hamoudeh remembered, the family hurried out.
"At first, an Israeli drone fired a warning explosive at the house." Then, the father said, he could only watch as from somewhere up above a missile was fired that destroyed the five-story building.
Muhammad and Marwa were both inconsolable. It cost $20,000 to build the apartment that the couple had lived in for only two months, Muhammad said. Not long enough to feel like home yet, but long enough to hold all their possessions, including the pictures from their wedding day.
"In less than a minute, Israel destroyed our life and turned it to hell," Muhammad told The Electronic Intifada.
An April of sorrows
Muhammad and Marwa's home was among eight destroyed and 37 partially damaged during the November assault.
But Israel also targeted commercial facilities. It was in one such attack that Ahmad Abdelal was killed, alongside two of his younger brothers, both teenagers under the age of 18.
Ahmad was a carpenter, like his father before him. It was his father's carpentry workshop, in the al-Tuffah neighborhood of Gaza City, that was targeted in the 13 November attack.
"We had spent the night just two days earlier talking about our wedding," Mariam recalled. They had booked a hall and decided that the party would be in 2020 in April, the month in which they both celebrated birthdays.
"We talked about many things: the wedding, our future furniture, the color we would paint the house, the name of our first born. Many things," Mariam told me when we met. "We didn't agree on a color. But in the end, Ahmad said he would do what I wanted."
Ahmad had fought with the Qassam Brigades in Israel's 2014 offensive on Gaza. But Hamas was not the target of the November aggression, and stayed on the sidelines of the fighting. Why the Abdelal workshop was targeted, and with two children inside, is not clear.
Mahmoud, 24, a cousin of the three slain brothers, had arrived just as the missile struck.
"They were just working," he recalled to The Electronic Intifada. "Ahmad had called and asked me to come and help. They were not doing anything wrong. They were just trying to make a living."
Now Mariam – still unable to accept what happened – has to make sense of it all.
"I still can't accept the idea that I'll not live with him in one house, that I will not dress in white for him. It's a nightmare."
April, she said, which the couple had planned as a month of celebration, had now turned into a constant reminder of her sorrow.
My Mariam's wedding went ahead as planned. We spent a lovely time with family and friends.
I did my best to push aside the sorrow of one Mariam in order to rejoice for another.
This is Gaza.
In one house there is a funeral; in the next there is a wedding.
Sarah Algherbawi is a freelance writer and translator from Gaza.
Tags