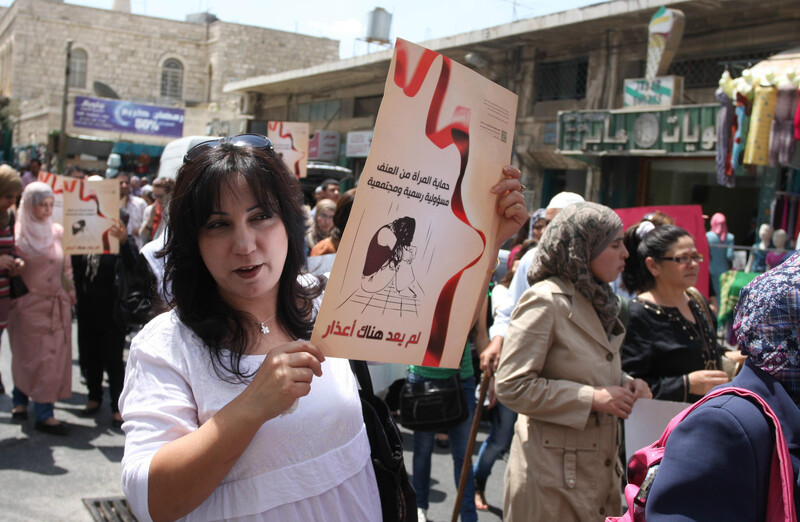 RAMALLAH (IPS) - After the brutal murder of a Palestinian woman in late July in a busy Bethlehem marketplace, local human rights groups are pushing for stronger reforms to stem violence against women in the West Bank and Gaza Strip.
"We have problems with the existing laws," Maysoun Ramadan, director of the Mehwar Centre, the West Bank's only women's shelter told IPS. "I think also we need to work more on raising awareness towards women's rights. We have a problem with the mentality, the culture, we have a lot of previous constructions about women which need to be changed."
Nancy Zaboun, a 27-year-old mother of three, was violently killed by her husband on 30 July in Bethlehem. The murder took place after Zaboun left a divorce hearing. Her husband had reportedly beaten her regularly over the course of their ten-year marriage.
On 18 July, the body of another woman was taken to al-Shifa hospital in Gaza City. Palestinian police have reportedly arrested two of the woman's relatives in connection with the killing, which is suspected to have been carried out to preserve "family honor."
Empowering women
In 2010, the Ramallah-based Independent Commission for Human Rights documented the cases of nine women who had been killed for this same reason — to preserve "family honor" — in the occupied West Bank and Gaza Strip.
In addition to these "honor killings," a 2009 study published by the Gaza-based Palestinian Women's Information and Media Centre found that 67 percent of Palestinian women reported being subjected to verbal violence on a regular basis, 71 percent to psychological violence, 52.4 percent to physical violence and 14.5 percent to sexual violence.
"When women come to the shelter, they come in a very dramatic way. They have been abused and subjected to different types of violence for many years. They lost their confidence. They are sometimes aggressive, sometimes suicidal, sometimes in depression. They have nightmares," Ramadan told IPS.
"They are all the time dependent on someone else and don't believe in themselves. We try to help them to see their capacities and to raise their motivation to break this cycle."
In January 2011, the Palestinian Authority passed a National Strategy to Combat Violence against Women for the period 2011-2019. The program aims to create work training and empowerment programs for women, provide social support, and promote a legal framework to stem violence.
PA allows violence against women to continue unpunished
"Our aim and target was to eliminate all forms of violence, no matter what kind of violence, against Palestinian women," Rahiba Diab, the PA's Minister of Women's Affairs, told IPS from her Ramallah office.
"There is a serious commitment from the PA to support all the issues related to women, and not to forget about the violence that comes from the critical political situation that we're living under as Palestinians," Diab said.
In May 2011, Palestinian Authority President Mahmoud Abbas issued a presidential decree to suspend two laws: Article 340 of the Jordanian penal code of 1960, in effect in the West Bank, and Article 18 of the British Mandatory law of 1936, which is enforced in Gaza.
Article 340 granted a man exemption from prosecution and reduced penalties for killing his wife or other female relative if she is caught committing adultery. Article 18 provided leniency for the same crime if a man can prove that he acted in order to preserve his honor or the honor of others.
But various human rights groups have pointed to the fact that the PA left other tenets of the law in place, which allow for violence against women to continue unpunished.
Articles 97, 98, 99, and 100 of the Jordanian penal code deal with mitigating circumstances can be used to justify "honor killings," — Article 98 allows perpetrators to avoid punishment if they can prove that they acted in a "state of rage."
"The existing law still allows for women to be killed, still allows for impunity," said Tahseen Elayyan, head of the 'Protection of women in armed conflicts' project at the Ramallah-based Al Haq human rights organization.
"In order to take practical steps towards protecting women, especially from the so-called honor killing, the law must be changed, and perpetrators of this type of killing must be held accountable," Elayyan told IPS.
Harsh economic and social conditions contribute to violence against women
According to a report released in December 2011 by the United Nations Economic and Social Council, "high levels of poverty, unemployment and related frustration have contributed to an increase in tension, and ultimately violence, within families" in the occupied Palestinian territories.
This is especially true in the Gaza Strip, where the increasingly harsh economic and social conditions created by the Israeli siege have translated into violence against women, according to Mona Shawa, head of the women's unit at the Palestinian Center for Human Rights in Gaza City.
"Gaza is under a closure. The economic situation is very bad. There is a high percentage of poverty and unemployment. There is frequent violence from Israeli attacks. All of these circumstances affect the level of violence against women," Shawa told IPS.
She explained that while putting laws in place to protect women against violence is a much-needed first step, raising awareness on the rights of women and changing attitudes within Palestinian society is crucial.
"Most important is the community and the culture. We still have a culture which is based on discrimination against women. We still have a culture that sees women as not equal to men. This encourages violence against women," Shawa said.
"Working on that as a government, as civil society … a joint effort must be made for all this to change."
All rights reserved, IPS - Inter Press Service (2012). Total or partial publication, retransmission or sale forbidden.
Tags