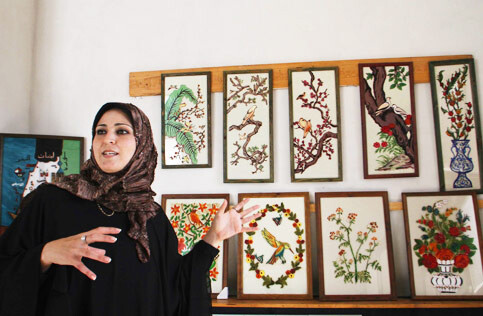 At the age of 24, Saeda Alkhaldi, a woman from Gaza City who suffers from polio, restarted her education starting from elementary school until she had her bachelor of arts six years later. Her will made her strong enough to make her way into academic life, despite her disability.

Now Saeda is a board and staff member at the Gaza Strip Society for the Disabled, where she is in charge of the women's activities department. Though she comes from a conservative Gaza family, she now enjoys freedom of movement thanks to her confidence.

"I became disabled in the age of three as I had polio which prevented me from having a normal life. At that time, there were very few handicapped rehabilitation centers in Gaza, so I used to learn side by side with normal children" says Saeda.

Saeda's 67-year-old mother recalls, "When she was 14 years old, she stopped going to school for she found it difficult to cope with the situation, as we could not afford her taxi fare to and from school. Besides, she herself had some kind of [psychological] complications."

Saeda says, "When I joined the society, there was the inauguration of illiteracy classes, so I became convinced of joining the school. After that, I could in one year earn a high school degree. I currently work for the society, but I don't receive a salary; everything seems locked down now and even the other staff just work voluntarily, for there is no money."

Saeda uses her artistic talent to create some crafts and drawings from which she used to earn a living, maintain her independence and sometimes even help her family. A variety of her works are housed at the rehabilitation center and Saeda has participated in exhibitions both inside and outside of the society.

Samir Abu Jayyab, chairman of the center, says Saeda is one of the most active people on his staff and that she is a real example of how people with disabilities can succeed, despite discrimination in the conservative Gaza Strip.

"One of the most notable obstacles faced by the handicapped here is the people's [perceptions of them]. Families of the handicapped rarely help their children to grow up [to be independent adults]. This goes against our programs and plans of rehabilitation, as such families deal with their disabled kin from only one angle — that they are helpless and are in need of constant assistance," Samir explains.

Exacerbating the situation, says Samir, is the difficulty of navigating Gaza's non-handicapped-friendly streets.

There is another major hinderance that emerged in the past couple of years, specifically when the international community placed the Hamas-led government under economic boycott, the center's chairman says.

"Actually many bodies now, particularly the donor countries, do not support the programming side [of the rehabilitation center], as they always claim that handicapped need, for example, wheelchairs, canes, walkers, etc. … This has definitely impacted our ability to deal with the disabled in a creative way," Samir says.

Over the past few years, the number of handicapped Palestinians in Gaza has steadily increased, with many injured during factional infighting or as a result of Israel's unending siege on the 1.4 million-strong coastal Strip.

According to the Gaza Strip Society for the Disabled, two to three percent of the total Gaza Strip's population are physically handicapped. Of these, about 30 percent are children, while the rate of those generally impacted since the beginning of the second intifada has reached about 30 percent.

May Saeda serve as a beam of hope for the growing number of disabled in Gaza. "When I used to go to a regular school," Saeda says, "I heard a lot of words of pity from bystanders. One day I returned home extremely disappointed and insisted on not going to school any more." Hopefully her story will mean that no one else's education is delayed or is thought of as anything less than an essential member of society.

Rami Almeghari is currently contributor to several media outlets including the Palestine Chronicle, aljazeerah.info, IMEMC, The Electronic Intifada and Free Speech Radio News. Rami is also a former senior English translator at and editor in chief of the international press center of the Gaza-based Palestinian Information Service. He can be contacted at rami_almeghari at hotmail.com.