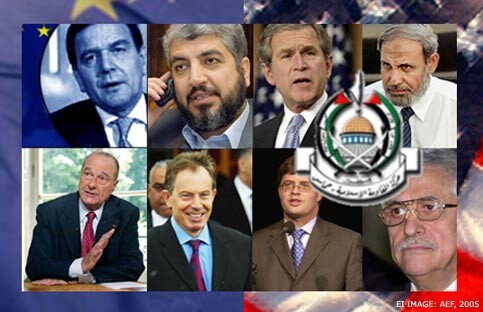 Hamas says it is being approached by European representatives seeking dialogue on the resistance movement's role in the Palestinian-Israeli peace process. Under heavy Israeli and American pressure, Hamas, including its political wing, was placed on the

EU

list of terrorist groups two years ago.

The US had classified Hamas as a "terrorist group" several years earlier, citing resistance attacks, including suicide bombings, by Hamas' military wing, the Izz al-Din al-Qassam Brigades, against Israeli civilian and military targets. However, the growing popularity of Hamas, which found expression in recent elections in the occupied Palestinian territories in the West Bank and Gaza Strip, has prompted European policy planners to have second thoughts.
 
Indications

Hamas' chief spokesman in the Gaza Strip, Mahmud al-Zahar, said there were clear signs to suggest the US and the EU were contemplating changing their minds vis-a-vis Hamas. "We have met with a number of diplomats here in Gaza, and they told us they were interested in talking to us," al-Zahar told Aljazeera.net.

He added that the US administration was considering starting talks with five Islamic movements in the Middle East and western Asia, including Hamas, Hizb Allah, the Muslim Brotherhood, Islamic Jihad and the Jama Islamiya (Islamic group) in Pakistan. 

Al-Zahar said the Americans and Europeans wanted to know if Hamas would be willing to disarm and join the Middle East peace process. "We told them that we would disarm the moment Israel withdraws from the territories occupied in 1967," he said. Al-Zahar said Hamas never initiated hostility towards the US despite the latter's "brazen hostility to our people and excessive support of the Israeli occupation".

Last week, Hamas' political chief, Khalid Mashaal, told Aljazeera unofficial contacts between American and EU representatives and Hamas were increasing in frequency, but that the US and EU wanted to keep the meetings confidential. He added that Hamas did not make any concessions. "Our stand on the major issues remain unchanged," he said.

Softer approach

On Sunday, reports suggested the Bush administration might be willing to ease its erstwhile hardline approach. According to foreign diplomats in Washington, the Bush administration was being urged by the Europeans to show flexibility and to differentiate between the extremist and moderate elements of Hamas.

"There is now a realisation that they do have a role to play. That if you can bring them into the political fold, then you'll be marginalising the military elements of those groups," a European diplomat said. Other unnamed European diplomats were also quoted as saying that a strong election showing by Hamas and a ceasefire deal could prompt reconsideration of the EU's decision to put Hamas on its terrorist blacklist. The EU put Hamas on the list in 2003 after heavy lobbying by the US and Israel.

Mixed messages
 
Responding to European appeals to this effect, some American officials have displayed ambivalence towards Hamas. One unnamed senior administration official was quoted on Monday as saying that "the administration might be willing to have contact with politicians affiliated with the group".

In March, White House spokesman Scott McClellan was quoted as saying that "there is a big difference between people who may be members of organisations but are not terrorists, versus terrorists, people who have blood on their hands".
 
Hamas leaders have consistently said they will be willing to forge a long-term peace with Israel if the latter agrees to withdrawal from the West Bank, East Jerusalem and the Gaza Strip. Hamas said it could not formally recognise Israel for religious reasons.

Khalid Amayreh is a journalist based in the occupied West Bank. This article was originally published by aljazeera.net on June 6, 2005 and reprinted on EI permission.