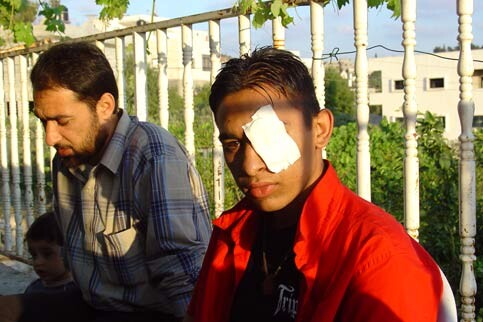 THE PROBLEM
Zaki Mohammed Mansour (15) of Saffa village, West Ramallah, in the West Bank of Occupied Palestine was released on "bail" of 20 000 shekels (about $4800) two days ago.
This is very unusual in the West Bank. Most small boys who are arrested are not given bail but have to remain in prison for months on end awaiting judgement, only to receive a prison sentence at the end of it all.
However, a brief glance at the last two months of Zaki's life reveal a tragic story. Two months ago Zaki he was shot in the eye by Israeli Occupation Forces with a rubber coated metal bullet. Zaki was deliberately targeted by the soldiers while he was with other village youth down in the valley between Bili'in and Saffa villages, resisting the Apartheid Wall's bulldozers. Zaki lost his left eye and doctors said it was a miracle that he was not killed.
The shooting of Zaki took place on the 14th day after the Israeli court issued a 21 day injunction against the building of the Wall in Saffa. The purpose of the injunction was to allow the court time to consider the village's application against the Wall and hopefully to change the route of the Wall. However, villagers say that Ariel Sharon and Shaul Mofaz issued an instruction on the 13th day that bulldozing should continue in defence of the Israeli court ruling. The young boys of the village heard about this and decided to go directly to the construction area after school the next day, and this is when Zaki was shot in the eye.
Zaki's uncle said that this was a message to the village of Saffa from the Israeli Occupation Forces. He says the message was "If Saffa residents try to stop the bulldozers, we will take out your eyes and next time we will kill you".
However, this is not the end of Zaki's personal tragedy. Through a series of unfortunate coincidences involving an unpaid debt, a red shirt and being resident in a house close to the mosque, Zaki was captured and jailed, in his injured condition, by the Israeli Occupation Forces just three weeks after he was shot.
The circumstances that led to Zaki's capture, according to Saffa residents, are as follows: three weeks ago, a man from another village who was owed a small sum of money by a Saffa villager unrelated to Zaki, tired of waiting for his debt to be repaid and decided to exact revenge. He informed the Israeli Occupation Forces that the Saffa villager, Mr X, had loaded up his car with bombs. As a result, 15 jeeps of Israeli Occupation Forces and police, a bomb expert and a vehicle carrier immediately rushed towards Saffa from all directions, closing off all exit roads from the village. This led to villagers throwing stones at the Israeli Occupation Forces in an attempt to keep them out of the village.
The Israeli Occupation Forces went directly to the car, and arrested its owner, Mr X, a machinist in a very small clothing factory in Saffa. They examined the car for three hours using what Saffa residents describe as a robot and found no bombs. Nevertheless, the car was removed by the Israeli Occupation Forces' vehicle carrier and has not been seen since. Mr X was taken to prison but released later that night.
Having been embarassed publicly, the Israeli Occupation Forces then went on a hunt for stone throwing boys who were gathered mainly near the mosque. Zaki, who was wearing a red shirt that day and who lives behind the mosque, was spotted through the window of his house by Israeli Occupation Forces. They invaded and captured him.
Zaki spent 20 days in Ofer Military Prison Camp. During that time, he was beaten by soldiers and not once did he receive medical attention for his eye, which remained a gaping hole, covered by bandages which were not changed in 20 days. His family spent 3000 shekels on a lawyer who managed to persuade the court to allow Zaki out of prison on 20 000 shekels bail so that he could receive medical treatment and go for fittings for a glass eye.
Zaki, who has been charged with making a roadblock and throwing stones, has lost two months of school this year. There is a strong possibility that when Zaki is called for final judgement in his case in about one month's time, that he will either get a prison sentence or he will have to pay a hefty fine of 5,000 or 10,000 shekels, which will be deducted from the 20,000 shekels bail money he has paid. This is a big problem for his family, who went around the whole village borrowing money to make up this huge amount.
Saffa residents say that in any other country the informer or instigator of the bomb threat would have received 10 years in prison for making a false bomb threat. But, in Occupied Palestine, Zaki, the newly released half-blind prisoner faces a further jail sentence and an innocent man's car has been confiscated by the Israeli Occupation Forces.
THE SOLUTION
Please make a firm but polite protest to any or all of the following contacts, asking for Zaki Mohammed Mansour's immediate and unconditional release:
Israeli Minister of Security:
Shaul Mofaz
Phone: (972) 3-697-5436
Fax: (972) 3-697-6218
E-mail: sar@mod.gov.il
Israeli Minister of Justice:
Tzipi Livni
Phone: (972) 2-646-6666
Fax: (972) 2-646-6357
E-mail: sar@justice.gov.il
Israeli army head prosecutor:
Fax: (972) 3-569-4370
Public Appeals Office of Israeli army:
Phone: (972) 3-608-0219
Related Links