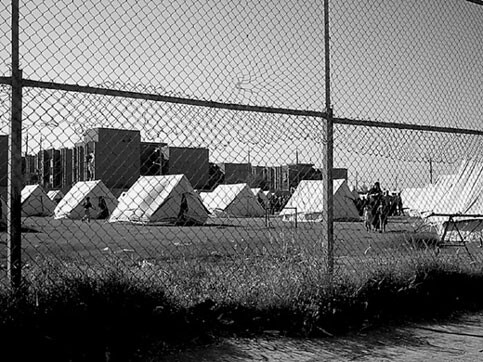 BAGHDAD

, 15

MAY

— The soccer field at Haifa Sports Club was once full of the sounds of children playing. Now, this playground has been remade into a tent city for Palestinian families made homeless by war and prejudice. On the field stand 63 new, white tents set up by the Iraqi Red Crescent Society in order to lodge some 240 families left homeless since the collapse of the former government.

Thamer Rushdi, a young 24 year old worker who left school 3 years ago to make a living for his family, is one among hundreds of Palestinians recently made homeless. Before the war, he was living with his family in a 50 square meter apartment. Now, he and his family are living with another family in one, tiny tent, with a living space of only 6 square meters.

"There were 24 families who had to leave their homes because of destruction caused by American missiles," said Abdul Salaam Yusif, head of the rescue committee of the Iraqi Red Crescent Society.

However, most of the families in the camp were forced from their homes after the war. Many of these families were living in houses that had been given to them by the former government. After the government fell, the original Iraqi owners started to get rid of the Palestinian families. There was no transportation available to the Palestinian embassy in Baghdad, and the only place people could find to stay was at Haifa Sports Club.

Families started coming to Haifa Sports Club on April 11th from Al-Battaween, Jameela, Al-Za'afraniyah, Mansour and Al-Doura districts, and other places around Baghdad. Strangely, and many of these families were renting their houses themselves.

Mohammad Ibrahim, a volunteer with the Iraqi Red Crescent Society, stated that they intended to negotiate with the Iraqi home owners of the houses in order to make new contracts for the Palestinian families, not forgetting that some of those families were forced to leave the houses at gunpoint.

Today, over 1000 people are living in the tent city, overwhelming its capacity. More families are arriving every day. In the center of the camp lies a hole, roughly one meter wide and more than 3 meters deep. Inside it is an unexploded American missile. Near the missile you can find children playing without any sense of the danger they're in.

Riad Abu-Saoud, a boxing coach at the Sports Club, told Al-Muajaha that the Anglo-American Military forces came to the Club on April 27th in order to search it, possibly for militants. However, they refused to remove the unexploded missile.

"We worked hard negotiating with the Coaltion forces in order to come and take the missiles away from the camp, but they refused. They acted like it wasn't their responsibility," said Mr. Abu-Saoud.

Hussein al-Issa, a silver-haired family man in his 40s, recently made homeless along with 8 neighboring families from the Al-Battaween district, said, "It seems that we are living the same tragedy of the year 1948, just like our fathers were living it during that time."

Published on 15 May in Al-Muajaha - The Iraqi Witness, An Independent Weekly Newspaper. Al-Muajaha's website is coming soon at http://www.almuajaha.com.