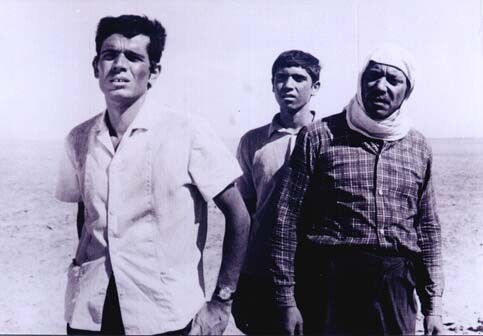 This week, international arts nonprofit ArteEast saw the beginning of its North American tour of "Lens on Syria: Thirty Years of Contemporary Cinema", a groundbreaking exploration of Syrian cinema. "Lens on Syria" showcases over 30 Syrian feature films, documentaries and shorts, many subtitled in English and screening for the first time in the
US
.
Debuting at New York's prestigious Lincoln Center from May 5th-18th 2006, the series has already been scheduled to travel to The Gene Siskel Film Center in Chicago; The Canadian Film Institute in Ottawa; The Pacific Cinematheque in Vancouver; The Museum of Fine Arts in Boston; The Pacific Film Archives in Berkley (organized in collaboration with The San Francisco Arab Film Festival); The Georgetown University in Washington, DC; and The Northwest Film Center in Portland, Oregon. A complete tour schedule is available at http://www.arteeast.org.
"Rasha Salti and ArteEast did a commendable job of bringing attention to a fascinating film culture in Syria. The care with which they curated this festival reflects their pleasure in making contemporary Middle Eastern culture available to Westerners who would have no other access to these societies." — Lawrence Wright, The New Yorker
Often described as Arab cinema's "best kept secret", ArteEast's Syrian cinema series provides an unprecedented opportunity for audiences in New York to discover a politically timely and relevant program, ranging from nonfiction films and comedies to political dramas and historical epics, all representative of one of the richest — albeit lesser-known — of world cinemas.
One of the most compelling feats of Syrian filmmakers has been their ability to craft an unabashedly independent voice despite the fact that their films are produced by the state, a stellar achievement in Arab cinema. Films do not shy away from making poignant and social and political critique, far removed from dogma and didactism.
Syrian filmmakers have not only engaged with issues pertinent to Syria, they have also been profoundly engaged with the tragedy of Palestine. Premiering in the US in this program is Mohammad Malas' poignant documentary "The Dream", filmed in the Palestinian refugee camps of Sabra and Shatila in Lebanon just months before the notorious massacres took place. It is a unique document that has finally become available after digital remastering and subtitling.
Other films centered on the Arab-Israeli conflict include Tewfik Saleh's classic "The Dupes", Mohammad Malas' "The Night" and Omar Amiralay's "A Plate of Sardines-Or The First Time I Heard of Israel."
One of the seminal works of the Syrian cinema, "The Dupes" was shot by one of Egypt's finest filmmakers, based on a work by an acclaimed Palestinian author set largely in Iraq. Tewfik Saleh (Street of Madmen, The Rebels), adapting Ghassan Khanafani's 1962 novella Men in the Sun together with its author, creates a dense interweaving of past and present, fiction and documentary in this harsh condemnation of the treatment of diaspora Palestinians by their fellow Arabs. This spare black-and-white film is set in 1958; three Palestinians in Basra, Iraq, decide to travel to Kuwait, each believing he can make a new life for himself there. The three men, from different generations, represent different perspectives on the Palestinian experience in the diaspora; after tracing each man's story, the film moves the action to the moment when all three are attempting to sneak across a border hidden in the steel tank of a truck.
The story of the troubled beginnings of a family as well as a nation, "The Night" is set in the village of Quneytra, a border town on the Golan and a key battleground during the 1967 war. A young man and his mother visit the grave of a man who once fought for Palestine. His son, the director of the film, then reconstructs the story of this man, who joined the volunteer armies during the "Arab Revolt" of 1936. Stories diverge as to what happed when his father returned to Quneytra: some said he locked himself in the mosque and went mad, others that he spoke out too openly against the government and was silenced. Trying to overcome feelings of shame and humiliation that have long accompanied the image of his father, Malas tries to discover his father's true history and give him a more honorable death. But exploring the past here leads to burning questions that can only have bitter answers.
The program includes old cinematic gems that have been digitally remastered and subtitled in English specifically for this program, such as Omar Amiralay's 1974 documentary "Everyday Life in a Syrian Village" (which he co-authored with late Syrian playwright Sa'adallah Wannus), and his 1977 documentary, "The Chickens" that has received critical acclaim worldwide. Other digitally remastered films that are made available for the first time in North America is Oussama Mohammad's first short fiction film, "Step by Step."
One of the highlights of "Lens on Syria" is a long-overdue tribute to master documentary filmmaker Omar Amiralay. Winner of numerous international awards for his films, Amiralay was the subject of a special homage at this year's Cinema du Reel Festival in Paris. While Amiralay's subject matter ranges across the entire Arab and Muslim world, his camera always finds its way back home. The series features some of the Amiralay's most renowned and compelling work, including two movies on the Euphrates Dam, the first 1970 film a homage to the Baath party's project, the second 2003 film documenting the flood caused by construction flaws and posing the event as a metaphor for the regime.
Amiralay will be in attendance at the screenings of his films during the opening weekend (Friday, May 5 through Sunday, May 7). Also expected to attend is critically acclaimed filmmaker Oussama Mohammad and emerging experimental and documentary filmmaker Diana el-Jeiroudi. They will participate in "Syrian Cinema Today and Tomorrow", a panel discussion moderated by Film Society's Program Director Richard Pena on Sunday, May 7, at 4:30 pm. The panel is free to the public.
In conjunction with "Lens on Syria" film series, ArteEast and Rattapallax Press have published a new book, "Insights into Syrian Cinema: Essays and Conversations with Contemporary Filmmakers." The first English-language volume of its kind, this timely collection offers critical essays and an historical overview of film production in Syria, and brings together words and texts from the country's most critically acclaimed and internationally celebrated masters of cinema. A rare glimpse into how these filmmakers have managed to create an intransigently independent cinema in spite of near-impossible conditions, "Insights into Syrian Cinema" (160 pps., b&w photos, $15) is available for purchase from ArteEast.
Tickets for the "Lens on Syria" screenings — titled "The Road To Damascus" for the Lincoln Center series — are available at the Walter Reade Theater box office and online. Ticket prices are $10 for adults, $7 for students, $5 for FSLC members, and $6 for seniors for weekday matinees before 6 p.m. For more information and online tickets, log on to http://www.filmlinc.com or call (212) 875-5600.
ABOUT ARTEEAST
ArteEast is a New York-based international nonprofit organization that supports artists from the Middle East and its diasporas, raising awareness of their most talented and groundbreaking work through public events, exhibits, a dynamic online gallery and a resource-rich website.
Since its founding in 2003, ArteEast has brought over 200 feature, short and documentary films; the works of over 40 new visual artists; and 40 filmmakers, artists, actors and critics to the US to discuss their work. ArteEast programs have traveled to a dozen cities in the US and Canada, and are now expanding beyond North America.
Visit the ArteEast website at http://www.arteeast.org to learn about our ongoing events, read up on the latest news from the art scene in the Middle East, and access our virtual gallery.
MEDIA CONTACT & MATERIALS
Rasha Salti, ArteEast. Mobile: +1-347-448-1291
Photos for print reproduction can be downloaded from http://nigelparry.net/arteast/lens-on-syria.zip(105MB)
Related Links