Ahmad al-Hatab was shocked to see reports on TV about how his friend Ismail Abd al-Al had been killed.
The two boys had grown close over the past two years. They had spent many happy times together and their friendship could have become even stronger if it weren't for Israel's state violence.
On 13 November, Ismail died in an Israeli attack. Two of his brothers and two other men were also killed in that incident.
Israel fired two missiles from a drone on the family's business – a carpentry workshop – in al-Tuffah, a neighborhood of Gaza City.
Ismail was only 16.
His friend Ahmad, 15, found going to school extremely difficult after Ismail was killed. He did not feel that his classmates grasped the scale of his grief.
He was struck by how others seemed focused on the details of the attack – details that were too painful for Ahmad to dwell on.
"Everyone was talking about what happened to Ismail but I didn't want to know," Ahmad said. "We are all at risk of death in Gaza. I'm at risk in my bedroom."
A few days after the attack, Ahmad saw a mural that had been painted in Ismail's memory. The mural includes farewell notes to Ismail from other pupils.
The gesture was evidently sincere but it made Ahmad feel worse than he already did.
Ismail's 15-year-old cousin Wisam Abd al-Al has also had a tough time at school.
Wisam wanted to skip classes completely after hearing about Ismail's death. But his father persuaded him to go to school, hoping that he would cease bottling up his emotions.
"Ismail used to go to the carpentry workshop after school to help his dad," Wisam said. "Then we would go and play billiards. I can't play billiards anymore now that Ismail is dead."
Hollow excuses
Ismail was among more than 30 Palestinians killed when Israel bombed Gaza intensely during a 48-hour period last month.
As usual, Israel tried to present its actions as a response to "terrorism."
As usual, the Israeli excuse was hollow. Around half of all those killed by Israel were non-combatants; they included three women and eight children.
Pupils across Gaza were traumatized by the November attack. The local education ministry recommended that teachers adopt a flexible approach.
Teachers were encouraged to give more time for sports and recreation and to give pupils less homework than they normally would.
Ziyad Thabet, a representative of the education ministry, visited schools from which pupils had been killed as soon as they reopened after the November attack. Some of these schools were surrounded by rubble. Windows and doors in some schools were broken or damaged by the impact of explosions in nearby areas.
"We couldn't get rid of the rubble yet as the situation wasn't stable," said Thabet. "The students were clearly shocked. I felt great grief."
Sense of loss
The sense of loss was particularly acute in Abdullah bin Rawaha school. Located in the Deir al-Balah area of central Gaza, it had been attended by children from the al-Sawarka family.
Eight members of that family – including five children and two women – were killed when Israel bombed two adjacent houses early on 14 November. A ninth family member succumbed to his injuries later that month.
Muhanad al-Sawarka, 12, was a friend of Ahmad al-Buhaisi.
The boys often played football together, sharing a passion for FC Barcelona and its captain Lionel Messi. They had recently talked about saving their pocket money to buy a new ball as Ahmad had lost his old one.
When Ahmad woke up on 14 November, he heard that his friend's home had been destroyed overnight.
"I ran toward the house," he said. "There were people digging, trying to rescue the survivors. Then I spotted the ambulance and saw Muhanad's body. I went home trembling and crying."
Muhanad and his brothers Wasim, 13, and Muaz, 7, all went to Abdullah bin Rawaha school. All three boys were killed.
"When I went back to school, people were talking all day about Muhanad, Wasim and Muaz," said Ahmad. "I wish I could move to another school."
Ayman Nimr teaches Arabic at Abdullah bin Rawaha school. "Unfortunately, the name of the school will always remind us of the three boys who have been killed," Nimr said. "School is supposed to be a place for learning and playing. But now all the pupils are grieving."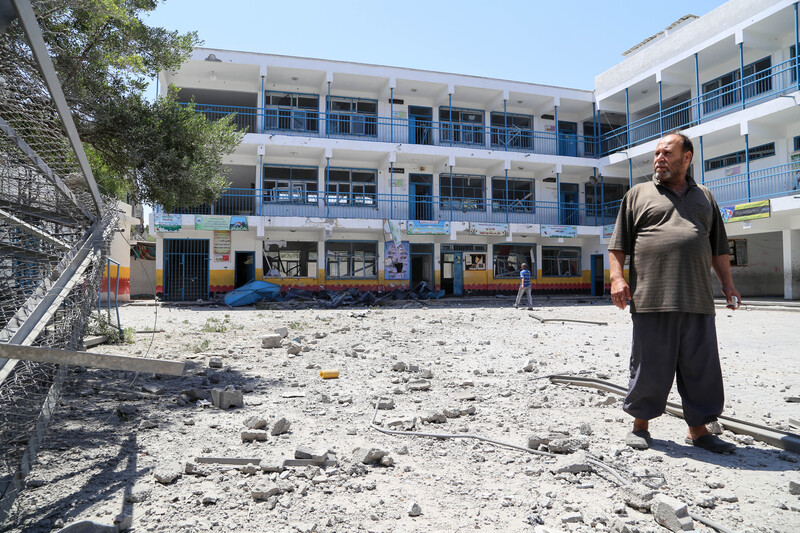 Muamin al-Bea lives in al-Zaytoun, a neighborhood of Gaza City. He is 7 – the same age as his friend Amir Ayyad.
Amir was killed, along with an older brother and their father on 13 November. They were on a motorbike in front of their home.
"I don't like wars," said Muamin. "I don't want anyone to hold weapons – unless they are toy weapons. Anyone holding a weapon is evil as they kill children. I used to watch children being killed on TV but I didn't expect to lose my friend like that."
This article was updated after initial publication to correct the identities of those killed in the 13 November 2019 attack on the carpentry workshop.
Ola Mousa is an artist and writer from Gaza.
Tags