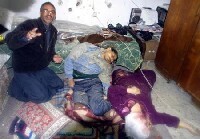 Good morning, if there is such a thing under occupation. The Palestinians that were released from the Israeli detention camps yesterday have yet to arrive to their homes. The Red Cross was not able to reach them due to a team standing by in Bethlehem trying to get the mother and brother out of their home after being killed by Israeli forces. 48 hrs later they are still laying dead at home with eleven children. They are planning to walk home as a group and break the curfew.
Also, the Red Cross in Ramallah is overwhelmed by trying to accompany the water dept repair crew to fix damage done to the main water pump serving Ramallah. Yesterday, the ICRC crew sent out was fired upon and were forced to return. This morning at 8am (90min ago) they are trying again to get to the water station. Estimates from the power crew that got to the station 2 days ago are that 2 working days are needed to repair the damage. Today is the second day the whole area is without water supply.
Friends from Nablus and Jenin reported a devastating night. I'm sure you're seeing this on TV. Palestinians locked in their homes are shivering scared. Part II of Sabra and Shatila is going to happen here!!!! Does the world care?
After sleeping at 2am we were startled at 4:45am to an Israeli tank which positioned in front of the National Insurance Building on Jerusalem Road. The Israeli soldiers opened fire on god only knows what. It continued for over 30 minutes then we could hear the Israeli soldiers laughing and giggling while banging or tearing down street signs and the like…a lot of metal was being banged.
The Food Charade that Israel is showing by opening up the curfew for 1-3 hours is a farce…the stores are empty, no bakeries have not worked for 5 days now….Palestinians, esp those in the refugee camps are in a humanitarian crisis..they have no food and no money to buy food!. The Red Cross has been blocked by Israel to operate.
Many families are reporting that when the Israeli soldiers search homes they are stealing things…gold, computer parts, etc….Israeli Occupation Forces are now also the Israeli Thief Forces. In one office a computer was opened and the RAM and harddrive was actually stolen.
The Israeli army entered the Ramallah Education Ministry last night and rampaged. Destroying computers confiscating files, etc. This is clearly an indicator that Sharons age-old Jordan Option is being worked on…when this attack is over and 1 million students are without edu facilities, Sharon will bring in the need to link Palestinian education with Jordan education. This reminds me of an article I wrote when Sharon was first elected.
Below are the breaking news that we are seeing on the net from an Israeli source…it is clear that Peres is looking to exit the Israeli Unity govt (I'm sure in his beautiful PR-Noble Peace Prize style). Sharon is bringing back two of the Ministers that resigned because they wanted an all out war against the Palestinians and Ex-Israeli Prime Minister Netanyahu is being positioned to join the Sharon war machine. Sharon is making sure that no internal Israeli politics will stop him from destroying the region.
……as I send this the shooting continues…….my 2-yr old daughter is asking why she is not allowed to take a bath for 2 days now….does anyone have a good answer?
News Flashes
10:32 Norway`s biggest food chain imposes boycott on Israeli goods
10:03 Israel expected to forbid European Union envoys from meeting with Arafat
10:01 FM Peres: Israel should allow U.S. envoy Zinni to meet Arafat
09:08 Saudi ambassador to U.S. compares Mideast crisis to U.S. Vietnam war: battles can be won but war lost
09:08 MK Orlev: schools may not re-open Sunday unless adequate security is provided
08:23 CIA examining document said to show Arafat, PA funding terrorist activities
07:57 Katsav backs military fence between Israel and West Bank, in order to stop Palestinian suicide bombers
07:37 IDF reservist Major Moshe Gerstner, killed in Jenin Wed., to be buried at 4:30 P.M. in Rishon Letzion
07:03 Ex-PM Netanyahu says willing to join cabinet, but only if offered position of foreign minister