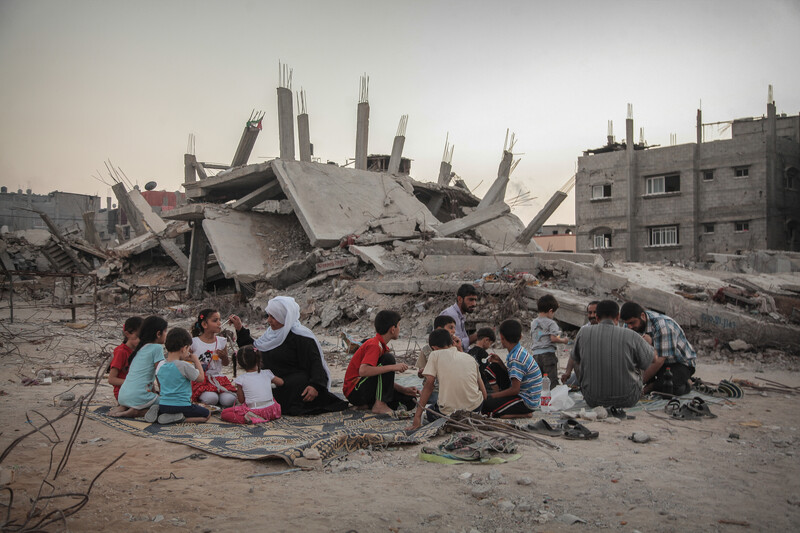 In Gaza, one year after Israel's devastating assault, rubble is swept into piles and destroyed buildings are left half-standing. Gaza has been allowed only impossibly scant means for reconstruction, exacerbating the depredations wrought by eight years of siege.
More than 12,500 homes were completely destroyed last summer and a similar number had major or severe damage, displacing 100,000 people.
Lack of alternative shelter has forced some of the many displaced Palestinians to move back into the skeletal remains of their homes. Others return to the sites of their former homes to sit, meet their old neighbors and remember what once was.
Photography by Ezz Zanoun, a freelance photographer based in the Gaza Strip. Reportage by Charlotte Silver, a journalist based in San Francisco.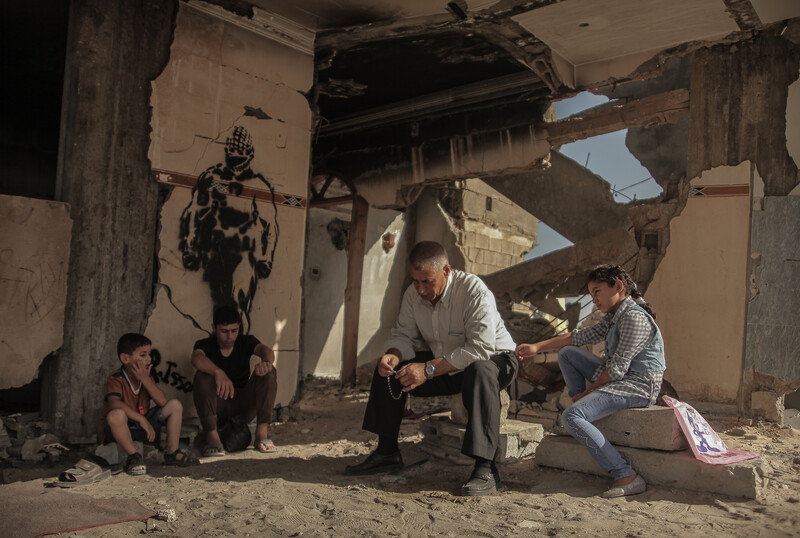 Faraj Alareer, 65, returns to his destroyed home in Shujaiya, a neighborhood east of Gaza City, every day. When he escaped Israel's siege on Shujaiya on 20 July, his house and entire block were still standing. Today not a single home remains. He was living with his family in a rented apartment that UNRWA, the UN agency for Palestine refugees, supplied for them for the first four months following the war. Since UNRWA suspended distribution of rent subsidies, Alareer paid 1,000 shekels a month (approximately $263) to remain there.
Alareer said that his block used to be beautiful, the houses shrouded with mature trees and other greenery. He pointed to a dead tree that used to grow beside what was his house and said it was a carob tree from which he used to make a cold drink that's a specialty for Ramadan.
Faraj Alareer's 8-year-old granddaughter, Yasmine al-Ghomeri, said "We used to play with friends in the streets." But since the war, she hasn't seen her friends because they've been displaced from the neighborhood. Yasmine's father was killed in the bombing while trying to escape on 20 July and her mother died six years ago from an illness. The girl and her two brothers alternate between living with their grandparents, aunts and uncles.
In the northern Gaza town of Beit Hanoun, Ali Zaki Wahdan, 36, lost 12 members of his family last summer, but not all at once. His mother, father and 2-year-old niece were killed along with five other members of their family when Israel bombed his home, which had been previously occupied by Israeli soldiers who detained the family in one room. Wahdan said Israel knew who was in the home when they bombed it.
At the time of the bombing, Wahdan was at al-Shifa hospital. Until she was killed, his trapped 27-year-old sister was sending him text messages updating him on the situation inside their home. She informed him that the Israelis vacated the house on 25 July but ordered the family to remain. Wahdan didn't realize the house had been bombed and his family killed until he returned to the house during a brief humanitarian ceasefire on 26 July. Then he found the charred remains of his family.
Afterwards, Wahdan took refuge in a relative's home in the town of Jabaliya where he reunited with his wife and three children. They were at the home for less than one week before it was bombed, killing his 22-year-old wife. His brother, sister-in-law and their daughter, an infant, were also killed. His three sons — all under six — were badly injured and transferred to Turkey for treatment. Wahdan's left leg was amputated and his right leg was badly injured.
Wahdan recounted his story reluctantly. "There is nothing to say but there is no god but God," he said.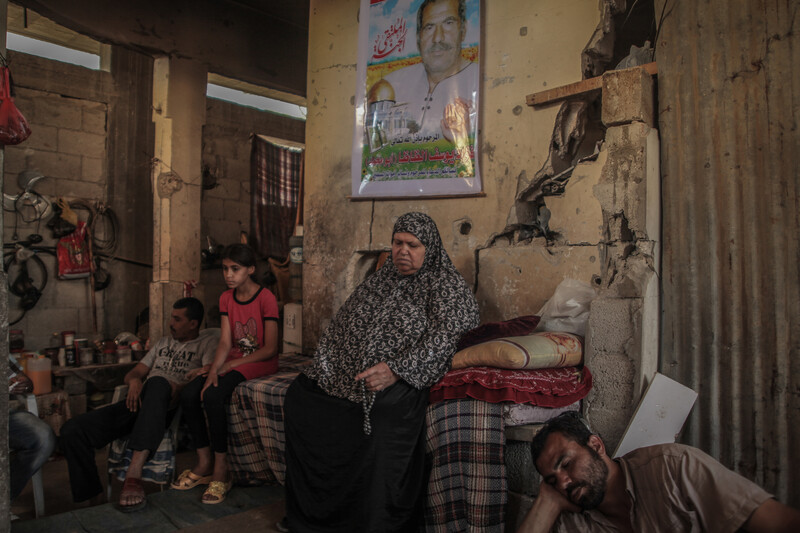 Suad al-Zaza, 55, returned to her destroyed home in Shujaiya to mourn the passing of her husband, who died three days before the first day of Ramadan this year. Her children erected aluminum sheets to replace the walls which were destroyed when Israel carpet bombed their neighborhood in late July last year. UNRWA had suspended the rent subsidies for the small apartment her family is crowded into.
Al-Zaza described her former home: "It was three floors, beautiful. We had a park at the end of the street. This is not a home." She says her children are now very anxious, and are afraid whenever they hear the pop of fireworks.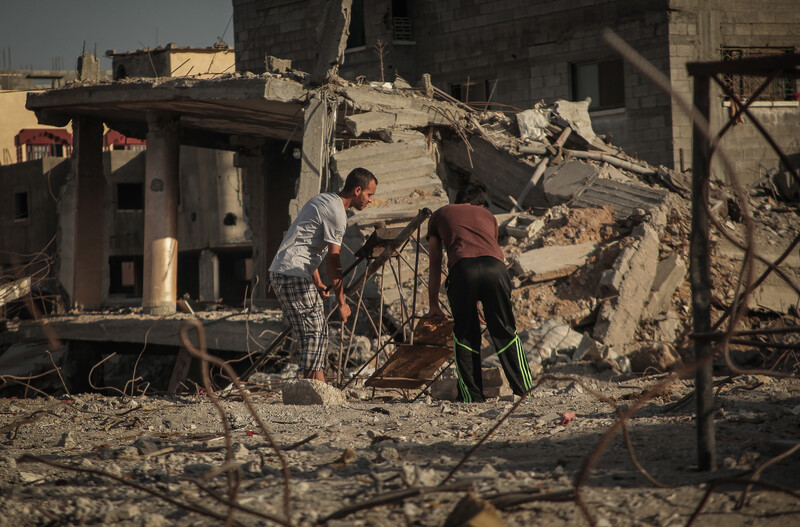 Atallah Ashour, 25, said he earns 200 shekels ($50) for every ton of warped rebar from destroyed buildings that he straightens. Interviewed in the Shujaiya district near Gaza City, he said he makes around a half a ton every day and ends up going home with around 35 shekels ($9). During the recent month of Ramadan he didn't work during the day, because the labor is too physically arduous to undertake while fasting. He lives in Beit Hanoun and is also studying business administration. Ashour said he will come back after eating Iftar, the evening meal that breaks the fast, and work through the night.
Husni Abu Salman al-Mughani is a mukhtar or village leader in Shujaiya who meets with the Ministry of Public Works and UN agencies to discuss the progress of reconstruction. He said that 2,200 people are waiting to return while their homes in Shujaiya remain totally destroyed; 800 people are now living in partially destroyed houses.
"There are a lot of unemployed people: the doctors, the teachers, they don't have work," he said. "Traders bring food and goods to Shujaiya but nobody has money to buy the goods. The taxes have made things worse: no one can afford to buy anything."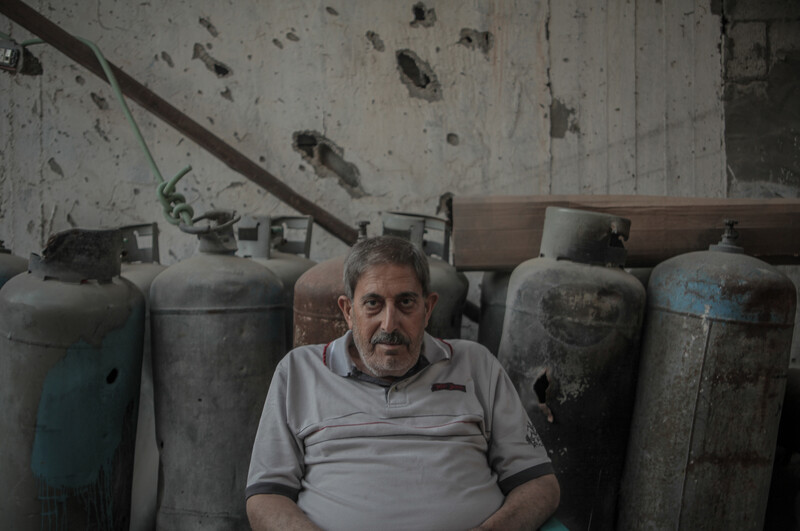 "In one hour we will have our iftar [breaking of the fast] and we will think of those we lost on these days last year," Jaber Shaaban Zukar said on the first day of Ramadan. Zukar lost five relatives last summer. The apartment building that he built in Shujaiya when he was a young man, where he lived with his sons, is now destroyed.
The Zukar family was prosperous before the war; he said that he used to donate 20,000 Jordanian dinars ($28,200) worth of food to the needy in Gaza during Ramadan. But he lost the equivalent of $2 million when Israel bombed his factory that produced nuts and sweets.
Muhammad al-Shinberi, his wife and their six children returned to the ruins of their home in Beit Hanoun after UNRWA suspended payment of rent subsidies for their temporary apartment. The British artist Banksy spray-painted his famous kitten on a wall of al-Shinberi's destroyed home.
Al-Shinberi said that until May, the US government agency USAID had provided a water tank. Now he has to ride several kilometers with his donkey and cart to refill large containers with water. Israeli bombing significantly damaged Gaza's already inadequate water infrastructure, leaving 120,000 people disconnected.
Tags