Eman al-Tayeb prefers to work in the early morning hours, from 3 a.m. to 6 a.m., when her house is quiet and her 1-year-old son Muhammad is asleep.
"At that time, I can find calmness and relaxation," she said. "I have no concerns."
She pours herself a cup of instant coffee, puts on classical music and gets to work.
In her home in the al-Hawabir neighborhood near Jabaliya in the Gaza Strip, she has a special room for her quilling art.
Quilling is the practice of transforming simple strips of paper into three-dimensional designs. In Arabic, it derives from the root laf, meaning to wrap.
Creating a quilled portrait requires precise hand motions, in the manner of embroidery and weaving, and some of the more exact designs require a needle.
The art dates back to at least Renaissance Europe, when elaborate ecclesiastical designs were created with gold wire, but some quilling artists and guilds believe it has its origins in ancient Egypt.
Though humble paper has replaced gold as a more accessible quilling material, the effect of a finished portrait is surreal, as the raised paper creates shadows and an illusion of depth on the page.
Al-Tayeb's portraits are stunning in this way, and that is why her work is commissioned to celebrate weddings, births and graduations.
Yet, like many Palestinian artists, her daily practice is impeded by the Israeli occupation and blockade.
Though her tools are basic – a pencil, glue, scissors, paper – the blockade makes it difficult to find the needed supplies.
"I face many challenges in finding raw materials and the needed equipment, which are very expensive," al-Tayeb, 26, said. "I used to ask my relatives from the Arab Gulf states, such as the United Arab Emirates and Kuwait, to bring me materials."
More supplies are now available in Gaza but it is still a struggle to find them on short notice, just as it is nearly impossible to send her work abroad.
"I designed numerous and very beautiful pieces for someone who requested them from abroad," she said.
She arranged for the pieces to be transported to customers via a freight forwarding company. But the company informed her that the delivery was not successful because Israeli officials destroyed the packages before they left Gaza.
"At that time, I was very frustrated and heartbroken," she said. "I stopped drawing entirely."
This scenario has repeated itself dozens of times.
"Later, I refused external requests," she said. "My talent has become so confined, and it is impossible to export any paper portrait abroad."
Queen of quilling
Al-Tayeb started drawing at the age of 15. She found – and still finds – inspiration in nature and animals.
She discovered quilling online and, with her natural talent for drawing and embroidery, she gave it a try. One of her first quilled creations was a peacock, which took her almost six hours to make.
Since then, she has quilled horses, storks and parrots, to name a few. When she finishes a piece, she posts images on social media, gaining her the reputation of Gaza's "queen of quilling."
"It's a new art here in Gaza," she said. "For that reason, I try hard to show the principles of this art by teaching it at schools."
Al-Tayeb graduated from the Islamic University of Gaza in 2018 with a degree in the Arabic language. She would have liked to have studied art, but the faculty of arts is in a "remote area," she said, and she would have had trouble getting there.
For the past two years she has taught quilling at schools in Gaza, to students aged 10 to 17.
When she is creating art, she feels she can release any negative energy she is holding inside, and she hopes her students can also find relief in art, as Israel's attacks on Gaza make any sense of calm unattainable.
"There is always hope"
In July 2014, during an Israeli war on the Gaza Strip, all of al-Tayeb's portraits were damaged by a missile strike in the al-Jala neighborhood in the northern Gaza Strip.
Israel used an F-16 warplane to bomb an empty lot next to her family's home while targeting their neighbors. Residents only sustained minor injuries.
Then, during Israel's May 2021 attack, when al-Tayeb was eight months pregnant, missile strikes shook her awake at night.
"My family was afraid that I would deliver the baby at an earlier time," she said.
Before Israel attacked Gaza last year, al-Tayeb had plans to decorate her baby's room, but this was postponed until the end of the war.
"When I saw my baby Muhammad in my arms, I burst into tears thinking of the future that my child might face in his life," she said.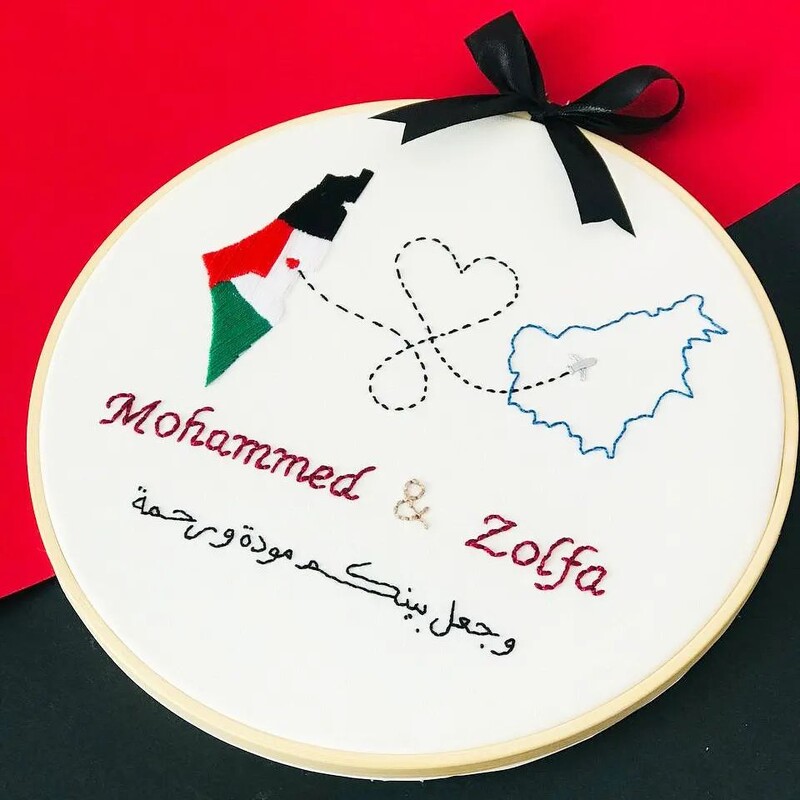 Muhammad was born with a heart condition, hypoplastic right heart syndrome. He has received open-heart surgery in Israel and receives follow-up medical care there.
In the midst of all this, al-Tayeb crafted a portrait of his name in Arabic calligraphy.
This portrait was the first she completed after Israel's 2021 attack on Gaza. After each aggression, al-Tayeb always struggles to make art again.
"Sometimes I feel motivated enough to draw again, and sometimes I feel that I have had a breakdown inside myself," al-Tayeb said.
Al-Tayeb paused here, finding it hard to continue.
"When I stopped drawing for weeks because of the travel circumstances [of Muhammad's medical care], I became frustrated," she said. "I've always had a strong desire to create new pieces but I'm no longer able to do that. I am still waiting to arrive home to draw with great eagerness and passion."
"My little baby grants me enough energy, life and activity to work," she said.
Al-Tayeb considers herself fortunate to be able to pursue art. She believes it allows her to persist in the hardships of daily life in Gaza.
"There is always hope," she said.
She is sure her art will find a bigger audience and that, one day, she will be able to ship her pieces abroad.
"My only simple wish is to get the world's attention for my art to reach my potential," she said. "And to find myself in a more appropriate place than I'm in now."
Huda Al Sousi is a writer and translator based in Gaza. Twitter: @HudaSusi33.
Tags