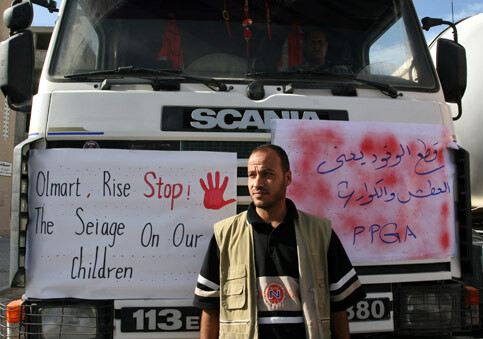 Since the Hamas-led government seized control of the Gaza Strip in mid-June, severe Israeli pressure has been imposed on the coastal region's 1.4-million-strong population. This pressure has been enforced through strict border closures, continuous attacks and invasions and most recently a series of Israeli punitive after the Jewish state declared the region a "hostile entity" and began to cut off crucial power and fuel supplies.
Gaza has been sustaining the effects of such pressure at the same time as it has been absorbing the impact of the seemingly unending inter-Palestinian violence, which has claimed the lives of at least 400 Palestinians and continues to disrupt everyday life inthe already impoverished society.
In October, internal fighting flared up again with incidents like the Gaza City clashes between Hamas' police forces and a Fatah-aligned family. There were also skirmishes in the southern city of Rafah with a number of Islamic Jihad members.
Five people, including a woman and a child, were killed and at least 30 others wounded in these two separate incidents.
The Hamas-led interior ministry argues that to maintain security across the Gaza Strip these actions are necessary impose law and order among the residents. The interior ministry's spokesperson, Ehab Alghosain, believes that there are a number of reasons that lead to such an abrupt violence
throughout Gaza.
"First, there have been attempts by malicious hands to create chaos and lapses in security in order to prove that Hamas is incapable of regaining control over Gaza. Thank God, these attempts have failed so far. Second, there used to be a culture of lawlessness in Gaza where people took law into their own hands. This was in the past; now we have laws and we expect everybody to adhere to them."
Since taking control of Gaza, the Hamas government has accused Fatah of disrupting its governance in the region. Hamas recently provided documents to local media outlets demonstrating Fatah's involvement in a series of explosions targeting the police forces, known previously as the "executive force."
The latest violence erupted about three weeks ago when a Hamas policeman attempted to repossess a car from a Gaza family member who happens to be a supporter of the rival Fatah party.
One of the Fatah supporter's family members, who spoke in a condition of anonymity, expressed outrage at Hamas's actions against his family: "I don't believe that a government that uses lethal force against our children and women by shelling their houses is a government that wants to keep order."
To avert further deterioration and what Hamas sees as an attempt to undermine its control, the interior ministry declared at the time of the incidents a state of emergency until the car in question is repossessed and the Gaza family members involved in the clashes are handed over to the authorities.
To contain such incidents, while Gaza simultaneously endures near-daily Israeli attacks, several local community leaders are interfering. Senior member of the Popular Front for the Liberation of Palestine, Rabah Mhanna, put part of the blame on the police forces. "The problem lies in the handling of the situation by our brothers in Hamas and its controlling of societal issues. Hamas resorts to violence when cracking down on provocations. Further, Hamas's own members face harsh discipline tactics."
Over the past ten months of intense power struggles between Hamas and Fatah, many mediation efforts have taken place to prevent more Palestinian blood from being spilled.
Internal violence in the Gaza Strip escalated in December 2006, after Palestinian President Mahmoud Abbas called for early elections to put an end to an international economic embargo.
The embargo was imposed on Gaza after the then newly-elected Hamas government in March 2006 refused to recognize Israel, renounce violence and accept past signed agreements.
The internal conflict peaked when Hamas took over Gaza in mid-June amidst fighting with Fatah-linked security forces. President Abbas outlawed the group and formed a Fatah "emergency government" in Ramallah, calling on Gaza residents to boycott the deposed Hamas government.
On Friday, media reports claimed that a meeting between President Abbas and some West Bank Hamas leaders took place. As Gaza's beleaguered residents would say, only conciliation amongst the Palestinians will protect their society from Israeli aggression.
Rami Almeghari is currently contributor to several media outlets including the Palestine Chronicle, aljazeerah.info, IMEMC, The Electronic Intifada and Free Speech Radio News. Rami is also a former senior English translator at and editor in chief of the international press center of the Gaza-based Palestinian Information Service. He can be contacted at rami_almeghari at hotmail.com.
Related Links