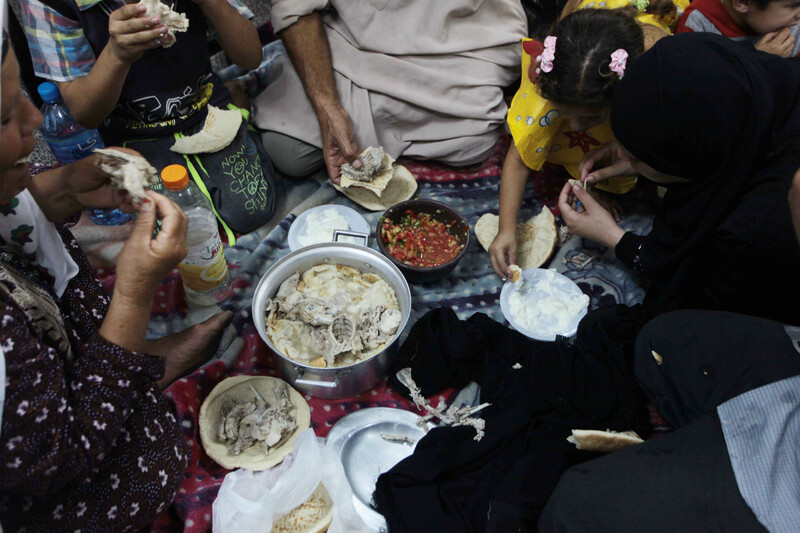 In a home in the alleyways of Maghazi refugee camp in the central the Gaza Strip lives Abdulbari al-Tallaa, a retired Palestinian Authority police officer. Al-Tallaa is known as Abu Yazeed, after his oldest child, 22-year-old Yazeed.
He and his seven-member family, plus eight-year-old grandson Qassim, had broken another day of Ramadan fasting and were gathered for a meal during a blackout. Gaza households don't have electricity for at least twelve hours per day after Israeli airstrikes damaged electricity networks.
Abu Yazeed and his wife, Um Yazeed, along with their five daughters and only son, have been stuck inside their home for more than one week now. Outside, Israeli airstrikes across the Gaza Strip have continued unabated, killing 237 Palestinians so far, including many women and children, and injuring more than 1,770 others, according to the Ministry of Health in Gaza. The strikes have completely destroyed or damaged approximately 1,600 houses.
In Maghazi camp, Israeli air strikes leveled a house to the ground, killing five members of the al-Nawasra family, including a young mother, her two little children, her husband and her mother-in-law.
Ramadan
The traditions and customs of visits to relatives and prayer at mosques have been made all but impossible during this Ramadan.
"My movement has been confined to family members who are very close in the neighborhood," Abu Yazeed said. "My sisters live in other towns, and, caring about my safety, have advised me not to take risks by paying them visits."
Abu Yazeed explained that the current Israeli attacks on Gaza are intense, with frequent strikes hitting almost everything. "I am confined to my home," he reiterated.
"When I go outside, my children start worrying about me. But what shall I do? I have to do work that feeds my family," he explained, as he offered candy to celebrate the success of his 18-year-old daughter, Alunoud. She had just scored 86 percent in her high school exams.
Unprotected
Alunoud explained that the situation in Gaza is completely different from last year, when there were celebrations for those who passed their exams.
"I just thank God that I am still alive to observe this success," she said. "I am hearing reports of 35 recent high school graduates having been murdered by Israeli airstrikes in Gaza. May they be rewarded with paradise."
Abu Yazeed's other daughter, Ikhlas, is a single mother of one son, Qassim. She said that since the Israeli attacks have begun, they have lived in constant anxiety.
"We are so worried that we stay dressed all the time, as we fear an Israeli airstrike might happen nearby or the Israeli army might warn us to leave our home at any moment," she said.
"People have been killed inside their homes or ordered to leave," she added, while hugging her eight-year-old son. "Many of the houses around here are [made of cinderblocks] and are unprotected. We fear being forced to leave at any moment."
Sick from news
"I have recently finished my master's studies in education and I am supposed to complete my thesis by mid-July," Ikhlas added.
"But since the [Israeli] strikes have ripped through the area, I spend all days and nights constantly worried and unable to concentrate," she said. "I put on headphones and follow up on developments from local radio stations. I am getting so sick of hearing news of people murdered for nothing, except for the fact that they live in Gaza."
"This is my son," she explained, pointing at Qassim. "A few days ago, he survived an Israeli airstrike in one of the neighborhoods where his father lives. He was about five homes away from the house that was stuck in Maghazi. People congratulated me for the fact that my son had survived that attack."
"What kind of situation is this?" she added.
Fear and worry
Abu Yazeed's wife, Um Yazeed, was cleaning dishes after the iftar meal on Wednesday after the daily Ramadan fast. "In these tough times, we only take care of the main chores, preparing meals for iftar and suhour [the last meal before fasting]," she said.
"But fear and worry are ripping through us right now, I can tell you," she added. "Yesterday, we wanted to fill up the kitchen's gas canister, and as my son was about to carry it to the store, there was a large bombing."
"Even preparing food has become a difficult task as Israeli airstrikes continue. I am wondering why they strike civilians inside their homes, while on the other side, Israelis can be safe in underground shelters," Um Yazeed said.
"I do not think these Israelis are the same ones who lived side by side in peace with Palestinians prior to 1948, in historic Palestine," she added.
Dreams
Yazeed has just finished his university studies in design.
"As a young man with dreams to fulfill following my university studies, I cannot foresee a real future for myself or for many others of my generation," Yazeed said after he finished his iftar meal.
"A couple of days ago, I imagined that the situation was normal and, spontaneously, I changed my clothes and decided to go to Gaza City to meet some friends. Only the sounds of bombing reminded me that there is a war, and that I should keep indoors," he recalled.
"But I am remaining steadfast on the soil of my land," he said. "I have no other place to leave to. I won't repeat the same mistakes of our ancestors, who fled historic Palestine back in 1948, because of Israeli military assaults against them."
His father remarked that they are sick of Israel's continuous attacks.
"Yet we have no other option other than remaining steadfast," he said. "Hopefully, our life will improve. We hope that the current situation will end with the Israeli siege being lifted and the people of Gaza having their freedom and dignity restored."
Rami Almeghari is a journalist and university lecturer based in the Gaza Strip.
Tags