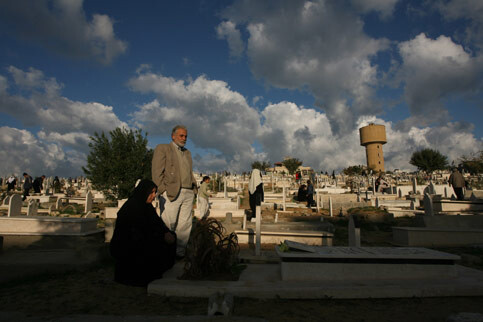 A 500-meter-long street in the heart of Gaza City is empty of cars and vehicles, but full of men, women and children. Omar al-Mokhtar Street is considered the largest commercial area in Gaza where people from all over the coastal region have always come to shop, especially during the holiday season.
In recent days, Gaza, like other Islamic communities around the world, prepared to celebrate Eid al-Adha, a major holiday marking the end of the annual pilgrimage to Mecca, the Hajj. Normally a time of joy, this year's Eid is different from past years because Gaza suffers from the tight Israeli closures on all travel and commercial crossings.
People across this large street spoke to EI, expressing how they view the occasion under the current conditions, mainly the economic siege Israel has imposed since mid-June.
Abu Muhammad al-Khudary, owner of a used clothing store, was sitting idle with a young boy who helps around the shop.
"This year's Eid is unprecedented, people just come, ask, examine clothes and when it comes to price, they leave things on the table and walk away," says Abu Muhammad.
Abu Muhammad tells us that in past years, he used to stay open extra hours on the eve of the Eid doing good business, but now he closes the shop much earlier because of the lack of customers.
"What has affected our business these days is the ongoing siege, in addition to people's inability to buy clothes, whose prices are higher than ever."
Rajab Mansour, another clothing vendor, stood in front of his stand with arms folded on Monday at midday.
"I have been standing here since 8:00 am, yet I have only sold four shirts, each for only 20 shekels (four dollars)."
Abu Ehab Nassar, owner of a women's clothing shop in the Shija'ya local market, reputed to be the cheapest shop around, says that people now only buy the basic things and in smaller quantities than ever.
"I have been here over the past 11 years, yet I have never experienced such a recession. It's because of the siege which has impacted people's purchasing power and prevented entry of goods. Nowadays, we close the shop by sunset, but in the past we used to stay working until midnight."
Om Hatem, a housewife from Gaza City, was picking out some shoes for her four children at the Shija'ya market when EI asked her about shopping for the Eid. "In this situation, I can only buy one pair of shoes for each child, yet I used to buy more than one," she said. "The cuts in our husbands' incomes over the past year have forced us to reduce our expenditures, and we can no longer guarantee a regular flow of salaries."
Traditionally on Eid al-Adha Muslims slaughter a sheep, a commemoration of the prophet Abraham's sacrifice. The meat is often distributed to the needy. But over the past six months of the Israeli closure, many goods including livestock have not been allowed in. As a result of economic hardships and an inadequate supply of livestock, many Gazans are unable to meet what they see as one of their basic religious obligations.
A Gaza taxi driver, who chose not to give his name, said he wouldn't be fulfilling the tradition this year. "Over the past 20 years, I have always slaughtered a sheep on the Eid, but this year I am not going to take part in the tradition. I cannot guarantee the near future and I have to save money under such crippling economic conditions."
Media reports suggest that hundreds of livestock have been allowed into the coastal region from Israel via otherwise closed commercial crossings. However, such a small number cannot meet the high demand of Gaza's 1.4 million population.
Israel claims its closure is intended to prevent Palestinian resistance factions from firing homemade rockets onto nearby Israeli towns. While Israelis are rarely injured by these rockets, Palestinians continue to be maimed and killed on a daily basis by Israeli attacks from land and air.
On the ground it's the people who are suffering most from the Israeli closure. This human-imposed poverty has left many Gazans saying that this Eid al-Adha is the worst ever.
Rami Almeghari is currently contributor to several media outlets including the Palestine Chronicle, aljazeerah.info, IMEMC, The Electronic Intifada and Free Speech Radio News. Rami is also a former senior English translator at and editor in chief of the international press center of the Gaza-based Palestinian Information Service. He can be contacted at rami_almeghari at hotmail.com.
Related Links