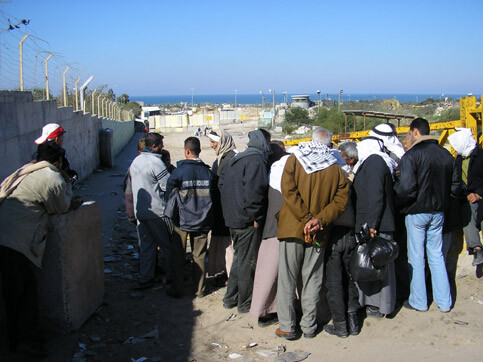 During March and the first half of April movement in and out of the Gaza Strip steadily improved. However, the situation detriorated during the latter part of April following restrictions on Palestinian movement through Erez and periodic closing of Abu Houli junction. Access problems remain with the internal Gaza Strip enclaves, most notably Al Mawasi and As Siafa while a fourth enclave has now been created at Abu Nahiya. In the last four weeks, the Israeli authorities have not allowed United Nations Relief and Works Agency (
UNRWA
) to import petrol into the Gaza Strip.
Gaza Strip Crossing Points
A. Erez crossing and industrial estate
Until the end of the third week in April, there was a steady increase in the number of Palestinian workers and merchants entering Israel and the Erez industrial zone. In the beginning of March, less than 1,000 workers a day were entering Israel, but by 31 March this figure tripled to 3,700 workers. On 21 April 4,500 workers entered Israel. With the onset of the Jewish Passover Holiday, Erez crossing closed to most Palestinians on 25 April while the industrial estate closed earlier on 22 April. Both the crossing and industrial estate remain closed as of publication of the report. This closure has been imposed by the Israeli authorities on the grounds that some workers have been submitting false documents while trying to leave the Gaza Strip.
The number of workers entering the Erez industrial estate also showed a steady rise prior to the closure on 22 April with daily figures regularly over 650. This compares to a daily average of 562 workers throughout March. Similarly, the number of merchants crossing into Israel increased throughout April, with daily figures reaching over 400 on some occasions compared to a March average of 155.
Key Dates
- 31 August 2004: Erez crossing was closed for almost three months following the discovery of explosives on a Palestinian worker trying to cross into Israel.
- 28 November 2004: A limited number of merchants and workers were able to re-enter Israel and the industrial estate.
- 14 January 2005: The crossing was again closed following an attack by Palestinian militants in Karni that killed six Israelis (see below).
- 13 February 2005: The crossing reopened and there was a steady and sustained increase in the number of workers entering Israel and industrial estate.
- 22 April 2005: Erez industrial estate closed.
- 25 April 2005: Erez crossing closed to all but the most senior PA offcials.
To download the full report (PDF) click here.
Related Links