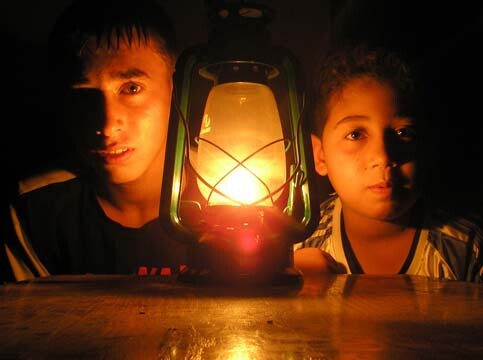 GAZA
CITY
, 22 February 2007 (
IRIN
) - The Gaza Strip in the Occupied Palestinian Territories continues to suffer daily power cuts eight months after Israel bombed its only power station, leaving health services relying on expensive generators and residents without regular electricity or water.
The cuts have continued despite new transformers being installed in November 2006 at the privately owned Gaza Power Generating Company (GPGC) power station.
All six of the original transformers were destroyed by Israeli warplanes days after Palestinian militants kidnapped an Israeli soldier last June.
"From the third week of December people have been using more electricity and supply cannot meet the demand," said Stuart Shepherd, humanitarian affairs officer in Gaza for the United Nations Office for the Coordination of Humanitarian Affairs (OCHA).
New generators installed in November mean the GPGC can produce 60 megawatts (MW) of power. This, combined with 107MW from the Israel Electricity Company (IEC) and a further 17MW from Egypt, gives Gaza a capacity of 184MW - 40MW below the estimated 225MW demand. According to Shepherd, this translates into cuts of up to six hours a day that hit Gaza City and the northern Gaza Strip hardest.
"With the decline of law and order in Gaza, people have begun illegally tapping into the electricity supply, which puts further pressure on it," he added.
The cuts have left hospitals relying on diesel generators supplied with fuel financed by foreign donors.
"The cost of generators means the budgets of health organisations have increased. There are now no more generators available in Gaza and some organisations don't have them. It leads to problems in keeping drugs and vaccines, which have to be stored in refrigerated conditions," said Youssef Mousa, chairman of the Union of Health Work Committees (UHWC), which runs Al-Awda hospital in Gaza City.
EU paying for fuel
It costs the UHWC up to US$700 a day to fuel its generators, depending on the length of the power cut - but the European Union has stepped in, paying for fuel between last October and the end of January. This week, the EU resumed payments to ensure Al-Awda could keep functioning, Mousa said.
The electricity cuts also leave many families across the Gaza Strip without a regular water supply as the water cannot be pumped to their homes, said Riyad Janina, Gaza director of the Palestinian Hydrology Group. In addition, many Gaza municipalities struggle to secure enough fuel to power electricity generators to keep pumping drinking water from wells, he added.
"The situation is not as bad as it was immediately after the bombing, but most municipalities are still having problems and people still have to do without water," he said.
The lack of power also left raw sewage running through the streets of some neighbourhoods of Beit Lahiya in northern Gaza after a sewage collection pool overflowed. Normally, sewage is treated with oxygen and pumped into the sea - but without electricity this is not possible.
"The people there were really worried, but the Palestinian Water Authority has now managed to divert excess sewage to a rainwater collection reservoir," said Janina.
Last July, an independent UN human rights expert called for an inquiry into the strike on the power station. Paul Hunt, the UN Human Rights Council's Special Rapporteur on the right to the highest attainable standard of health, said the strike had exacerbated an already critical health situation and may have been in breach of international humanitarian law, which requires warring parties to differentiate between civilian and military targets.
The GPGC power station is owned by an American company and private Palestinian investors.
Asked why it had attacked the power station, the Israeli military said it was targeting Palestinian terrorist infrastructure in the Gaza Strip to ensure the return of its abducted soldier, Corporal Gilad Shalit. He was abducted by Palestinian militants on 25 June 2006.
This item comes to you via IRIN, a UN humanitarian news and information service, but may not necessarily reflect the views of the United Nations or its agencies. All IRIN material may be reposted or reprinted free-of-charge; refer to the copyright page for conditions of use. IRIN is a project of the UN Office for the Coordination of Humanitarian Affairs.
Related Links
The state of public health in the occupied Palestinian territory, Nadeem Muaddi, The Palestine Center (17 November 2006)