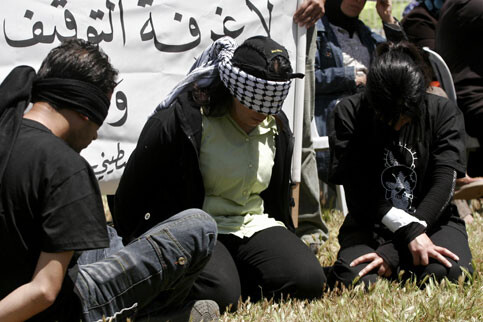 A police force violently dispersed a march in Rafah, Gaza organized by the Fatah Movement, honoring Palestinian and Arab Prisoners Day. Fatah announced that the march would start after Friday prayers. According to eyewitnesses, members of the police assaulted demonstrators.
Al Mezan field investigations show that on 17 April 2008, Fatah announced a solidarity march to honor Palestinian and Arab prisoners held by Israel to marj Prisoners Day. The march was supposed to take place after Friday prayers, starting from al-Awda Mosque in central Rafah town. At approximately 12:45pm on 19 April 2008, the police deployed forces in the town before the prayer ended.
They stopped Emad al-Ajrami, a cameraman of the Media Group, prevented him from filming and confiscated his video camera. The police informed al-Ajrami that he could collect his camera from the public investigation office at Rafah police station.
After Friday prayers, at approximately 1:30pm, the march began at al-Awda Mosque and moved west. When the demonstrators reached al-Shuhda'a Secondary School on Abu Baker Street, policemen assaulted them using cudgels, while others opened fire in the air. According to eyewitnesses, the police followed a number of participants after they fled to side streets, and beat many of them. Twelve-year-old Ahmed Muflih al-Ewadi was beaten and taken to a hospital for treatment and suffered from bruises. Also, 32-year-old Khader Sha'at was treated at a hospital after being assaulted by the police. He was stopped during the march and was detained for three hours, after which he could reach the hospital. Also, 24-year-old Shaker Sheikh al-Eid was arrested for one hour.
According to police sources in Rafah Governorate, the march was dispersed on the pretext that it was "unauthorized" by the Ministry of the Interior. Senior Fatah leaders in Rafah reported to Al Mezan that they received short text messages on their mobile phones. The message said: "any action (like holding a march) is prohibited without authorization from the police, and those who disregard this bear full responsibility".
With regard to the need to notify the Ministry of Interior of demonstrations or marches, Al Mezan stresses the importance of respecting the applicable law, which states that the police must be "informed" of such actions before they start. The aim of this regulation is only organizational, since the police may, e.g., need to re-direct traffic. But the rule does not require obtaining prior authorization or license to exercise the right to peaceful assembly.
Al Mezan therefore condemns the attack on the march, particularly as it was a peaceful gathering of people who announced their desire to express a political position. Assaulting demonstrators is a condemned encroachment on the freedom of peaceful assembly and freedom of expression.
Al Mezan demands an investigation into this incident in order to ensure that basic rights and fundamental freedoms are practiced in accordance with the law, and full respect and protection of human rights is provided.
Related Links