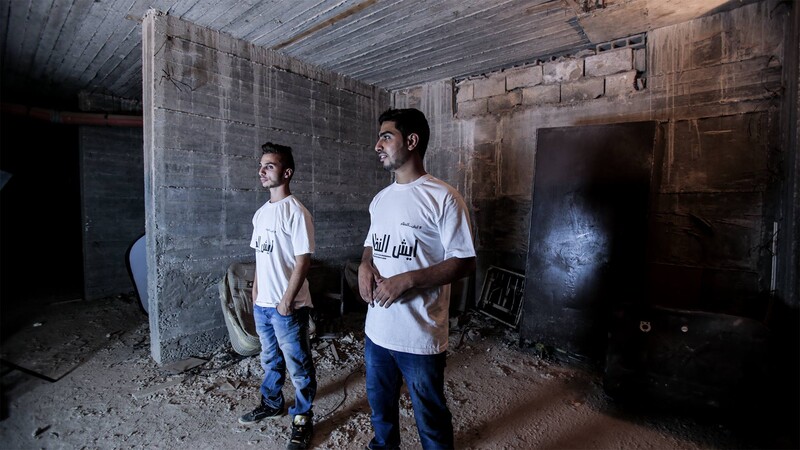 I'm a 23-year-old rapper, music producer and filmmaker living in the world's largest open air prison.
I'm also a multimedia student at university. I've worked with many other young artists on creative projects, but unfortunately these projects never see the light of day, because no matter how hard we try, our dreams are constantly crushed by the tyranny of the limitations we face.
This article is my attempt to reach out to the world to share a different perspective on life in Gaza for musicians and rappers, to vent some of the frustrations we feel and to explain the obstacles we face. I hope to spark a discussion that could lead to change.
Of the many barriers artists and performers in Gaza face, the biggest of all is Israel's ongoing siege and repeated wars and bombing raids. But we face many other challenges from the ground up.
To begin with, many people here see music as a luxury that we can't afford under siege and occupation. Our society is constantly confronted with unimaginable suffering and cruel daily challenges. A large portion of the population struggles every day to find work, shelter, warmth, medicine and even bread. So it is true that for many, attending a music performance, even by local artists, is beyond reach.
Financial constraints are often compounded by heavy-handed government censorship, imposing pressure on musicians to "clean up" their content and to ensure their message fits within specific criteria.
As any artist around the world would understand, this interference with free expression is demoralizing. It chips away at creativity and artistic output.
No space
In Gaza, there are no music production companies that nurture and help developing artists. What we have right now are various commercial production companies that focus on marketing and advertising in order to make a profit.
These companies have the equipment that is needed for filming and recording, and so with no other spaces available, artists often find themselves forced to work with them. As a result, they become shackled by their corporate rules and regulations, especially the golden rule of never offending any customers.
And so desperate artists go against the grain of their freedom of expression and self-censor their work at a great cost to the quality of their art.
There are precious few opportunities in Gaza to study music.
Of course, there are a handful of cultural and artistic institutions that support artists, but these are more often than not aligned with the main political factions. They promote factional political agendas and produce art that is somewhat, if not entirely, propaganda driven.
Independent artists who believe that art must be a free form of expression, a vehicle for dissent and a conduit of change, find themselves standing alone, unsupported and unfunded.
We desperately need to establish independent institutions to support the arts in Gaza, institutions that will reach all young people. The problem is always how to get there.
Art is not a luxury; it helps sustain people's spirits so they can survive even through the hardest times.
Mohammed Elsusi is a Gaza-based rapper, music producer and filmmaker. He is founder of Gaza band Revolution Makers.
Tags