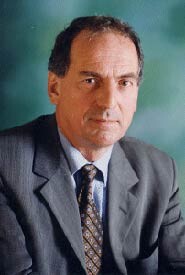 "I'm not looking for Sharon to do anything other than… to act in the measured way I spoke of". And when the "measured way" includes air raids, mass arrests of Palestinians and serious violation of international law, British Minister for the Middle East, Kim Howells, is unlikely to be disappointed.

At the very time Palestine takes on the characteristics of the anti-apartheid movement - with sanctions and boycott calls, an extensive twinning network, and churches disinvesting from companies complicit in the occupation - the British Government appears to tread ever more delicately around Israel.

Enter Mr Howells. In an interview with the Jerusalem Post at the end of September, the Government Minister ripped up even the pretence of even-handedness towards Israel and Palestine. Asked what he was expecting of Sharon following the Gaza disengagement, Howells replied nothing - it was up to the Palestinians now. Hardly the emphatic statement that 'Gaza is just the beginning', which Foreign Secretary Jack Straw has been telling Parliament for months. And particularly worrying coming just one day after Sharon declared that there would be no further unilateral withdrawal from the Occupied Territories.

Mr Howells went on to explain that "unilateralism seems to me the most significant move that I've seen", echoing the head of Israel's military intelligence, Aharon Ze'evi, who in the same week declared that "In the coming years, Israel will have to take more and more unilateral steps, in order to advance its own interests."

This contradicts the British Government's former commitment to multilateralism and Israeli peace activist Uri Avnery, who decries unilateralism as a missed opportunity to build "psychological and political bridges… [which] could have convinced the Gaza population that it is now worthwhile to live in peace with us."

Most incredible of all was Howell's claim that Israel's recent air strikes on the supposedly independent Gaza Strip constituted a "proportionate" response to the firing of rockets from Gaza into Israel which had already been condemned by the Palestinian Authority. At the time of speaking it was clear to Howells that Israeli ministers had agreed to resume illegal targeted assassinations of Palestinian militants and that Israeli forces had launched about 30 aerial attacks on Gaza, destroying schools and homes, with scores of civilians injured and welfare projects raided.

The al-Aqsa Martyrs Brigades declared immediate suspension of their ceasefire and the Palestinian Authority accused Israel of killing any chance of reviving the peace process. Meanwhile on the West Bank, over 400 people had been arrested, amidst a fragile election process, in which Sharon had already claimed that he would not accept Hamas running for elections unless it disarmed.

In truth it was all a stunt by Sharon to shore up his own waning vote in the Likud Party. He narrowly fought off a challenge to his position as jets broke the sound barrier over Gaza and dropped leaflets on a terrified population, warning of "severe actions" to follow.

But if international law can be so easily disregarded, surely British law is a more substantial pointer to our Government? There again, two weeks before Howell's comments, his boss, Jack Straw, apologised to the Israeli government after a British court issued an arrest warrant for Israeli Major General Almog, on war crimes charges.

Almog served as Head of the Israeli Army's Southern Command from 2000-4 and was responsible for dropping a one-ton bomb on Gaza in 2002 which killed 15 and injured 150. The arrest warrant was in fact issued for the destruction of 59 homes in Rafah refugee camp in the same year.

Almog was made aware of the arrest and refused to leave his plane at London Heathrow, which promptly returned to Israel. Nonetheless, Straw felt the need to apologise "as a courtesy" and explain that he wanted to "find a way to bridge the gap so this doesn't happen in the future". Heaven forbid that British courts should embarrass British or Israeli governments by arresting war criminals when they arrive on British soil.

As calls to hold the Israeli government to account grow louder, the British government whispers ever more softly in Sharon's ear. Responding to a legal letter from War on Want and The Dove and The Dolphin Charity this month, the Foreign Office, in a highly censored set of documents, revealed just how little they have really done over the last year to uphold their obligations under the Fourth Geneva Convention, spelt our in the International Court of Justice's decision on the Separation Wall.

The Foreign Office admits quite openly that their strategy of close engagement with Israel has failed; hardly surprising given that the 'strategy' seemed to consist of mentioning the issue at a handful of meetings. Despite this, they have no other strategy apart from even closer engagement through 'European Neighbourhood Policy' (ENP) Action Plans.

These plans provide for closer ties with Europe's neighbours, including Israel, to go "beyond co-operation, to involve a significant measure of economic integration and a deepening of political co-operation" in which Israel and the EU will "intensify political, security, economic, scientific and cultural relations". In other words, the opposite of suspending currently existing economic preferences for Israel, which the Palestinians have called for, and which the EU is actually legally bound, but unwilling, to do.

So between encouraging Israel to flout international law in the Jerusalem Post; tripling arms sales to Israel in the first three months of 2005; and encouraging the EU to make even closer ties with Israel, British Foreign policy appears to be taking a turn for the even worse. Howells even suggests in the Jerusalem Post that Palestinian aid is on the line, if they refuse to play the game our way - Britain needs "a signal that it [the PA] is capable of good governance. This is not a bottomless pit that this money is coming from."

Perhaps the introduction to the European Neighbourhood Policy, which states that the "EU and Israel share the common values of democracy, respect for human rights and the rule of law and basic freedoms", has a good deal of truth to it. Certainly none of those things seems to matter to either if they get in the way of self-interest. As in the fight against injustice in South Africa, it looks as though it will have to be ordinary activists who bring justice to the long suffering Palestinians.

Nick Dearden is a Senior Campaigns Officer for the radical anti-poverty group War on Want. He works to highlight Western complicity in some of the world's most intractable conflicts including Palestine, Colombia and the Western Sahara. War on Want was formed from the trade union movement 50 years ago and fights for long-term poverty eradication through supporting groups resisting poverty in the Third World and campaigning against those institutions and organisations responsible for poverty in the West.