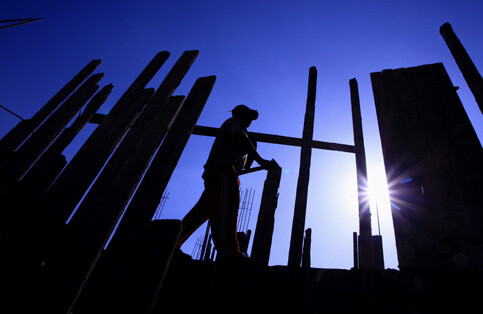 More than 700 Palestinian workers in Gaza who suffered on-the-job accidents inside Israel used to receive monthly disability payments from Israeli employers. But in January 2009, workers stopped receiving these payments as the Israeli courts decided that Israeli insurance companies are no longer liable towards Palestinians living in what the state has declared a "hostile entity."

Masoud Raba is a 50-year-old laborer in the Israeli-occupied Gaza Strip who used to receive disability insurance, but his monthly insurance allowance was just withheld for the first time since 1979.

In an almost empty living room in the Beach refugee camp in Gaza City, Raba angrily described his situation: "I support seven family members including myself and my wife; we could not afford [to pay our] electricity bills. Also, we could not afford [to pay for our groceries]. As you see I sold my TV set and refrigerator in order to sustain a living. What was our fault, so that our allowances were withheld? This allowance is a given right for us that we were handed to by Israeli courts."

Raba used to work for an Israeli factory that manufactures refrigerator parts. His left hand was amputated while he was on duty. Raba said, "It seems they are imposing sanctions on us. Why us; why? We are neither a government nor people with influence, we are merely helpless injured workers who spent most of their youth serving Israel. Instead of giving us our disability allowance, they deprive us of it!"

Mohammad Hassouna, 62, of western Gaza City, also suffered a workplace accident while on a construction job in 1994. A father of 10, including a university student, Hassouna also reports that his monthly disability allowance was withheld in January 2009.

"I suffered fractures in my back, my leg as well as my forehead. Besides, I am getting older. In this situation, I cannot afford to buy some salt for my children," Hassouna explained, pointing out his injuries.

"I used to rely on that [disability] allowance for feeding my children and paying my son's university expenses. For the past four months, my situation has been desperate. This payment is our right, we have spent long years serving them, we have nothing to do with politics, so we should have this payment back sooner not later," said Hassouna.

The Palestinian Workers Syndicate in Gaza is not able to assist those whose disability payments were withheld, saying the matter is related to Israeli institutions or banks.

"Israeli courts are no longer considering issues of workers from the Gaza Strip. Recently, we in the syndicate's legal office found out that such courts regard the Gaza Strip as a hostile entity. Therefore, they even threw out some of those workers' suits that are worthy of thousands or millions of Israeli shekels," Salama Abu Zeiter, a legal spokesperson for the syndicate, explained. The current exchange rate is approximately four New Israeli Shekels per US dollar.

Abu Zeiter said that the pension payments of thousands of Gaza workers, especially those who worked in the industrial sector, have also been withheld.

"After 2000, Israeli labor institutions began to disregard Gaza workers-related issues. Presumably, the Israeli Histadrut [labor organization] is the party in charge of such a follow up of workers' suits. Despite a recent renewal of a partnership agreement between the Histadrut and the West Bank-based Palestinian Workers Syndicate, nothing has yet come up," Abu Zeiter said.

Last year, Israel strengthened its siege of the Gaza Strip by declaring the region a hostile entity and preventing transactions between Israeli banks and Gaza-based banks. This choked the economic situation of an already struggling population. About 85 percent of Gaza's 1.5 million-strong population receives food aid from humanitarian agencies.

Unemployment is also another major problem in the Gaza Strip; the Gaza-based minister of labor said recently that 65 percent of the population is unemployed.

With the outbreak of the second Palestinian intifada or uprising in 2000, Israel began to impose restrictions on entry of Gaza laborers into Israel, causing Gaza's unemployment rate to surge. In June 2007, Israel sealed off Gaza completely in the wake of the elected Hamas movement's takeover of the territory, further affecting hundreds of thousands of Palestinians' access to employment.

Rami Almeghari is a journalist and part-time university lecturer based in the Gaza Strip.