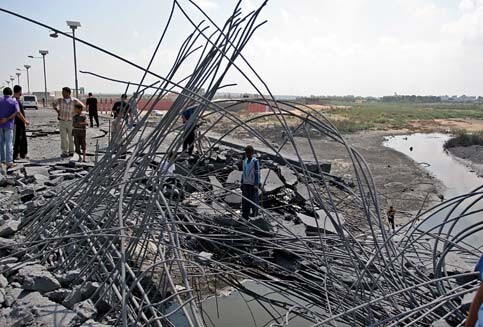 Israeli tanks have invaded the Palestinian territory of the Gaza Strip, following the capture of an Israeli soldier by Palestinian militants on Sunday.
This comes at the end of a month during which 34 Palestinian civilians have been killed in Gaza in Israeli military attacks or 'targeted assassinations' of suspected militants. This includes 10 children.
Christian Aid condemns all violent actions and believes that without an end to violence by all sides there will be no security, no end to poverty and no peace.
Last night Israel also hit a power station which supplies 65% of Gaza's electricity and also the water pumping station.
William Bell, Christian Aid's senior policy officer responsible for Israel and the Occupied Palestinian Territories, said: 'Christian Aid partners in Gaza are telling us how people are rushing to buy dwindling supplies of bottled water, that tomorrow there will be very little bread available in Gaza as the ovens will not be working and that stocks of petrol and gas remain scarce.
'The message to the civilian population of Gaza could not be clearer – collective punishment is part of Israel's military strategy.
'This is in addition to the internal security chaos that exists in the Occupied Palestinian Territories and the lack of Palestinian Authority control.
'Israel, in the name of security, has imposed lengthy closures on the strip which has frustrated any meaningful commercial activity and caused regular shortages of essential supplies.'
Mr Bell said Christian Aid implored the international community to recognise that 'we are facing a humanitarian crisis that is deteriorating at an alarming pace and to respond accordingly.
'Since the election of Hamas in January this year, international aid from the EU and US governments has been suspended. Therefore, the beleaguered population cannot rely on their government to provide essential humanitarian assistance,' he said
'By the weekend it is estimated that water will be in dangerously short supply and that essential foods will be unavailable. After only 24 hours of a military invasion and siege on a civilian population the humanitarian impact is looking perilous.'
Christian Aid is an agency of the churches of the UK and Ireland committed to anti-poverty work. Formed in 1945, Christian Aid today works with church partners, the ecumenical family and sister agencies as well as with alliances of other faiths and secular groups in order to end poverty.
Related Links