One of the most important factors in recovery from trauma is the ability to find sanctuary in the comfort of one's home. The right to safety and security. For many people in Gaza, this right has been repeatedly violated, in the form of the destruction of their personal property, often wantonly, by Israeli military forces.
Alongside the thousands of homes partially or completely destroyed by bulldozers, tank shells and bombs dropped by F-16 fighter jets, are the homes that have been defaced by graffiti left by individual Israeli soldiers and the vandalization of civilian property within them.
At Mosab Dardona's home in Jabal al-Rayes, northeast Gaza, Israeli soldiers who had taken up positions in civilian houses in the area left behind intricate drawings on the walls, some depicting soldiers urinating on toppled mosques, or devouring Palestinian villages. In the house next door, belonging to Ibrahim Dardona, soldiers left behind dozens of bags of feces in the bedrooms, despite the presence of a functioning toilet, and left crude sexual diagrams on the walls.
"The writing left by Israeli soldiers in the homes in Gaza provides an insight into the disturbing culture of hatred and racism towards Palestinians and Arabs which exists among parts of Israeli society," says Hamdi Shaqqura, the Palestinian Centre for Human Rights' (PCHR) director of democratic development. "In light of the evidence PCHR has gathered of the willful and wanton killing of Palestinian civilians in Gaza, this graffiti is even more disturbing."
The thousands of persons who have been unable to return to what remains of their homes after Israel's offensive are hard to count precisely. Hastily erected refugee tent camps that are unsuitable at this time of year have been largely abandoned and internally displaced people have moved in with extended family members.
Others have had to move back into their partially destroyed homes, clear up the debris and sometimes the evidence of the deaths of loved ones, and try to get on with their lives. The Dardona families have moved back into their houses, and are torn between unwillingness to destroy evidence of the behavior of Israeli soldiers and reluctance to endure the constant reminders of the horrors that took place here. And there are similar cases in other parts of the Gaza Strip.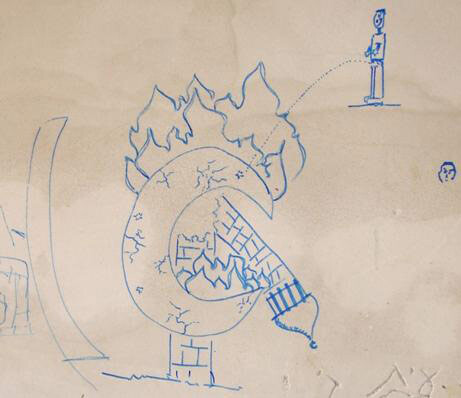 In the largely agricultural area of Johr al-Dik, Israeli forces established bases in some of the homes in the early days of their ground offensive. Tank tracks cut huge swathes through the fields and hundreds of olive and citrus trees were destroyed. Half the population of 2,500 was displaced.
At dawn on 4 January 2009, the first full day of Israel's ground offensive, a shell landed near the home of Saleh Abu Hajaj in Johr al-Dik. Radio interceptions made by the Israeli military ordered local residents to evacuate their homes. Saleh's 36-year-old daughter Majeda Abu Hajaj tied a white scarf to a stick and led a group of civilians out of her neighbor's house.
As they were trying to escape, tanks opened fire on the group and Majeda was shot dead, allegedly in the back. Moments later her 64-year-old mother Raya was also shot and bled to death a few meters from her daughter. Majeda and Raya's bodies were not recovered until Israel's declaration of a unilateral ceasefire 16 days later. These attacks may constitute willful killings, grave breaches of the Geneva Conventions and war crimes.
Israeli soldiers set up military positions in the Abu Hajaj house after the killings, and left graffiti in every room. Above Majeda's bed are the words "Death will find you soon" scrawled in red pen. Other parts of the house carry the words "Have you ever wondered what hell looks like? Well … look around you [expletive]! Ha ha ha"
In the Zeitoun district, where 27 members of the Samouni family were killed in an air strike while taking shelter in a building they had been placed in by the Israeli army, there are more chilling messages on the walls. In Talal Samouni's home Israeli soldiers wrote the words "Die you all," "Make war not peace," "Arabs need to die" and a gravestone engraved with the words "Arabs 1948-2009" referring to the dates between the creation of the state of Israel and its latest military offensive.
A stairwell in Rashad Helmi Samouni's house a few doors down includes the following sentences written in chalk:
"There will be a day when we kill all the Arabs."
"Bad for the Arabs is good for me."
"A good Arab is an Arab in the grave."
"Peace now, but between Jews and Jews, not Jews and Arabs."
While much of the graffiti is inflammatory and disturbing, there are also more human expressions written by weary Israeli soldiers such as: "How much longer will we be here … ?," "Until when?," "We want to go home" and "I have no other country."
There have been many serious allegations made about the conduct of Israeli soldiers who were operating in the Gaza Strip. PCHR is currently investigating many of these cases and will be bringing evidence to light in due course. But whatever the outcome of such investigations, it will do little to comfort the thousands of civilians whose sense of safety they should feel in the privacy of their own homes has been so categorically violated.
This report is part of the Palestinian Centre for Human Rights series "Aftermath" that looks at the aftermath of Israel's 22-day offensive on the Gaza Strip, and the ongoing impact it is having on the civilian population.
Related Links