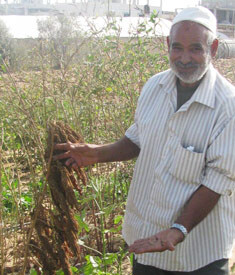 It was midday on a Monday when 61-year-old Hamdan Abu Shallouf bent down, laboring away in his small home garden among his okra plants. There is something special about Abu Shallouf's crops in the rural area of Khirbet al-Adas in Rafah in southern Gaza Strip.

"This small crop of okra and some flowers were first initiated by my late wife Umm Abdallah in cooperation with the Khirbet al-Adas branch of the Rural Women's Development Society," Abu Shallouf said. The Rural Woman's Development Society (RWDS) is a nongovernmental organization with chapters all over the occupied West Bank and Gaza Strip.

"We are following up on [this] project which is based on the reproduction of seeds," Abu Shallouf explained, holding out some of the flower seeds he produced as tears rolled from his eyes upon mentioning his wife who passed away this summer.

Abu Shallouf's small farm is green with crops including mulukhiya, a green popular throughout Palestine and surrounding countries and used to make a soupy stew, as well as basil.

Abu Shallouf said that he and his children have benefitted from the project by selling the dried seeds or greens back to the local RWDS branch.

"Thank God," Abu Shallouf said, "I use the mulukhiya to feed my family and dry the remaining leaves to sell them to the [RWDS]. This season I earned about 1,000 Israeli shekels [approximately $300]."

A little distance away in another corner of Khirbet al-Adas, Umm Ziyad, a 55-year-old woman, welcomed visitors into her 250-square-meter home garden, also supported by the local RWDS.

"My garden of peppers and parsley has saved us much time and money," Umm Ziyad said. "Before, we used to go to market to buy vegetables, but since we have started this project, we stopped going to the market except for [buying] meat."

Umm Ziyad and Hamdan Abu Shallouf are two of ten beneficiaries of a Japanese-funded project to produce seeds which RWDS initiated in January.

Standing before the aluminum racks on which seeds are dried, Umm Ziyad explained that the seed drier placed in her garden is one of two which the ten program participants share. The other drying device is on the farm of another family.

Umm Ziyad — who is assisted by a daughter — added that the seed production project has also provided participants with training to make their own soil fertilizers from organic substances such including animal manure, and composting it correctly.

The idea for the project came to the RWDS when Umm Abdallah, Hamdan Abu Shallouf's late wife, offered the society some seeds that she had produced herself.

Ahlam al-Shaer, chairwoman of the RWDS, spoke of the steady increase of seed production with the help of Umm Abdallah and her husband Hamdan as well as some of their neighbors.

"We conveyed the idea to the Japanese Campaign for the Children of Palestine and the Agriculture Relief Union in Gaza," al-Shaer said at the RWDS offices. "The Japanese institution approved our proposal and thus we selected ten different farmers from the local area of Khirbet al-Adas."

Al-Shaer said that the income from the project has helped cover some of the initial costs including the two drying devices which cost $5,000 each. The project has also helped meet high local demand for seeds for various crops.

"The project has enriched our programs and expanded our assistance to the local community. Currently, we have demand from 150 farmers through counterpart farming organizations in the Gaza Strip including the Agriculture Relief Union. They all want seeds of various crops like mulukhiya, spinach and others," al-Shaer said as she showed off many packs of seeds at the RWDS facility.

"My home garden has enabled us to be a productive family that eats what it plants," Umm Ziyad said as she walked among her pepper plants. "Sometimes, some of our neighbors' children ask for parsley, for example, and we give it to them for free."

Images by Rami Almeghari.

Rami Almeghari is a journalist and university lecturer based in the Gaza Strip.