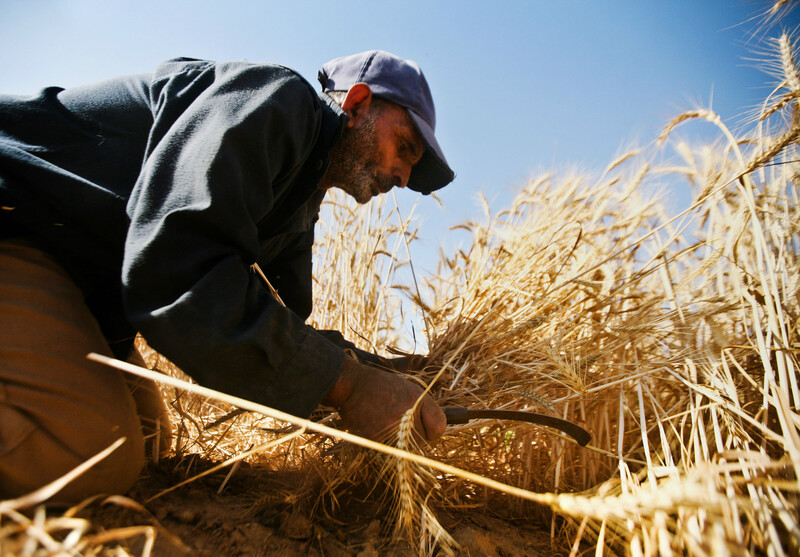 Despite the midday sun, Amin Khalaf and Ali al-Dous were happily and tirelessly harvesting wheat with the help of a large combine harvester on their land, just 500 meters away from Gaza's boundary with Israel.
The wheat yet to be harvested, and about 500 kgs of grain already gathered, shined like gold.
Amin's son, Ahmad Khalaf, 22, packed the grain into large white sacks, within view of an Israeli army watchtower overlooking the family's farmland.
A bumper crop
This season's wheat harvest is among the best in recent years.
As he stood in the middle of his wheat crop near the Mallaka crossroad in eastern Gaza City, al-Dous, 50, told The Electronic Intifada that heavy rain falls had helped ensure a good yield.
"This season was excellent, thank God," al-Dous said. "I expect my farmland, which is more than two acres, to produce about 10 tons of wheat annually. Every year I store most of crop for my own family to use, and sell the remaining amounts to the local market."
Al-Dous said he hopes that wheat farming could be expanded to other areas in Gaza for safety reasons. Farming near the boundary with Israel is dangerous due to frequent Israeli attacks on agricultural workers.
Crop set alight by Israeli army
"I have been working in farming since I was a little child," al-Dous explained, "but farming has become increasingly difficult especially in recent years with growing violence in the region. Just yesterday, the wheat crop of one of my friends in northern Gaza was set on fire after the Israeli army opened fire in the area. Wheat is inflammable, especially when it is ripe like you see now."
Amin Khalaf, who farms neighboring land to al-Dous', has an extended family that has been in business for five decades.
Farming is our soul
Khalaf and his son were packing wheat to store and sell on the local market.
"Farming has been our soul for the past five decades, and despite many hardships for the past several years we have been determined to keep up our work, which is a symbol for our existence," the 65-year-old farmer said, after climbing down from the combine harvester.
Khalaf pointed out the many difficulties farmers face, particularly a constant shortage of gasoline and diesel needed to run machinery and irrigation pumps.
"This harvester requires fuel — and today we begged someone to ensure we get 100 liters to speed up harvesting."
The urgency is real. "Who knows, maybe we will wake up one day to find our crop burnt by the frequent random fire from the Israeli army," Khalaf said as he motioned toward a military watch tower.
"Worst in decades"
The difficulties for farmers are shared with those who help them harvest in the crops. Hamdan al-Farra has owned and operated a harvester for the past 25 years. He too said that the lack of fuel had badly hit his business.
"Sometimes during this season, we are charged [for fuel] more than we profit," al-Farra told The Electronic Intifada. "Shortage of fuel constitutes a real problem for us — it delays our work, which is seasonal." From his perspective, the current period has been the worst he's seen in decades despite the high yields.
A message of determination to keep farming
According to the Gaza-based agriculture ministry, this year's wheat season is the best ever in terms of quantity and quality. Though wheat is not considered a major crop in the coastal enclave, agricultural officials maintained that it would signal a message of determination by Gaza farmers to continue farming and contributing to the local market.
"Production this season is excellent, compared with previous years. Gaza wheat is of good quality and I expect that the total amount of production of wheat will stand at 8,500 tons. A large portion of this will go the local market, constituting eight percent of the population's need for wheat," said Fathi Abu Shamalla, deputy director with the Gaza-based agriculture ministry.
The straw from the wheat also contributes about 40 percent of the animal fodder consumed in Gaza.
However, Abu Shamalla said he didn't think Gaza could ever reach self-sufficiency, due to lack of sufficient farmland and irrigation — and the blockade imposed by Israel which makes trade in and out of the Gaza Strip difficult.
Much land off limits due to Israeli "buffer zone"
Another major problem is that much arable land inside Gaza is off limits due to an Israeli-declared "buffer zone" along Gaza's eastern boundary. Israeli forces frequently fire at Palestinians entering the zone and even those who stay outside it.
Abu Shamalla estimated that some 6,000 acres of farmland cannot be used because of the threat from Israel.
Asked whether there have been attempts by agricultural bodies in Gaza to enable farmers to use those abandoned lands, Abu Shamalla said, "We have appealed to the Red Cross to help farmers access those lands." Yet there has been little international pressure on Israel to ease its constraints on farmers.
"We must keep planting and harvesting our lands, whatever the price, for we have no other choice but to be steadfast," said Amin Khalaf as he and his son worked in the sun to bring in the wheat.
Rami Almeghari is a journalist and university lecturer based in the Gaza Strip.
Tags