WHEAT-FLOUR STOCKS HAVE FINISHED IN THE GAZA STRIP, WITH MOST BAKERIES CLOSING SHOP AND THE UNITED NATIONS WARNING OF A LOOMING HUMANITARIAN CRISIS IN THE FACE OF A NEARLY TWO-MONTH LONG ISRAELI-IMPOSED CLOSURE OF GAZA'S COMMERCIAL CROSSINGS

Gaza's 1.5 million Palestinians are now facing an unprecedented food shortage due to systematic Israeli closures that have prevented the import of wheat, among other things, the United Nations Office for the Coordination of Humanitarian Affairs in the Occupied Palestinians Territories (

OCHA

) said today.

"The situation is extremely serious. In the next day or so all bread supplies will dry up. There is very little else around in terms of rice, which is also short in supply. Bread is the staple diet for Palestinians. It is also the food the poorest people so if that's not available people will start to go hungry," David Shearer, OCHA's head of operations, said.

According to the World Bank's 2005 statistics, 65% of Gaza's Palestinians are living below the poverty line, surviving on under $2 a day and general poverty has reached upwards of 70% of the population.

"What we were warning before was that stocks were getting low. Today we are saying stocks are gone, and the end-point has been reached," said Shearer, adding that UNRWA, which was supposed to start emergency food distribution today, and the World Food Programme have likewise run out of emergency flour stocks.

Al-Mintar Crossing is Gaza's commercial lifeline, and the only crossing through which large-scale import of wheat and other imports and exports can take place. The crossing has been shut down for nearly 50 days-in peak harvest for Palestinian produce exported to Europe-since the beginning of the year, a total of 60% of the time according to the UN, despite Israeli promises in a US-brokered November agreement not to do so.

The financial losses are estimated to be US$500,000 a day.

The crossing was opened sporadically for several days during the two-month long closure, but the World Food Programme says 3,594 MT of wheat flour contracted to local mills were unable to enter Gaza during this time.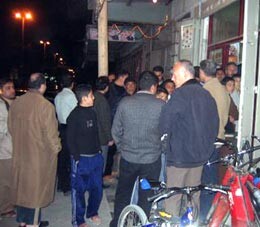 According to the Ministry of Economy, Palestinians in Gaza consume around 350 tons of flour per day, but all flour mills have shut down due to the depletion of wheat stocks, and bakeries are working through their last bags of stored flour.

As word of the shortage spread, long lines formed well through the night in front of the few bakeries still open for business, with panic-stricken residents flocking to buy bread and flour for their families under the roars of Israeli war planes circling Gaza's skies. Bakery-owners were rationing out two bags of bread per family that they had baked with what little supplies they had left in storage, and in some instances, fights broke out between desperate customers.

"My husband waited for 3 hours to buy a bag of flour so we can bake at home, and all the bakeries have closed in our town, we don't know what we will do in a few days" said 50-year-old Um Ramadan, of her 8 member-family.

Bread is the staple food for 1.3 million Palestinians in Gaza, which requires 450 metric tonnes of wheat each day to maintain bread supplies, according to the World Food Programme. The UN says the usual 30-60 day wheat stock has been exhausted, and other basic food commodities, such as dairy products and fruit, are in extremely short supply.

Rice and sugar are selling at more than twice their normal price and are also very difficult to find in stores, while prices of locally-grow vegetables marked for export, such as tomatoes and green peppers, have plummeted. Desperate farmers disposed of several tones of rotting vegetables earlier in the week, while others attempted to sell their harvest on donkey carts throughout the city in bulk, with 20 kilograms of tomatoes going for 5 shekels (a little more than a dollar).

Israeli Prime Ministerial advisor Dov Weisglass recently described the Israeli sanctions policy in the wake of the democratic Hamas victory as one in which Palestinians would be put on a diet but not starved to death. "It's like an appointment with a dietician. The Palestinians will get a lot thinner, but won't die," Weisglass was reported as saying.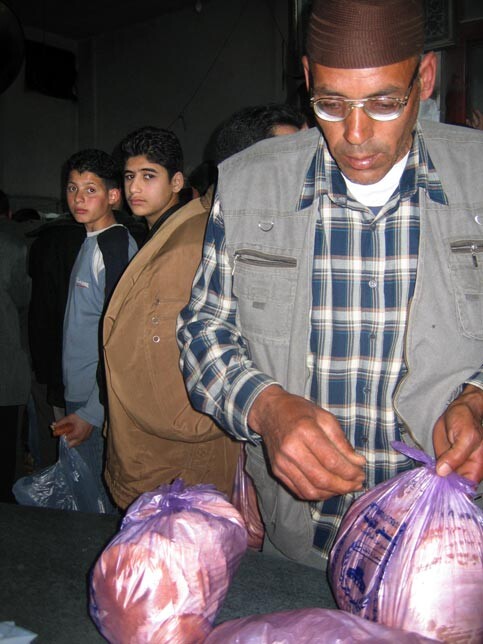 The United Nations has condemned the closure, noting that 40% of children in the Gaza Strip suffer from malnutrition and that under the fourth Geneva Convention, Israel, as an occupying power, is responsible for the welfare of Palestinians in the Gaza Strip.

A UN official said, on the condition of anonymity, that the closure was very obviously political in nature, since it had become clear that there were no direct security threats to Israel on the crossing.

Israel authorities say the crossing has been closed due to "security threats", specifically, fears that tunnels had been built under the crossing. The most recent closure coincided with the Israeli siege of the Palestinian-controlled Jericho prison, in which PFLP leader Ahmed Saadat-in jail for four years without standing trial- and five others were taken into Israeli custody.

At the request of the Israeli army, Palestinian security services dug four trenches, totaling more than 1.5 kilometres in length around the crossing, but no tunnels were ever found, Israeli and PA sources say.

Israeli spokespersons say they offered the PA an alternative crossing at Kerem Shalom, a still-not-functional terminal located on the south-eastern tip of the Gaza Strip, but that the PA refused.

Palestinians have so far rejected this option, citing reasons both political and practical in nature.

The alternative crossing is being imposed upon the Palestinians as a substitute where it was supposed to function alongside al-Mintar (Karni), say PA officials, adding that in any case, it is not equipped to handle large amounts of imports and exports.

According to the UN, the crossing has only a fraction of the capacity of al-Mintar, and in particular does not have the facilities to handle the approximately 450 MT of wheat needed in Gaza.

"Only 4-8 trucks would be allowed out per day, and at most this can be pushed to 30 with the proper infrastructure, which is likewise insufficient. It's also very obvious that the al-Mintar closure is a political decision as there are no direct security threats," said a senior PA civil servant who is overseeing the implementation of the access and movement agreement from the Palestinian side.

"The Agreement talked about Kerem Shalom being a redundant border, open at the same time as Karni, not a substitute border," said the official, adding that Palestinian control over the Rafah Crossing as brokered by Secretary of State Condoleezza Rice is "an illusion".

The US-brokered Agreement on Movement and Access forbids the PA from importing goods through the Rafah Crossing, with Israel insisting that all goods must be subject to Israeli oversight and control, as they would in the Kerem Shalom Crossing. Limited amounts of supplies have nonetheless been transported through Rafah, which likewise lacks the technical capabilities for large-scale shipments enough for over one million Palestinians.

A PA source formerly involved in the negotiations over the crossing said Palestinians want full sovereignty over Rafah for both goods and people, but attempts to institute this unilaterally have failed because Egypt has been succumbing to Israeli pressure to prevent this from happening, and EU monitors have threatened to leave their posts, which would annull the agreement and shut down the crossing, and possibly result in a Jericho-type Israeli siege. Further, the source added, even if they pass through Rafah, goods will still have to be re-routed to Kerem Shalom for Israeli inspection, a roundabout and slow process that would be costly and highly inefficient. Israel also attached to the Agreement a series of "security protocols" which render Palestinian control over the Crossing moot.

In a press conference held today at the Rafah Crossing, President Mahmud Abbas told reporters that the PA will meet with Israeli, Egyptian, and American delegates in a mammoth session to be hosted by the Americans in their Tel Aviv embassy this afternoon in order to try and resolve the humanitarian crisis. The meeting will attempt to resolve "all outstanding issues relating to security protocols and imports" Abbas said.

"The meeting will have to do with all issues related to Rafah, and imports and exports. We realize there is a serious problem now in Gaza in regards to food shortages, and that will also be examined today, and we hope to find a solution to it. We will also take a serious look at security protocols, so this border can be opened continuously," Abbas told reporters.

Last week, James Wolfensohn, the Middle East special envoy to the Quartet, said the Palestinian Authority faces "financial collapse", adding that a reduction in financial support by the US, EU, UN and Russia could trigger a sharp rise in unemployment and send personal incomes plummeting.

Laila El-Haddad is a journalist based in the Gaza Strip.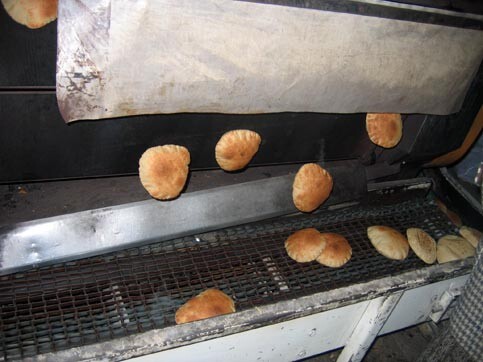 Related Links