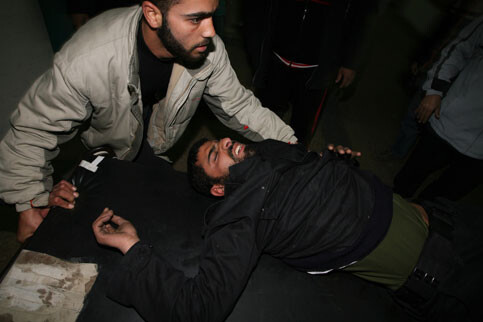 The Israeli Occupation Forces (
IOF
) intensified their indiscriminate attacks on civilian targets in the Gaza Strip. Yesterday night and this morning saw intensive air strikes, six of which targeted government buildings and industrial and commercial facilities. As a result, eight persons were killed, including a four-month-old infant, and numerous homes were damaged.
At approximately 10:30pm yesterday, 27 February 2008, an air strike targeted the building of the Ministry of the Interior of the deposed government in Gaza. IOF helicopter gunships fired three missiles, destroying it and an adjacent building (which housed the office from which Al Mezan moved last month). An infant was killed in a house located opposite to the ministry. The strike also resulted in vast destruction of the windowpanes and walls of dozens of homes and apartments in the area. The sound of the explosion traumatized civilians, especially children.
In the early morning hours today, 28 February 2008, an IOF attack killed three men in the east of Gaza City. IOF also launched three attacks at the al-Zaitoun neighborhood in the city, killing two and injuring one.
Yesterday, at approximately 4:15pm, the IOF launched two air strikes. The first targeted three farmers as they were working in their field in the al-Tuffah neighborhood in the east of Gaza City. As a result, two farmers, one of whom was a woman, were killed, and a third (the woman's husband) was injured. Later, at approximately 6:35pm, the IOF launched another air strike targeting a group of children near a weddings hall west of Jabalia town. As a result, two children were killed and five others injured, including two brothers of a killed child.
In other attacks, IOF launched 13 artillery shells. Six shells targeted Beit Hanoun town, injuring one person. The other attacks hit neighborhoods in Jabalia and Beit Lahia, injuring four, including two women and a young girl.
Al Mezan Center for Human Rights strongly condemns IOF's military escalation in the Gaza Strip, which indiscriminately harms civilians and civilian property, and blatantly breaches international humanitarian law. Al Mezan particularly condemns the IOF attacks against children, despite the high technological capabilities that the IOF employs in their surveillance of the Gaza Strip.
Al Mezan calls on the international community to intervene urgently to protect the civilian population in harmony with its legal and ethical obligations under the Fourth Geneva Convention. International intervention is required urgently as the IOF's attacks on Gaza continue, and news about the falling of more casualties mounted while drafting this press release [10am GMT].
Related Links