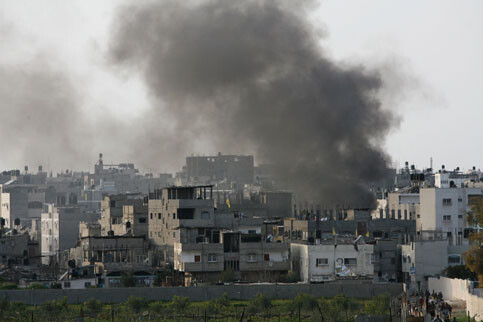 Israeli Occupation Forces (
IOF
) continued its attacks on Gaza today.
IOF
's military operations have killed 47 Palestinians in Gaza today. Of those, 27 were civilians, including ten children and three women. Since Wednesday 27 February 2008,
IOF
killed at least 77 people and injured approximately 130.
Al Mezan's fieldworker in north Gaza reported that a few people who were injured during IOF's incursion in the eastern parts of Jabalia are still in the streets until now. IOF prevents the area's residents or ambulances from reaching them.
At approximately 4:30pm today, 17-year-old Nirmeen Abu Saif was injured from IOF fire while she was inside her family house. The family called the ambulance service to collect her. Palestinian health officials contacted the Israeli army requesting security clearance for an ambulance to reach the area. They received a positive response after two hours. However, according to the ambulance driver Mustafa Saidawi, Israeli soldiers opened fire at the ambulance when it tried to approach the area and hit its body and one of its wheels.
At approximately 5:30pm, IOF launched three missiles at the house of Khalid Atallah, a 23-year-old Hamas activist, destroying it. Atallah's mother, 60-year-old Su'ad, and brother, 35-year-old Ibrahim, were killed in the attack. Nine other people were also wounded.
Later, at approximately 8:30pm, IOF fired missiles towards the police station in the town of Khan Younis. Two policemen were killed and many injured in this attack; including one in a critical condition.
As the IOF's incursion into east Jabalia continues, some 40,000 people in the area have been without water or electricity since dawn. IOF prevent the authorities from reaching the area and operate the water wells in it. Two other blocks in the neighboring Jabalia refugee camp have also been without water.
Al Mezan Center for Human Rights strongly condemns the conducts of IOF in Gaza, which deliberately target civilians and prevent rescuing them. These acts represent flagrant breaches of international humanitarian law, which oblige the occupation forces to refrain targeting protected persons and objects, including health teams.
Al Mezan also condemns the inaction of the international community and demands it to uphold its moral and legal obligations and bring to an end to Israel's crimes. International intervention is urgently needed as the Israeli aggression is escalating and its victims rising.
Related Links