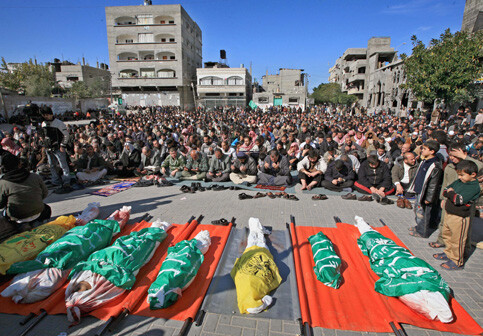 1:30pm

GMT

Gaza Time (+2hrs

GMT

)
The Israeli Occupation Forces (IOF) continued its war crimes in the Gaza Strip by deliberately targeting civilians and civilian premises. The IOF escalated its destruction of houses, mosques and other civilian premises. Attacks also targeted United Nations personnel and property. The IOF's ground invasion continues under artillery and machine gun shelling of neighborhoods, particularly in the south and east parts of Gaza City, northern Gaza as well as all the border areas along border between Gaza and Israel. Under continued failure of the international community to uphold its obligations, the Israeli operations in Gaza have killed 771 people, most of whom civilian noncombatants. Al Mezan Center has so far verified the killing of 189 children and 58 women; however, it believes the number is higher. The bodies of civilians continue to be found under the rubble of their bombarded houses.
Since 1pm yesterday, Al Mezan Center's field workers have confirmed that 55 Palestinians were killed in the Gaza Strip. Of them, 18 were children and five women. The IOF destroyed 52 houses, a few of which were bulldozed within areas that IOF had invaded. The rest were destroyed in air raids.
Owing to increasing difficulties, Al Mezan could not finalize its daily detailed update. This release reports on the overall consequences of the IOF's operations. The daily update will be issued tomorrow morning.
Al Mezan has also received information regarding the deteriorated humanitarian situation around the Gaza Strip. The IOF's operations continue to prevent civilians' access to water, food and other necessities. The conditions of tens of thousands of displaced civilians has particularly grown dire under inability of the UN to provide for them due to Israeli attacks and operations, in which many UN staff members and properties have been targeted.
Al Mezan warns that the international community has so far been unwilling to bring the Israeli serious breaches of international law to an end. According to the information collected and reproduced by Al Mezan, the civilian population of the Gaza Strip has borne the brunt of the Israeli attacks. The number of casualties and damages, coupled with the humanitarian crisis, call for effective intervention, which must go beyond a non-binding Security Council resolution that has taken 13 days to be adopted. The international community is obligated to stop the killing of civilians, including women and children, and to ensure their access to essential goods, especially water, food and other life necessities.
Al Mezan reiterates it calls upon the High Contracting Parties to the Fourth Geneva Convention to uphold their obligations under article 1 of the Convention and ensure respect of its provisions. Civilians must be protected and those who deliberately target them must be held accountable in accord with international law.
This press release has been edited.
Related Links