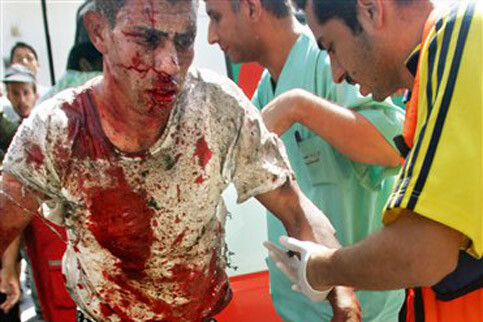 As part of its mission of monitoring human rights violations in the Occupied Palestinian Territories (
OPT
), Al Mezan Center for Human Rights continued to monitor the developments of the violations of Palestinians' human rights by
IOF
. According to a recent report by the Center,
IOF
carried our over 380 incursions into Palestinian areas in the Gaza Strip during the year 2004. As recent as 26 June 2004,
IOF
carried out a 37-day operation in North Gaza towns of Beit Hanoun and Beit Lahia.
Later, on 8 September 2004, IOF stormed into the north Gaza and expanded the incursion into the refugee camp of Jabalia. Al Mezan documented wide-scaled violations of human rights during such incursions; including murder of civilians, collective punishment and destruction of homes and infrastructure.
In this context, IOF stormed into the area of North Gaza (One of the most populated areas in the Gaza Strip; North Gaza Governorate is composed of three major residential areas: Jabalia towns and its refugee camp, the town of Beit Hanoun and the town of Beit Lahia. The population of this area is over 250,000.
IOF spokespersons announced that they carried out the incursion to stop the launch of Qssam and other hand-made rockets on Israeli land. The incursion is still underway for the third day. Twenty-seven Palestinians have been killed by the time of issuing this update. IOF took control of the main streets in north Gaza and are deep inside Jabalia, Beit Hanoun and Beit Lahia.
At approximately 4:20pm today, 30 September 2004, IOF bombarded a crowd in Jabalia killing 9 and wounded dozens. Only one of the killed was identified. According to mounting statements made by Israeli officials, it is expected that IOF continue their military action in this area. This daily update provides detailed information about the developments of the incursion, its consequences on human life and property and the relevant statements made by Palestinian, Israeli and international entities.
Events of day one: Wednesday 29 September 2004
IOF stormed into North Gaza at 10pm Tuesday 28 September 2004. By 7:30 the next day, they took control of all the streets connecting the three towns in the area and imposed a strict siege on them. IOF tanks shell Tel Az Zaatar neighborhood and kill Tawfeeq Ash-Shirafi, aged 24. Several injuries reported. Armored bulldozers destroy the fence of the Preventive Security office in Beit Lahia. 17-yeart-old Ahmad Madi died under an electric light pole. IOF open fire on the town and kill 14-yearold Said Abu Al Aish. Twenty people are injured, most of whom are children. IOF shell the main water-well in Jabalia, known as Abu Rashid well, and a main electricity transformer. The refugee camp suffers water and electricity cut-off in most of its neighborhoods.
Ten Palestinian workers were rounded up in a stone factory located in Beit Lahia. Al Mezan knew the International Committee of the Red Cross (ICRC) initiated contacts with the Israelis to have them released safely.
Israeli helicopter gun-ships fired missiles at a Palestinian security post in the area killing 23-year-old Fathi As Sawaween and 27-year-old Khalil Naji; both are National Security members serving at this post.
IOF opened fire at five workers who were returning from their work at Abu Nada farm in Beit Lahia. One worker, 27-year-old Atif Al Ashqar, was killed and the other four injured.
At approximately 8:15pm, a helicopter gun-ship fired a missile at Tel Az Zaatar killing Musaab Al Barad'i. Al Mezan's fieldworker reported that Al Barad'i was in front of his house when he was killed.
Around midnight, IOF broke into the house of Dr. Kamal Ash-Shrafi, member of the Palestinian Legislative Council and the Head of Al Mezan's Board of Directors. They destroying the outside walls of the house and three cars owned by Dr. Shrafi, his wife and his brother. Tanks attacked other walls while the families of Dr. Shrafi and his brother were still inside the house. Two hours later, the two families, including Dr. Shrafi's 75-year-old mother were forced to evacuate the house. IOF refused to allow ambulances to lift them and ordered them to walk towards the refugee camp under intensive shelling in the area.
IOF bulldozers bulldozed part of the main water pipe in the village of Um An Naser, north to Beit Lahia. The village has no water supply.
Palestinian minister of Health, Dr. Jawad Al Tibi, announced a state of emergency in all the Ministry's hospitals and health centers. The order included Palestinian NGOs working the field of health services. Dr. Tibi warned about more escalations under the escalating statements made by the Israeli army and the Israeli minister of defense, Shaul Mofaz.
Armored bulldozers level agricultural land in Qleebu area, north to Jabalia camp, and destroy three homes, two NGO offices and one motor vehicle. News from Israeli sources about Qassam launches and Israeli citizens wounded. Israeli officials announced that the ongoing operations in north Gaza were to be expanded.
Events of day two: Thursday 30 September 2004
Israeli tanks expand the incursion of Jabalia camp and take positions in several areas; including Tel Az Zaatar neighborhood, Al Mahkama Street and the As Sikka Street. Two Palestinians, Abdul Hai An Najjar and Usama Al Bursh, who are both aged 21, were killed in an exchange of fire with IOF eastern Jabalia. Israeli soldiers broke into the house of Abdul Hadi family in Tel Az Zaatar neighborhood. They detained the family, 28 of them, into one room and used the house as a watching post.
Launches of missiles and heavy machine guns continued. 13 Palestinians killed; most of whom unarmed during the day. Tanks reach the market of the refugee camp of Jabalia; a densely populated neighborhood. Additionally, IOF destroyed the fence of UNRWA A Boys School in the refugee camp. IOF tanks entered the Ajrami Street in the north of Jabalia refugee camp. They opened fire on the area and damaged several homes before they withdrew. 60-year-old Muhammad Al Babel was killed from IOF fire as he was in front of a grocery in Beit Lahia. Al Habel died from a live bullet in hid head. Medical sources reported that three Palestinians were killed from IOF fire.
At about 4:20pm an Israeli tank fires a shell on a crowd of people in Block 4 in Jabalia refugee camp. Nine Palestinians were killed and 25 wounded; two of whom seriously. Eyewitnesses reported to the Center that IOF opened fire on the people who hurried to help the victims, causing more casualties. Medical sources said many of the victims reached hospitals disfigured. One of the nine was identified as Mahmud Abu Ad Dayan, aged 33, while the others are still unidentified.
First-aid worker, Samir Al Wheedy, was wounded from Israeli fire in an ambulance. The ambulance team wee on their way to As Sika Street to collect the body of a Palestinian when IOF opened fire at them.
At approximately 9:30pm, IOF shelled a group of armed Palestinian northeast Beit Lahia. Four were reported killed in this attack.
Al Mezan Center for Human Rights, as well as most of the government and NGO offices, evacuated Jabalia Office as the situation worsened. IOF tanks reached a point about 200 meters from the Center's main office.
Israeli army spokespersons reported that two Palestinian armed men attacked the settlement of Nissanit killing two Israeli settlers. Other attacks with explosives against Israeli tanks were also reported. An Israeli soldier is shot dead in an exchange of fire in Beit Lahia.
Relevant statements by Palestinian, Israeli and international institutions
On Thursday 30 September 2004, the Government of France condemned the Israeli invasion of the Gaza strip, which resulted in the killing of 11 Palestinians by then. The spokesperson of the French ministry of foreign affairs called both Israel and Palestinians to end what he described as 'the cycle of violence(The two Palestinians who carried out this attack, Hussam Ghunaim, aged 19, and Musaab Jum'a, aged 22, were killed by IOF.
The British minister of Foreign and Commonwealth Affairs, Jack Straw, called the Israeli Government to stop the policy of assassination of Palestinians. He also called the Palestinians to fight the 'terror acts'. Mr. Straw said that ending the conflict between Israel and the Palestinians is the biggest challenge before the international community.
Israeli Prime Minister, Ariel Sharon, gave instructions to the Minister of defense, Shaul Mofaz, and the Israeli Army Chief of Staff, Moshe Yaalon, to take whatever steps necessary to stop the Qassam launches at Sderot village from Gaza. He also ordered deployment of more troops in North Gaza to create a security zone around the areas of launches.
Israeli Defense Minister announced three goals behind the operation in North Gaza: Stopping Qassam missiles, reinforcing Israeli defense components in Gaza and making Palestinian factions pay the price of continued launches of missiles at the village of Sderot in Israel.
Al Mezan Statement
Al Mezan Center for Human Right condemns Israel's collective punishment of Palestinian civilians. IOF perpetrate serious violations of Palestinians' human rights under the pretext of security. The arbitrary shelling and bombardment of residential areas, added to the excessive, disproportionate use of force against civilians and their property constitute grave breaches of the Fourth Geneva Convention.
While Al Mezan warns about further Israeli escalation in the most populated refugee camp in the Gaza strip, the Center calls upon the international community to immediately intervene and end IOF's breaches of the International Humanitarian law (IHL). The international community should fulfill its moral and legal responsibilities under IHL and provide effective protection for civilians in the OPT.
Due to the Israeli incursion in North Gaza and to the presence of IOF tanks 150 meters from its office, which incurs serous dangers on the center's office and the safety of its staff, Al Mezan Center for Human Rights was forced to close its main office in Jabalia camp. The Center receives the cases who need intervention in person or by telephone in its Gaza office in Izzadin Al Qassam St., tel/fax: +970 (0)
Related Links