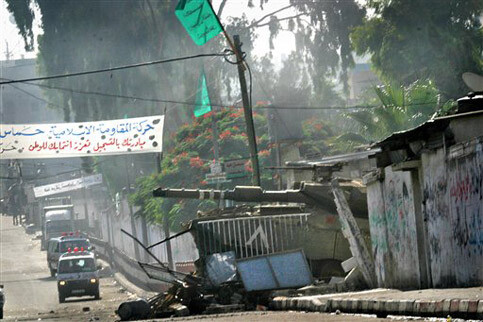 Israeli Occupation Forces (
IOF
) carried out a wide-scaled incursion into the area of North Gaza(One of the most populated areas in the Gaza Strip; North Gaza Governorate is composed of three major residential areas: Jabalia towns and its refugee camp, the town of Beit Hanoun and the town of Beit Lahia. The population of this area is over 250,000.) at approximately 10pm on Tuesday 28 September 2004.
IOF spokespersons announced that the Israeli Army carried out the incursion to stop the launch of Qssam and other hand-made rockets on the Israeli village of Sderot and Jewish settlements in the Gaza Strip. The incursion is still underway for the fourth day. Forty-four Palestinians have been killed and 223 injured by the time of issuing this update. Numerous homes and private property have also been destroyed as IOF utilize air force and heavy tanks in this military operation.
Events of day two: 10 – 12 Thursday 30 September 2004
Palestinian residents of Jabalia took to the street demonstrating against IOF's killings and destruction during the past three days. IOF continued the bombardment of different targets in north during the night of Thursday 30 September 2004, and today. At about 10pm yesterday, Thursday 30 September 2004, IOF fired missiles at a group of Palestinian resistance members east of Beit Lahia. Three were killed and four injured.
Events of day three: Friday 1 October 2004
At 7:30am IOF tanks and armored bulldozers demolished dozens of homes in Qleebo neighborhood in Beit Lahia. Israeli soldiers broke into the house of Ad-Dahnoun family in the area and forced the family to evacuate it. Soldiers are using the house as an observation post.
At approximately 9:30am today, IOF air force fired a missile at a crowd of Palestinians in Tel Az Zaatar neighborhood. Two people, 26-year-old Jihad Abu Al Jabeen and 21-year-old Mustafa Hammash, were killed. The bombardment took place in a populated area and five civilians were injured. Additionally, five houses were damaged, including the house of Al Mezan's fieldworker in North Gaza.
At around 10:30am IOF opened fire at the Abu Iskandar Rest-house, which is located near Erez crossing in the north of the Gaza Strip. Eyewitnesses reported to the Center that tanks fired six shells at it before they occupied it and destroyed all of its facilities(This Rest-house is built on ten dunams and encompass several buildings. The Office of President Arafat used it for the reception of VIP.). Later, Al Mezan knew that three Palestinian armed men were in the place and exchanged fire with IOF. The Israeli Army announced that it killed one and arrested two. IOF arrested four people who worked at the Rest-house.
Today morning the families of 10 people who were killed by an Israeli tanks shell yesterday identified their bodies today morning. Al Mezan knew that the victims were: Nidal Said Al Bishawi, aged 16, his brother Sultan Said Al Bishawi, aged 14, Mahmud Mu'een Al Madhoun, aged 20, Iyad Ala' Shams, aged 14, Muhammad Khalid Rihan, aged 14, Mutaz At Taluly, aged 14, Ahmad Adnan Al Bura'i, aged 16, Tariq Abdullah Zaqout, aged 17, Mahmud Abu Al Jidyan, aged 23 and Muhammad Ra'fat Al Bura'i, aged 19. According to the families, it was difficult to identify their sons because their bodies were severely disfigured.
Israeli tanks positioned in Abu Safiyeh area opened fire on Beit Lahia and Beit Hanoun. Several civilians were injured including children. Seven-year-old Adham Az Zaaneen, who is the son of Al Mezan's staff member was injured from shrapnel as he was in front of his house in Beit Hanoun.
At approximately 11am today IOF fired a tank shell at a house east of Jabalia camp. Two people were killed, 29-year-old Nidal Matar, and 18-year-old Nasim Nateel. Five other Palestinians were injured; two of whom seriously. Several homes were also damaged in this attack.
Israeli tanks shelled UNRWA B School in Jabalia injuring six people. This attack comes after IOF destroyed the fences and guard houses in two schools in the camp.
Al Mezan's fieldworker reported that IOF stopped a Palestinian ambulance in Ryad As Saliheen neighborhood in Jabalia camp. The ambulance, which belongs to the Palestinian Red Crescent Society, was on its way to lift a sick old man to hospital. According to the ambulance driver, armored bulldozers blocked the ambulance's way by dirt from both directions.
Israeli helicopter gun-ships fired missiles at a refrigerators' workshop in As Sahaba Street in Gaza City. The workshop is owned by Abu Hijazi Shahin. It was completely destroyed, but no injuries were reported.
IOF bulldozers continued their work to open a dirt road in Tel Az Zaatar. This road enables them to reach the heart of the neighborhood.
IOF continued building up troops at Abu Safyeh area and the settlement of Nisanit in the north of Gaza. Israeli officials' statements that the incursion would be expanded also continued.
IOF opened fire at a horse cart at the beach road south to Gaza City. The incident took place at the spot where IOF blocked the road five days earlier. The horse was killed and two people were injured, the horse's owner and his son.
Al Mezan Center for Human Rights sent two letters to the United Nations Secretary General, Mr. Kofi Anan, and the European Union Presidency calling for their urgent intervention to stop the violations of human rights perpetrated by the Israel occupation forces. The Center called on the UN and the EU to mobilize more effective international intervention to stop Israel's breaches of international law and to dispatch an international protection mission to the OPT.
On Thursday 30 September 2004, UNRWA issued a press release calling on Government of Israel to lift restrictions and ensure safety of staff in the Gaza Strip. The release said that the Israeli latest operation in North Gaza severely disrupted the Agency's operations. It also said that "The Agency has reminded the Government of Israel of its obligations under international law, including bilateral agreements it has entered into with UNRWA and calls on it once again to restore the freedom of movement of Agency staff and guarantee their safety at all times". It also asserted that basic services, such as health and education, were disrupted by the Israeli closures. Hundreds of the staff members working in these fields were not able to return to their home since 28 September 2004, according to the release.
The Agency's Commissioner General, Mr. Peter Hansen, said that "for UNRWA to continue to deliver essential services to the refugees, the Government of Israel must live up to its obligations under international law. It is crucial that it ensure both our freedom of movement and our safety".
Al Mezan Statement
Al Mezan Center for Human Right renews its condemnation of IOF's violations of human rights is north Gaza, especially the arbitrary shelling of residential areas and the collective punishment of the civilian population this area, which has so far resulted in dozens of deaths and injuries and the destruction of homes and private properties. Such acts constitute grave breaches of the International Humanitarian Law, especially the Fourth Geneva Convention (art. 146, art. 147).
The Center believes that the failure of the international community to effectively intervene has only urged Israel to continue its breach of international law. Al Mezan calls for urgent international community to protect Palestinian civilians in the OPT and to put an end to its collective punishment of Palestinian civilians.
Related Links