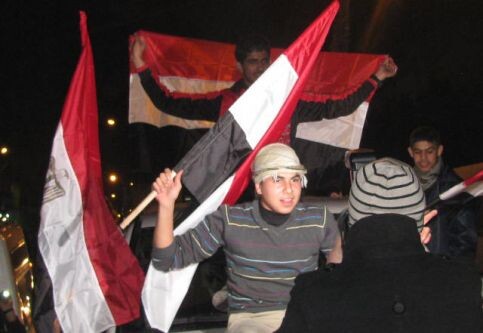 "Masr, Masr, Masr, Masr" — the Arabic word for Egypt was the call from huge crowds on the streets of Gaza City on Friday night, as news came of the resignation of President Hosni Mubarak following eighteen days of protests all over Egypt.
The length of Umar al-Mukhtar street, a main thoroughfare in Gaza City, presented a beautiful portrait of black, red and white, the colors of hundreds of Egyptian flags emblazoned with a golden eagle, as many people shared sweets and watched fireworks.
Children and adults leaned out of cars waving flags, honking horns and joining the chanting. Near the Jundi al-Majhoul public gardens a car stopped and one of the occupants threw candy at a cheerful crowd nearby. On another corner, tens of others launched fireworks into Gaza's night sky casting a bright glow on the Egyptian flags below.
"I am so happy. This is a day that we have awaited for so long as [Mubarak's] regime weakened the standing of the Arab nation and its own people in the face of the Israeli occupation," said Abu Mustafa, a white-bearded 54-year-old man, surrounded by a large group of young men in the al-Rimal quarter of Gaza City. "I would like to congratulate our Egyptian brothers and sisters on this remarkable and historic day as their will has emerged victorious."
"I pray that such a victory of the people will be repeated soon across the Arab and Islamic worlds and that all regimes like that of Mubarak will step down," added Abu Mustafa as young people chanted loudly.
I am very happy, very happy for the youth of Egypt, who succeeded in toppling Mubarak's regime," said a 26-year-old who called himself Abu Muhammad. He also expressed his joy for Gaza: "Mubarak helped suffocate us here in Gaza by closing the [Egyptian] border. Prices have soared because of the closure and the Israeli blockade. I just hope that the days after Mubarak will prove much better for us and for our Egyptian sisters and brothers."
Although tightly controlled by the Mubarak regime, the Rafah border crossing between Gaza and Egypt has been completely shut since the Egyptian revolution began on 25 January, and violent clashes have been reported on the Egyptian side between local residents and security forces. In a reversal, Palestinians in Gaza even provided food aid to isolated Egyptian soldiers.
The media were in Umar al-Mukhtar Street too, and many young men huddled around the cameras and microphones cheering loudly with smiles on their faces.
One of those faces was that of Muhammad, a bearded 27-year-old who told The Electronic Intifada, "Yes, the Mubarak regime had to step down. This regime has oppressed us and its own people. I cannot forget recent statements by Habib al-Adly [minister of the interior under Mubarak] in which he accused a Gaza-based group of carrying out a deadly attack on an Egyptian church."
The bombing at a Coptic church in Alexandria in January killed 21 people. It has since been reported that Egyptian prosecutors are investigating al-Adly himself on suspicion of involvement in the bombing ("Probe starts on Adly's reported role in Alex church attack," Al Arabiya, 7 February 2011).
As the car this reporter was riding in headed home, three young men stopped it and indicated they wanted to speak. "We want Mubarak, we want Mubarak!" one of the young men chanted. But he was only joking. It was impossible to find anyone in Gaza who was not expressing joy.
The momentous events in Egypt also echoed in Palestinian politics. A big rally, including cars with loudspeakers gathered at the Saraya crossroad in Gaza City. One slogan heard from the speakers said, "The people want to bring Abbas down," a reference to Mahmoud Abbas, leader of Fatah movement and the US-supported Palestinian Authority in Ramallah.
Since Hamas won Palestinian elections in 2006, and then drove out militias loyal to Abbas from Gaza in 2007, there has been a deep split between Hamas, which still rules Gaza, and Fatah. Egypt effectively sided with Abbas and Fatah in this division, keeping Rafah closed as a way to put pressure on Hamas.
Following the winter 2008-2009 Israeli attack on Gaza, Egypt had eased travel restrictions slightly, allowing patients, students and those with Gaza residency permits to move across the border more easily. International visitors, aid convoys and solidarity missions however continued to face tight restrictions.
While Hamas authorities had not permitted protests against Mubarak in recent weeks, it did allow the celebrations to take place in the streets of Gaza after his fall.
Most political factions in Gaza expressed their solidarity with the people of Egypt. Hamas called on the new Egyptian authorities to immediately re-open the Rafah crossing terminal once and for all.
Rami Almeghari is a journalist and university lecturer based in the Gaza Strip.
Related Links