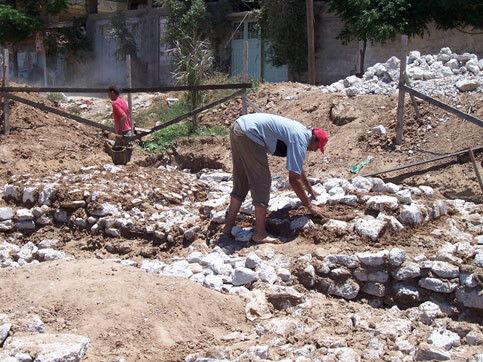 GAZA

CITY

, occupied Gaza Strip (

IRIN

) - In the face of the ongoing Israeli ban on imports of building materials Palestinians in the Gaza Strip are looking at new building methods, and one project is using clay and rubble.

Local Palestinian non-governmental organization Mercy Association for Children began building a school for handicapped children in Gaza City on 24 May to test a recently developed method using clay blocks, salt and rubble — with the source material coming mainly from the hundreds of buildings demolished during the Israeli offensive (27 December 2008 - 18 January 2009).

Fourteen construction workers on the 5,000 square meter building site in the Shujayah neighborhood of the city haul buckets of clay for molding into large blocks from which the structure, with its domed ceiling, will be made.

"If the school, upon completion, proves structurally sound we will move forward with other construction projects in Gaza," said lead engineer Maher Batroukh of the Mercy Association for Children. "The school is the first building of its kind in Gaza."

The three-story school, occupying about 1,025 square meters, will contain no steel, cement or concrete, said Batroukh.

The $190,000 project is being funded by the Kuwaiti charity Arab Fund for Social and Economic Development, and will take at least six months to complete, according to Mercy Association for Children project manager Muna Abu Shareh.

International organizations and UN agencies in Gaza are watching the project to assess the potential of the building technology in Gaza.

"If they succeed … it will be relevant in terms of responding to the destruction from the war," said Norwegian Refugee Council (NRC) architect Jonathan Dames. NRC leads the "shelter cluster," a coalition of international organizations and UN agencies working on post-conflict shelter issues in Gaza.

"After one or two winter seasons we will be able to see how the material responds," Dames said.

Gaza's environment authority and the public works ministry would also be monitoring the project, amid concerns that the use of large quantities of clay could affect agriculture.

"It may be a good method in the future, but the use of clay on a large scale could harm agricultural land, already scarce in Gaza," said Gaza environment authority engineer al-Ghaza. "It must first be studied."

Engineer Batroukh of Mercy Association said the school would be tested to ensure the structure was safe by placing cement blocks on the ceiling and by stress testing individual clay blocks at the Islamic University of Gaza.

Owing to space restrictions in densely populated Gaza, for a building technology to be relevant it must be able to cope with at least four-story buildings, Dames said. He explained that several clay-only houses had been constructed, but all were single story homes.

This item comes to you via IRIN, a UN humanitarian news and information service, but may not necessarily reflect the views of the United Nations or its agencies. All IRIN material may be reposted or reprinted free-of-charge; refer to the copyright page for conditions of use. IRIN is a project of the UN Office for the Coordination of Humanitarian Affairs.