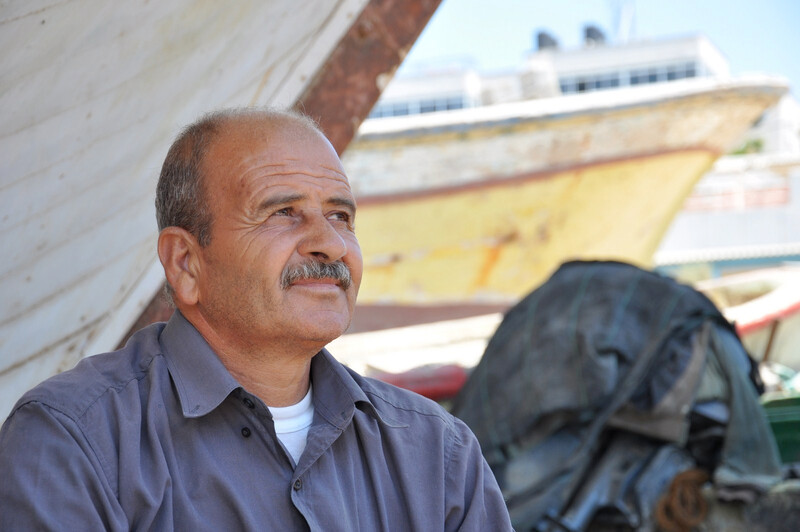 For five years now, Saleh has only been able to sail for short distances. Most of the time, it sits idle in a parking lot for boats near a sea port to the west of Gaza City.
Saleh is the name of a large boat that belongs to Abu Ayman Kabaja, a 56-year-old fisherman and father of five children, all of whom have worked in Gaza's fishing industry for many years.
On a Saturday around noon, Kabaja's three sons — including his eldest, Ayman, a 34-year-old father of four daughters — are busy sticking sheets of fiberglass to Saleh's body to help preserve the boat as it gets older. They are joined by two of Kabaja's nephews.
"As you see, my children and my nephews are doing this in order to protect the boat from decaying because of heat from the sun," Kabaja tells The Electronic Intifada. "This boat Saleh has stopped functioning for the past five years due to our inability to sail beyond the Israeli-enforced limit of three nautical miles. Our fishing work has been badly affected."
Before Israel imposed its blockade, Saleh and hundreds of other fishing boats used to sail approximately 12 nautical miles off Gaza shores. Yet for the past four years such boats have been allowed to sail only a small distance offshore.
Under the Oslo accords, the US-sponsored peace process between Israel and the Palestine Liberation Organization in the mid-1990s, fishermen in Gaza were allotted access up to twenty nautical miles offshore. When Israel imposed the 2007 blockade, this access area was shrunk to just six nautical miles, and within the last year, Israel once again cut the distance to three nautical miles.
Saleh is one of about 25 similar boats in the area that used to sail from Gaza before Israel imposed the maritime blockade. These boats are all out of regular use as a result of the siege on Gaza.
"Saleh and boats like it used to bring large quantities of sardines to Gaza," Kabaja says. "Sardines are the most popular and cheapest type of fish in the territory. I recall that prior to the maritime siege we used to catch three to five tons of this type of fish every work day and make a very good business out of it. I estimate our net profit every year at $15,000. Or even more, brother, even more."
Debt still unpaid
Saleh, 16 meters long and 5.5 meters wide, was first used by Kabaja in 2005. He had to borrow thousands of dollars to buy it. Saleh cost him a total of $70,000, $15,000 of which he still owes to a friend.
"At this time of the year, from March through the beginning of July, we used to enjoy the blessings of God as this particular time period is the golden time for us fishermen," Kabaja says. "Sardines used to be very much available along with some other kinds of fish."
Kabaja says that in October of 2010, he was harassed by the Israeli navy while trying to earn a living as a fisherman.
"Some colleagues of mine have been frequently exposed to harassment by the Israeli naval vessels. Maybe you heard about the seizure by the Israeli navy of two fishing boats a few weeks ago. It has been even worse at times, to the extent of the Israeli forces firing live shorts against fishermen," he adds.
According to Kabaja, Saleh now only sails along the port's beach front. The boat's short distance trip only takes place during three or four months of the year.
"To maintain Saleh we used to drag it in the water for three to four months in order not to allow the wooden bars and some of the metal, as well as the engine's fan, to get rusty or broken," he explains. "Then we would bring it back to the soil here for the rest of the year. We have got used to doing this for five years, since Israel has prevented Saleh and other boats from sailing into the sea."
No jobs to be found
Kabaja's son Ayman says the Israeli blockade has meant that there are few job opportunities in the fishing industry. One of the few sources of employment he has found was from the UN agency for Palestine refugees (UNRWA) but that was only on a temporary basis.
"Can you imagine?" Ayman asks, as he applies some glue to his boat. "Can a three-month temporary UNRWA-provided job opportunity ensure you a living? Absolutely not, absolutely not. I have already availed of that option and now there is nothing more, except what you see me doing, maintaining Saleh. [I wonder] whether Israeli fishermen or any other fisherman in the world would accept to sail for only two and a half nautical miles."
Ayman's uncle Abu Mohammad says that Saleh's first voyages were during a prosperous time for Gaza's fishermen. "Before the blockade was enforced, myself, my brother Abu Ayman and our own children — almost a total of forty people — used to rely so much on fishing as we used to build house and finance our children's education and even marriages. But our incomes have sharply decreased," he tells The Electronic Intifada.
Asked what other factors have caused their incomes to plummet, the fifty-year-old fisherman says: "Our inability to go further from Gaza's shores has led many other fellow fishermen to try to bring large quantities of various types of fish from Egypt through underground tunnels and then sell them in the local market. You know why? In order for us to sail for almost 12 hours within such a limited distance of three nautical miles of the shores, we need fuel and other things. [It costs] $600 for each sailing but with no guarantees of catching fish. So bringing in Egyptian fish is less costly than sailing."
Fishing is considered to be a main source of food for the Gaza Strip's 1.6 million residents. According to statistics from the Palestinian Centre for Human Rights, there are approximately 8,200 fishermen and workers in the fishing sector in the Gaza Strip, who provide for approximately 50,000 dependents throughout Gaza ("Israeli attacks on Palestinian fishermen at Gaza sea," 1 February 2011).
"You know, we have been maintaining Saleh for the past month and we have not sailed for fishing," Ayman Kabaja says. "Why fish? Why? We had better maintain this boat, before Saleh is totally broken. Maybe one day Saleh will be back to normal activity after the Israeli blockade has been lifted once and for all."
Rami Almeghari is a journalist and university lecturer based in the Gaza Strip.
Tags