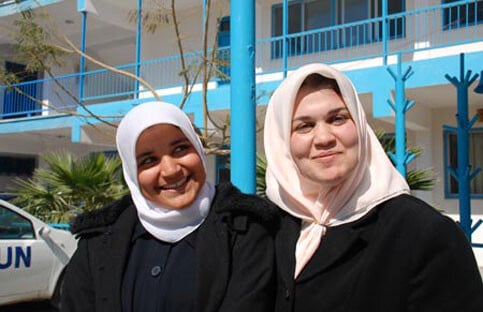 "I want to be the first Palestinian woman to become president", declares Suha, an ambitious 15 year-old Palestine refugee student from Rafah in the southern Gaza Strip.
"And what would you do for me?" asks her English teacher Mervat.
"I would hire you as my personal advisor!" responds Suha, as the two burst into laughter.
Mervat and Suha are two very dynamic and enthusiastic women. Sitting in their school's playground, Mervat explains, "I used to study in an UNRWA school like this one and I had an English teacher I liked very much, who inspired me to become a teacher".
"When I look at Suha and at the other students I have, I realise relationships have changed. My students are much closer to me than I was to my teachers".
Suha is a student at the Rafah Preparatory Girls' "A" school, one of the UNRWA schools participating in the pilot phase of the Schools of Excellence initiative, launched by UNRWA's Gaza Field Office.
"I like to study because the more I learn, the faster I will advance toward my goal of becoming president", Suha says.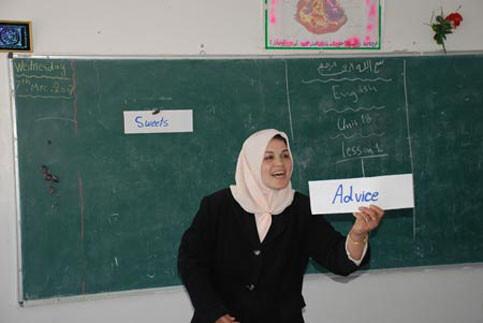 The Schools of Excellence initiative aims to improve the overall teaching and learning in all 193 UNRWA schools throughout the Gaza Strip. Through this initiative UNRWA is hiring teachers to assist in Arabic and mathematics elementary school classes and organizing working groups to develop standard lesson plans based on best practices and developing an intensive summer remedial course for students. Through these and other activities, the Schools of Excellence initiative improves school relations with parents and the community.
The initiative also promotes and recognises excellence in UNRWA schools. Of the thirty schools that participated in the pilot phase, those that have made the most significant improvement by the end of the current semester will receive an award by UNRWA Commissioner-General Karen Koning AbuZayd.
Suha finds that the Schools of Excellence initiative "will help the students improve their learning so that they can have a better future".
Mervat appreciates UNRWA's work in providing a better education to Palestine refugee children. "I always tell them to study hard so they can have better opportunities, better than the ones that we had. Students are the mirror reflecting us; future generations depend on our efforts".
Pensive, Mervat remains silent for a few seconds before adding: "I also hope the general situation will improve in Gaza so that all women can enjoy a better life, a life without fear, in a secure environment where they can pursue their dreams and achieve their goals".
This article is part of UNRWA's series of articles on Palestine refugee women during the month of March, in celebration of International Women's Day on 8 March.
Related Links