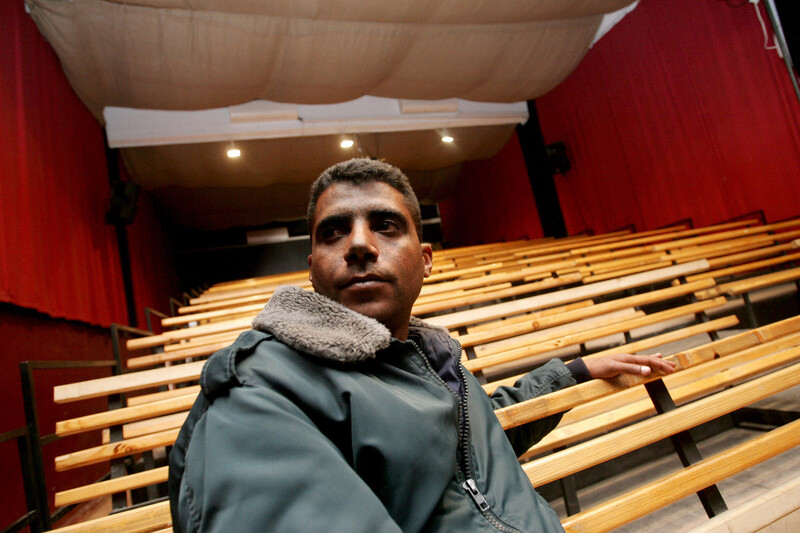 Zakaria Zubeidi leaned against the wooden railing in the courtroom for extra support, listening intently to the Palestinian Authority judge's ruling: Zubeidi would be detained for a further 19 days.
"This court has made an unfair decision against me," Zubeidi said in an extremely weak voice to a Jericho courtroom full of friends, colleagues and supporters from approximately ten different countries on Monday.
Zubeidi is currently refusing to consume food and water in protest of his detention without charge or trial.
"I've been in prison for a long time without evidence. I started a food strike a week ago, and this morning I had a meeting with the doctor in the prison. He told me I have three days to live if I don't take water. So the court has decided to kill me," he said.
Zubeidi, formerly the head of the al-Aqsa Martyrs' Brigade in Jenin during the second intifada, co-founded the Freedom Theatre in Jenin refugee camp in 2006 along with Juliano Mer-Khamis, who was gunned down on 4 April 2011 by an unknown assailant.
Zubeidi had been one of the child actors who was active in the forerunner to the Freedom Theatre. The Stone Theatre, as that project was called, was started by Mer-Khamis and his mother, a Jewish-Israeli anti-occupation activist named Arna. In fact, the theater was built on the top floor of Zubeidi's home, and Zubeidi's mother (who was killed during the second intifada, just hours before his brother was also killed) worked closely with Arna.
Cultural intifada
Juliano Mer-Khamis and Zubeidi together established the Freedom Theatre in Jenin refugee camp in 2006, and in 2007 Zubeidi put down his weapon in exchange for an amnesty from Israel. By then, Zubeidi had already decided that he would fight oppression through theater and participate in a cultural intifada.
"Through the theater, you can talk to the world and give a different message than the way they see us as terrorists," Zubeidi once said.
Zubeidi was one of 150 Palestinians arrested in early May as part of a sweeping crackdown after the Jenin governor's home was shot at, leading to the governor's death by heart attack. Although the majority of those arrested have since been released, Zubeidi has continued to be held, with no charges against him, nor evidence of wrongdoing presented. There are serious allegations that Zubeidi was tortured during the first few weeks of his detention ("Theater group hit from both sides," Human Rights Watch, 27 July 2012).
On 9 September, after yet another arbitrary continuation of his detention, Zubeidi announced that he was embarking on a hunger strike and began refusing food and fluid. After being hospitalized due to kidney problems resulting from dehydration, and after being assured that Monday's hearing would likely lead to his release, Zubeidi began drinking and received a glucose infusion, as he wanted to survive until the hearing.
Stunned silence
However the judge bowed to the prosecution's request for more time to investigate Zubeidi, despite having been in detention since 13 May, and already being in violation of Palestinian law regarding the amount of time permitted to hold someone for "investigation."
The judge's decision was met with stunned silence from Zubeidi and his supporters. Then, Zubeidi raised his hand, and began to speak: "I have been a freedom fighter since I was born, and it's unjust for me to die here."
Zubeidi peeled off his black collared shirt for emphasis, revealing his noticeably thin torso, and pointed out the multiple bullet wounds he had obtained from his years as a fighter against the Israeli occupation. He announced that he would, effective immediately, stop eating, drinking and speaking. "In four days, there will be a funeral from Jericho to Jenin," Zubeidi said, possibly among his final words.
Bill van Esveld, senior Middle East researcher at Human Rights Watch, stated, "For more than four months, the PA has violated Zubeidi's basic due process rights to be charged and tried, and continues to ignore his statements that interrogators tortured him. The PA's foreign donors should urgently pressure it to end the impunity and arbitrary detentions that Zubeidi's case exemplifies and that he is risking his life to protest."
Zubeidi is a controversial a figure, but no one can question that he experienced tremendous suffering at the hands of the Israeli occupation, and made tremendous sacrifices to resist it. The irony that he may now die after having been tortured and held unjustly by the PA bites hard.
At a time when the PA is coping with growing dissatisfaction and disillusionment with its governance, one would think that the Authority would realize that having a martyr on their hands — one that the populace can turn into a rallying symbol — would not be to their advantage.
"Zakaria was the person who inspired me to stay in Palestine to join the struggle for freedom against occupation," said Jonatan Stanczak, managing director of the Freedom Theatre. "The Palestinian Authority has succeeded in doing what the Israelis didn't: to kill Zakaria. The PA has learned their lesson from the Israelis very well, to the extent that they have become themselves part of the occupation."
Jen Marlowe is an author, documentary filmmaker and human rights activist. Her latest book (written with Sami Al Jundi) is The Hour of Sunlight: One Palestinian's Journey From Prisoner to Peacemaker and her most recent film is One Family in Gaza. She is the founder of donkeysaddle projects. She works on the board of the US-based Friends of the Jenin Freedom Theatre. You can follow her on Twitter at @donkeysaddleorg.
Tags