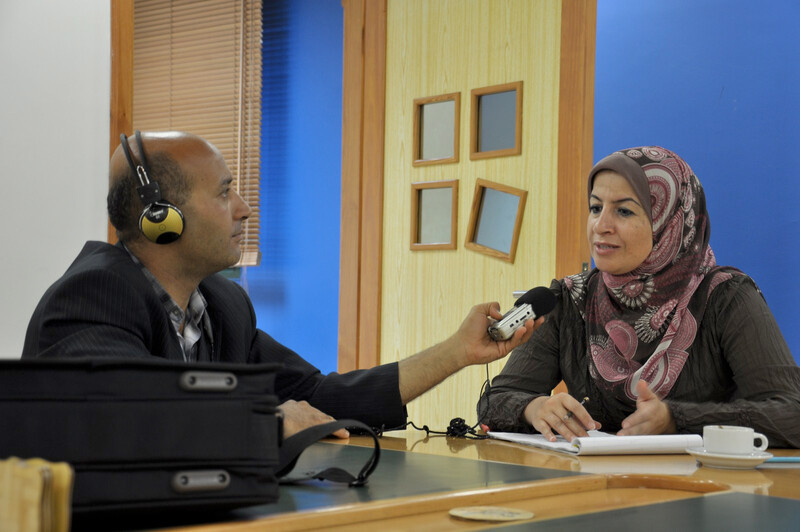 In a special ceremony at the French Cultural Center in Gaza City earlier this month, a representative of the French consulate in Jerusalem presented the National Order of Merit award to Reem Abu Jaber, head of the Qattan Centre for the Child in Gaza. The medal is considered to be the highest award bestowed on non-French citizens.
"It took me three days to try to understand why," Abu Jaber told The Electronic Intifada after the ceremony. "Why me, Reem Abu Jaber? I am doing nothing but loving and taking care of my work with the children of Gaza."
Abu Jaber has helped develop the center almost from scratch. The Qattan Centre for the Child offers research and workshops on child education, activities for children such as drawing, drama and music, and maintains a large children's library. Recently, the center established mobile libraries in different parts of the Gaza Strip. Abu Jaber has been in charge of the center since 2005.
"The real work on the ground began with the outbreak of the al-Aqsa intifada in 2000," Abu Jaber said. "Back then, we faced a lot of troubles like Israeli roadblocks. During that time, we used to sometimes walk on foot for many hours to reach our workplace. However, we did our best to serve the children of Gaza by bringing in various books from abroad."
When she began working with the center in May 2000, it was nothing more than an old building that belonged to the Gaza municipality. However, the new Qattan building, which was built in 2005, is well-structured and includes a large lobby and a library with countless shelves of books. There are computer stations, staff offices and paintings on the walls whose yellow, brown and blue colors make a comfortable and relaxing atmosphere.
"Five years later, after all the preparations, architecture and many other related things had been completed, we all moved to this beautiful building for children in Gaza," she said.
Abu Jaber says that the center's library is of key importance. The center is home to an estimated 110,000 books in Arabic, English and French — making it one of the largest children's libraries in the Arab world — and provides classes for computer skills, drama, music and painting. The center also brings mobile libraries to children in more remote parts of Gaza, and it has cooperated with local organizations by providing library services to their offices, especially during summer holidays.
Investing in Palestine's children
"Perhaps because we are Palestinians, perhaps because we live under the Israeli siege, we must realize that children are the most important people to invest in and work with," Abu Jaber said. "Abdel Mohsin Al-Qattan [the center's founder] has encouraged and promoted the cultural aspect of life in Gaza by investing in children. He has taught us how we can create change by investing in children.
"Gaza's children live in a totally different environment than that of children worldwide. I think we are playing an important role in directing the energy of children to the right track," she added.
Never affiliated to any political party in Gaza, Abu Jaber believes that political change comes by educating Palestinian children. "Books have been a motivation for me to try and create change in the life of the children in Gaza, through promoting the habit of reading at the Qattan Center," she said.
Abu Jaber is living proof of the value in investing in education. A life-long resident of the central Gaza Strip town of Deir al-Balah, Abu Jaber was born to a farming family indigenous to Gaza, whose ownership of land stretches back to the time before the Israeli occupation of historic Palestine in 1948.
Abu Jaber went to university in Cairo, where she graduated with a degree in library science. A few years later, she undertook further studies in the Egyptian capital, securing a master's degree in strategic planning for libraries.
From 1995 to 2000, Jaber headed the documentation division of the UN Agency for Palestine refugees' (UNRWA) education department in Gaza. During that period she read and became influenced by many books including the famous Arabic-language volumes of Ibn Khaldoun and the work of Abdel-Wahab Elmessiri.
A single woman in her late thirties, Abu Jaber says that although Gaza society is male-dominated, she has not encountered much sexism in her career.
"Every man who knows me has encouraged me and the most important encouragement I have ever had from has been from my father, who has been really amazing," she said. "In Gaza, despite the many contradictions in this kind of community, including the conservative way of life, the Israeli siege and the bad economic situation, one can make something of oneself. For me, I am not waiting anymore or blaming anymore, like blaming the international community for its lack of action towards changing the reality here."
Determination against the odds
This resilience was exemplified by Palestinians in Gaza when they came under attack during Israel's Operation Cast Lead in the winter of 2008-09.
"Right after the Israeli war on Gaza in January 2009, we in the Qattan Centre decided to fix some of the slight damage that was done to the center," Abu Jaber said. "Two hours after we entered the center to do what we had decided on, we found that dozens of children came over to the center to resume their activities as usual. We then changed our minds and opened up the doors to welcome them all. They began reading, drawing and sharing with each other stories about the war."
In Gaza, which has endured a four-year-long siege, she noted, people can live without electricity and survive with just the basic necessities.
"The people who I have met in Gaza have taught me how to be strong. The people's ability to cope has been really inspiring to me. I think their ability is unbelievable so I am not like a beaten soul that needs someone to help," she said.
Gaza's war and siege weary children
Abu Jaber considers herself to be lucky to be able to work with children in Gaza. "Gaza is the most beautiful place in the world, though it is full of all kinds of contradictions. In Gaza, I have found my goal and my mission as the people of Gaza are really beautiful, especially the children, who deserve much more care and attention," she said.
Gaza's children, who make up half of the population, are growing up under extreme conditions. As The Electronic Intifada reported last week, more than 90 percent of Palestinian children in Gaza suffered symptoms of post-traumatic stress disorder following Israel's winter 2008-09 attacks on Gaza, including bed-wetting and depression.
The Israeli siege has also made it difficult for the center to obtain books for the library. It takes months for the center to receive ordered titles. But the center is determined to carry out its mission, including in remote areas of Gaza, such as villages near the militarized buffer zone along the boundary with Israel.
During a time when the Gaza Strip lacks institutions that provide an outlet for children such as sports clubs, theaters, cinemas, public parks or other similar places of entertainment, the Qattan Centre has offered a valuable opportunity for Gaza's children. For the past three years, the UN agency for Palestine refugees (UNRWA) has been organizing summer camps for Gaza youth, but children only spend a few days in such camps, staying indoors for the rest of the summer break. It is important for the children to not be idling their time away.
"I think that children are the main means for us Palestinians to maintain our Palestinian identity," Abu Jaber said. "Later, once they are older, these children will have a role to play in their society and they might have a battle with their society. But at the end of the day, they are the builders of the future of Palestine, something that cannot be achieved without education."
Rami Almeghari is a journalist and university lecturer based in the Gaza Strip.
Tags