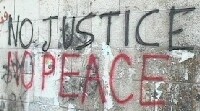 Palestinian rural communities are on the verge of collapse – economically, socially and psychologically – because of increasingly severe movement restrictions imposed by the Government of Israel on Palestinians living in the Occupied Territories.
Oxfam International is calling for the immediate end to these 'closure' policies. New research released today by the international aid agency highlights the suffering of Palestinians living in rural areas of the West Bank.
Israel has dramatically tightened its restrictions on the movement of Palestinian people, vehicles and goods since the second intifada began in September 2000. As a result, a growing number of people are unable to cope. Impoverishment, unemployment, chronic health problems and severe stress have reached alarming levels.
"The stranglehold on Palestinian communities is being tightened day by day and it must stop now," says Adam Leach, Oxfam GB Regional Director. "Unless access to land, clean water, markets and healthcare is restored immediately, Palestinians will not be able to survive."
People's livelihoods are being eroded. This year's olive harvest in the Salfeet region, southwest of Nablus, is likely to fail because the entire production and marketing process is being destroyed by closure. Many farmers will be unable to harvest their crops or get to market to sell their produce.
Before the current intifada a large proportion of the population worked in Israel but now between 70 and 90 per cent of the workforce is unemployed.
The local economy is fast disintegrating. Credit networks that provide vital loans to rural communities are already under strain and at risk of collapsing. Many Palestinians depend on borrowed money or on the meagre wages of the few who still have jobs. And families are now selling off all their assets including land and livestock. Shopkeepers can no longer afford to give credit to poor families.
And Oxfam has found the price of water delivered by tankers has risen by an average of 80 per cent since the start of the intifada. Scores of villages now face severe water shortages because water tankers are denied access by the Israeli military. People are risking their lives by cutting down their water consumption – despite high temperatures – and also drinking dirty water because they have no alternative.
"Closure is a form of collective punishment that the world can no longer stand by and watch," says Adam Leach. "The international community must act now because unless closure is lifted immediately, we will have a humanitarian disaster on our hands."
Related Links:
Oxfam Briefing Paper: 'Forgotten Villages: struggling to survive under closure in the West Bank', Oxfam International

For more information:

Catherine Eldridge, Regional Media & Regional Coordinator, on email: celdridge@oxfam.org.uk or tel: + 44 – 1865 – 313 152 (work) / + 44 – 7775 – 938 094 (mobile), or Lee O'Brien, Senior Policy Officer, Oxfam Jerusalem, on email: lobrien@oxfam.org.uk, or tel: + 972 – 2 – 656 6234 (work) / + 972 – (0) – 6756 1257 (mobile).