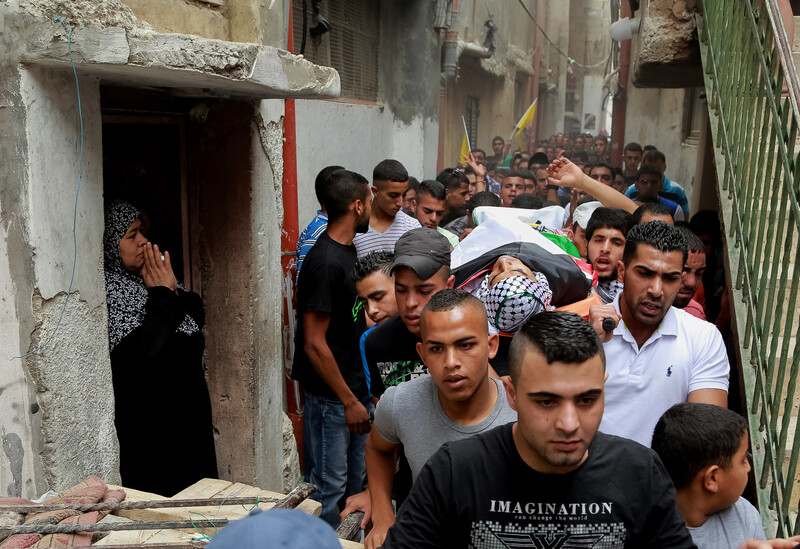 "If you call his number now, no one will answer. The friend you used to call so frequently is gone," said Muhammad Qattri's mother, Um Muhammad. She held her slain son's phone and was speaking to one of his friends.
Just a few hours prior to his killing on Friday, 8 August, 19-year-old Qattri had eaten his lunch at home. And as he so often did, he ate quickly and left the house to take part in a protest without telling his mother.
For the last two years, Qattri — or Abu Hassan as they called him at his home in al-Amari refugee camp, south of Ramallah — regularly participated in protests across the occupied West Bank, including outside Ofer military prison and the Beit El settlement.
But protests became an even bigger part of his life since the start of the most recent Israeli aggression on Gaza. "I want to do something for Gaza. I wish I were there. I hate that all we can do is throw rocks," he had told his friend, also named Muhammad.
Muhammad, whose last name is withheld for his safety, was with Abu Hassan at the protest when he was shot.
The latest bloodbath in Gaza is transforming the lives and shaping the consciousness of an entire Palestinian generation, and Abu Hassan and his friends were no different.
They all refused to buy new clothes for the Muslim festival of Eid, as is the usual custom. Instead, they wore t-shirts for Gaza and spent the first day of Eid painting the walls of the camp with graffiti in support of Gaza and the resistance there.
Some of them are affiliated with Fatah. Some, like Abu Hassan, are closer to the Popular Front for the Liberation of Palestine. Some support Hamas and many others have no political affiliation.
But they all support the resistance in Gaza. And they were all prepared to put their young lives on the line for Gaza and for Palestine.
Torture and murder
On that fateful Friday, Abu Hassan left his house in al-Amari refugee camp immediately after noon prayer. He headed to the Israeli settlement of Psagot, near al-Bireh, where a group of Palestinian youths were confronting the Israeli occupation army.
Muhammad was just behind Abu Hassan when he was shot.
"Abu Hassan was the closest to the army," Muhammad said. "He was the first one on the front line. As the Israeli soldiers were firing relentlessly at us, Abu Hassan aimed a stone at the soldier who hit him with a bullet in his leg.
"We tried to carry him," Muhammad recalled. "He was bleeding in my arms, but we were so few and the soldiers managed to pull him away from us."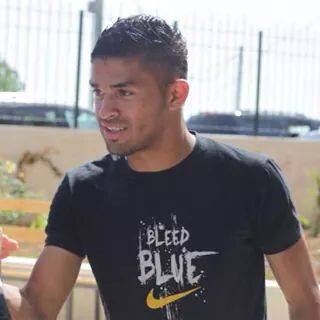 Muhammad, who attended the same school as Abu Hassan for nine years, struggled to hold back his tears while speaking to The Electronic Intifada on the way back from the cemetery where his neighbor and childhood friend was buried.
"The soldiers pushed him inside the settlement," he said. "We started hearing sounds of beating. When we saw that the soldiers detained [Abu Hassan], we decided to stop throwing rocks, hoping that they would release him. And then we heard the sound of gunshots."
"We suspect that the settlers shot him, not because the soldiers won't do it, but because maybe they don't want to face repercussions if they shot him while he was injured and not posing any threat to them."
Muhammad emphasized that even after he was shot in the leg, Abu Hassan was detained in the settlement for almost an hour before being handed over to the Palestine Red Crescent Society — only when it was too late to save his life.
"He was clearly tortured in the settlement," Muhammad said. "His face was bruised due to the beating he received. They beat him so badly before they they shot him."
Mohammad Sarhan, director of ambulance services at the Palestine Red Crescent Society, said that their crews were overwhelmed with the number of injuries at protests elsewhere in the West Bank when they were called to treat Abu Hassan.
The responding Red Crescent paramedics reported to Sarhan that Abu Hassan was detained in the settlement.
Mourners at Abu Hassan's funeral stressed that Abu Hassan was shot in the leg at the protest and that he was apparently shot in the head and beaten during his detention in Psagot settlement.
Football fan
A refugee from the village of Naani near Ramle that was ethnically cleansed in 1948, Abu Hassan worked at the Joseph Blatter football academy in al-Bireh. He was fiercely passionate about playing and watching football.
Aya Khattab, who plays football for the under-sixteen Palestinian women's football team, met Abu Hassan at the academy. "He supported our team fervently," a tearful Aya recalled. "He would never miss any of our training sessions or matches. He was always there to cheer us on and play football with us. All the girls on the team loved him."
Her teammate Ahlam Eid, one of Abu Hassan's closest friends, described him as the "nicest guy I've ever met. He was a huge Real Madrid and Cristiano Ronaldo fan and constantly teased me by saying that I'm not a true Madridista because I don't watch all of their matches in the Spanish League."
Abu Hassan had a younger brother who was killed in car accident nearly two years ago. Yet to recover from the loss of one of their sons, Abu Hassan's parents were extremely fearful for his well-being. He had a particularly close relationship with his mother.
His friend Ahlam Eid recalls Abu Hassan telling her once: "Please, if I die, tell my mother to forgive me. Ask her not to be angry that I didn't heed her warnings not to go to protests."
A week before Abu Hassan's murder, his friend Oday Jaber, also 19, was killed by Israeli occupation forces in a protest in the Ramallah-area village of Saffa.
After hearing of Oday's killing, Abu Hassan posted his friend's picture on Facebook and wrote, "I'm the next martyr."
"He had a feeling he would be killed," said his friend Muhammad. "Yet he always smiled and joked. I still cannot come to terms with the fact that he's gone."
"I want to be close to his mother, to tell her that I, too, am her son. But nothing can alleviate the pain of a mother who loses her children."
The cries of Abu Hassan's mother during his funeral were piercing. His grandfather passed out during the procession. And his young friends were overwhelmed with disbelief that he left them so soon.
Too soon.
Budour Youssef Hassan is a Palestinian anarchist and law graduate based in occupied Jerusalem. She can be followed on Twitter @Budour48.
Tags